Kitakyushu Monorail
The monorail system uses the flat floor technology where passenger cabins are located above the bogies. This is to ensure comfort and ease of movement. Hitachi was responsible for setting up the system. It is so built that accident probability is very low. It operates without problem under any extreme weather.
Historical Background
Kitakyushu is the administrative, commercial and tourist center of Fukuoka Prefecture, Japan. It is home to more than a million inhabitants. Frequent visitors added to it, the road traffic congestion was becoming alarming. As a result, a north-south monorail system was planned connecting city's main nerves.
Kitakyushu Monorail started operation on January 9, 1985, between Kikugaoka Station in the south and Heiwadori Station in the north. On April 1, 1985, it was extended to Kokura station further in the north to achieve its current length.
Initially, the city authority has only incurred losses running the monorail system. Once the section between Kokura Station and Heiwadori Station was opened, Kitakyushu Monorail showed profitability. However, the city municipality had to face strong opposition from the shops in Uomachi shopping district as they feared that the extension would take customers away from them.
Hours of Operation
The monorail system operates from 6 in the morning to almost midnight. Trains come every 13-20 minutes, every 10 minutes on rush hours. During weekends and festivals, the timings vary a bit. View the monorail timetable here.
Lines and Stations
Some of the stations have island platforms; others have side platforms. 4-car trains run on this line. A complete journey along this line takes 18 minutes. Interchange to other lines is possible at the terminus stations.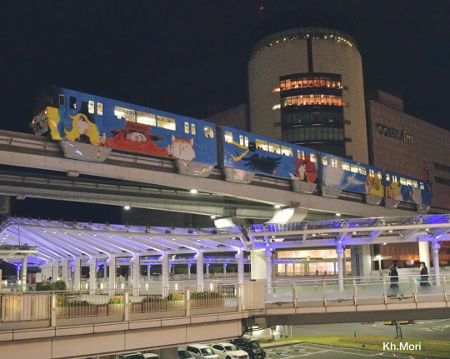 Kitakyushu Monorail
The stations on this line are:
Kikugaoka Station
Near this station located are Kitakyushu monorail headquarters, Adventure Pool, Shiikoen and Tokiwa high school.
Shii Station
Get off at this station for Kitakyushu National College of Technology.
Tokuriki Arashiyamaguchi Station
This station is near Akiyoshisha Arashiyama funeral.
Tokuriki Kodanmae Station
Near this station, you'll find Sanre Tokuriki Shiunkaku field and Kokuraminami martial arts.
Moritsune Station
Around this station, you'll find Sanribu Moritsune shop and Ion Tokuriki shop, Towa hospital and Murasaki River riverside pool.
Keibajomae Station
Get off here to reach University of Kitakyushu and Kokura Racecourse.
Kitagata Station
This station is near to high schools, Kokuraminami police and fire department offices, medical centers etc.
Jono Station
At Jono station, the track touches the ground. The rest of the line is reasonably high giving you a good view of city's localities and surrounding mountains. Near this stop, there are two high schools, Nakamuragumi funeral and Fujimi Hall.
Katano Station
This is the stop for Bell Classic Ogura and Mihagino girls' high school.
Kawaraguchi Mihagino Station
Around this station, you'll find Kitakyushu Central Hospital, Kitakyushu Municipal Stadium, Gold market, Kitakyushu Media Dome and Kitakyushu Central Post Office.
Tanga Station
This station connects mainly to government offices like Kitakyushu second Government Building, Kokura ward office, health facilities like Kitakyushu Municipal Medical Center, General Health and Welfare Center and also multiple hotels and market areas.
Heiwadori Station
Important tourist spots covered by this station include Kokura Castle, Riverwalk Kitakyushu, Water Environment Museum, Kitakyushu Arts Theater etc.
Kokura Station
This is the newly added station to the system. It is built as a huge building which has hotels, shops, bus stand etc. under the same roof. From this station, you can easily reach Asia-Pacific Ocean Import Mart, West Japan General Exhibition Center, Kokura Memorial Hospital etc.
It is the prime station of Kitakyushu city. At this station, you can interchange to JR Kyushu lines and to Sanyo Shinkansen. The monorail and railway stations are merged into a single complex with the monorail trains running one level up than the main hall.
Future expansions
No plan to extend the system is made public by the Kitakyushu Urban Monorail Co. Ltd.
Fare and Ticket
The fare price in Kitakyushu monorail is calculated on the basis of sections travelled. Besides regular tickets, there are also travel passes available. Children and disabled persons get discounts on the regular fare.
Three types of tickets are available: single-journey tickets, round trip tickets and group tickets. Multiple types of passes are also there which benefit frequent traveler, school children and elderly people.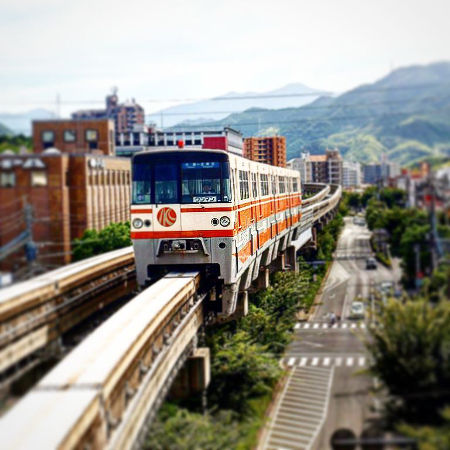 Kitakyushu Monorail
Kitakyushu Urban Monorail Co. Ltd. has recently introduced Allied Telesis technology in the ticketing system. It includes rechargeable smart cards and Quick Response tickets. The smart card must be scanned at the entry gate and the QR ticket holders need to touch the printed code at the entry point.
For details on tickets, fares and discounts, click here.
Facilities and Services
Following facilities offered by the monorail authority make your journey even more enjoyable:
Once in every year, the monorail authority arranges beer and wine parties for the passengers on the trains. On Christmas Eve, Santa Claus boards the train and distributes gifts to the children.
Every station has a large display of the monorail map.
You'll find elevators, escalators and toilets in all the stations.
Ramp is available in one of the train gates to let wheelchair users get in on their own.
For some selected stops near university area and tourist spots, the announcements are in English.
Rules
Before riding it know about Kitakyushu Monorail rules in order to avoid penalties.
Platforms don't have gates, only fence. Passengers must maintain reasonable a distance from the lines, when the train is approaching.
Smoking and consumption of alcohol are prohibited inside the stations as well as in the trains.
Tips
Following tips help you to make the best use of Kitakyushu Monorail:
All the stations have station attendants. In the case of any confusion or problem, don't hesitate to consult them.
If you lose any of your belongings in the train or in the stations, immediately inform the lost and found center of Kitakyushu Monorail.
Media