Kobe Metro
The city of Kobe, is the sixth largest city in Japan, located in the southern region of the island and is the capital of the Prefecture of Hyogo.
Currently, the Kobe Metro has two lines: Seishin Yamate and Kaigan Line or Yume-Kamome, with 26 stations and covers a total distance of 30.6 km, carrying 110.8 million passengers annually.
A little history...
The "Kobe Municipal Subway" began operations in 1977, with a single line of 5.7 km. This first line was extended in 1987 to 22.7 km. This route continues today, from the Seishin-Chuo Station to Shin-Kobe station and is named Seishin Yamate.
The second line of the Kobe Metro: Kaigan Line or Yume-Kamome, began operations in March of 2001, and takes a journey of 7.9 km, from Shin-Nagata Station to Sannomiya-Hanadokeimae.
How to travel? Lines, stations and connections
1) Lines
As we said earlier this underground system has 2 lines:
Green line or Seishin-Yamate
The Green line, called Seishin-Yamate (some also refer to it as the "U" line, its shape on the map), which links stations from Seishin-Chuo to Nishi-ku and Shin-Kobe. The stations through which it passes this line are: Seishin-Chuo, Seishin-Minami, Ikawadani, Gakuentoshi, Sogoundokoen, Myodani, Myohoji, Itayado, Shin-Nagata, Nishidai, Kosoku-Nagata, Nagata, Kamisawa, Minatogawa Koen, Okurayama, Kenchomae, Sannomiya, Shin-Kobe

Blue line or Kaigan Line
The Blue line, called Kaigan Line, links stations from the Shin-Nagata Station in Nagata-ku and Sannomiya-Hanadokeimae. The stations through which it passes this line are: Shin Nagata, Komagabayashi, Karumo, Misakikoen, Wada Misaki, Chuo Ichibamae, Horborland, Minatomotomachi, Kyukyoryuchi-Daimarumae, Sannomiya- Hanadokeimae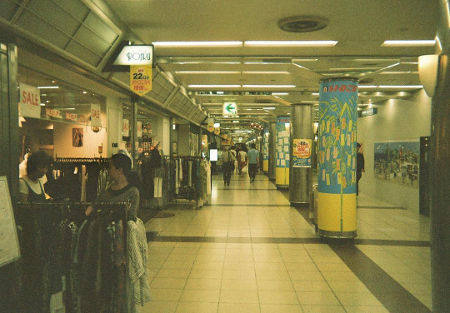 Kobe Metro station
2) Connections
Both the Kobe Metro lines intersect at the Sannomiya-Hanadokeimae and Shin-Nagata stations.
It is also important to note that the Shin-Kobe Seishin-Yamate line station allows the user to make connections with Shinkansen, the Hankyu line, Hanshin line and the Port line.
Important:The Port Line connects to the local airport. If you arrive to Kobe by plane, you must take the Port Line to Sannomiya and there make connection to the metro line to take you to your destination.
In addition, Nagata and Itayado stations let you connect to the Sanyo Himeji line and the Hankyu line. 

Complementary transit systems
Kobe has other complementary transit systems. The Kobe Rapid Transit Railway or Kobe New Transit, connecting Kobe to its airport and to the artificial islands. It has two lines:
Port Liner: Working since Feb. 1981. 6.4 km length, 9 stations. Connection to Kobe Airport.
Rokko Liner: Connect to Rokko Island and to Sumiyoshi Station. It's length is 4.5km
Languages ​​in the Kobe Municipal Subway
All announcements made in this metro are expressed in Japanese and English.
Operating Hours
The Kobe subway system operates every day of the week between 5:00 am and 00:00 am.
Prices of Tickets for travel on the Kobe Municipal Subway
The most economic ticket, the adult ticket, is around 210 yen, and there are different discounts for children and people with disabilities:
Children under 1 year are free.
Children aged 1 to 12 years pay half the adult fare.
People with disabilities and their companions, they pay half the normal passage (it requires certificate attesting disability).
In addition, there are some special passes that you can take advantage of if plan on having an intensive use of transport in Kobe or if you are a tourist in this city:
1-day pass for buses and Metros (City Bus & Subway 1-day Pass): This pass allows you unlimited travel on subways and buses for a day. Please note that is only valid for the day of purchase. Price: Adults 1,030 yen / Children 500 yen.
1-day pass for the Metro: allows unlimited travel on the subway Kobe during the day you buy the ticket. Price: 820 yen.
U-Line Card: This is a prepaid card which will deducing the truth as you use the subway or buses in the city. It has the benefit that you receive 20 yen discount each time you use it on the same day to make transfers between subway and city buses. Price: There are two options available, one of 1000 and another 3,000 yen.
Kansai Thru Pass: This pass is unique to tourist and allows you unlimited use the metro, railways and buses in the Kansai area, including the Kobe Metro. In addition, it comes with a practical guide in English, Japanese and Korean, a map of the region and discount coupons. Price:

Ticket for two days Adult 4,000 yen / Child 2,000 yen.             
3-day ticket Adult 5,200 yen / Child 2,600 yen.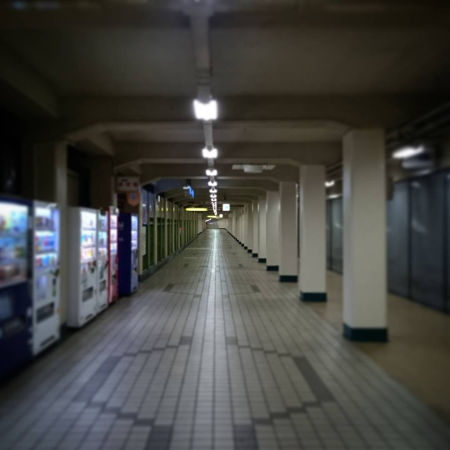 Kobe Metro
Where to buy tickets?
You can buy tickets for the Kobe Metro at the stations. There you will find both automatic ticket vending machines and ticket offices that allow you to purchase tickets from operators.
Payment
Tickets can be purchased by cash or credit card.
Some Considerations
Children under 6 years must be accompanied
If an adult is traveling with up to 2 children that are aged between 1 and 6 years, then the children travel free of cost.
There are special spaces that facilitate the placement the of baby carriages that allow a space for both carriage and the person travel with this item.
Both lines offer women-only carriages.
Safety information
Security is an important issue in this medium. The Kobe Metro works in permanent collaboration with the Meteorological Service and the Prefecture to respond quickly to security alerts.
There are security protocols aimed at the rapid evacuation in case of earthquake, tsunami, tsunami caused floods, due to the fact that one of the lines is very close to the coastal floods and floods that occur near rivers lines.
Furthermore, handling mobile phones is limited within trains, tending to reduce the effect of electromagnetic waves, and at peak times, users are prompted to turn off their devices.
Technical information
Yamanote Line Seishin
Routes: Base vehicle Myodani, Garage Seishin
Vehicles: 1000, 2000 and 3000 form
2) Coastline
Routes: Base of the vehicle Misaki
Vehicles: 5000 form
What to visit in Kobe?
1) Attractions just steps from the Metro
If what you want is to reach the best entertainment areas of the city, which are Harborland and Meriken Park, or the Navy Museum of Kobe, you should take the Kaigan line and get off at Harborland and Minato Motomachi stations. Here you can take a nice walk, enjoying the best views of the city, shopping, eating in restaurants the harbor and visit the museum.
In addition, if you care about is sports, taking the Kaigan line and travelling to the Misaki Koen and Wada Misaki stations, you can quickly get to Home's Stadium of Kobe (aka Kobe Wing Stadium), official stadium of football team and local rugby.
2) Other places you cannot miss
Access these attractions using the metro is a very good option, but keep in mind that you must combine the subway with some steps walking to enjoy them.
Kobe Nunobiki Herb Garden: Get to know a variety of plants of Japan here, you can have a picnic or eat at any of the restaurants or bars available there while enjoying nature. Do not forget to take the cable car! (I recommend you take one way, and do around the walking to discover all the beauties of the park).
Kobe Animal Kingdom: This is not a typical zoo but a park where animals live free and interact. If you are an animal lover you cannot miss this place.
Sannomiya Center Gai Shopping Street: If you are a fan of shopping or just like buying souvenirs from your travels, this is the ideal place. It has different types of businesses and restaurants to spend a nice time walking around.
Of course there are many more places to discover in Kobe. If you are interested at this point, you can visit this link: https://www.tripadvisor.com/Attractions-g298562-Activities-Kobe_Hyogo_Prefecture_Kinki.html
Media