Tama Toshi Monorail
Currently, the system has one double track line of 16 km length. There are 19 stations along the line including the terminal stations Tama center and Kamikitadai. Hitachi Type 1000 trains are running on the line. Tokyo Tama Intercity Monorail Co. Ltd. is in its operation. Every day, 120,494 people use this monorail system.
Historical Background
The Tama Toshi Monorail was conceived as a means of public transport connecting the north-south corners of Tama city. The monorail started operation on 27th November 1998. In the first phase, only a 5.4 km section between Kamikitadai and Tachikawa-Kita was opened. A postal stamp was released at that time to celebrate the opening of the monorail system. On January 10, 2000, the line was extended to Tama-center to achieve the current length.
Hours of Operation
The monorail system operates from 5:30 AM to midnight. Trains come every 10 minutes. The frequency of trains varies a bit during weekends as well as in early and late hours.
View the timetables for each station here.
Lines and Stations
Starting from Higashiyamato, the monorails run through Hino, Tachikawa and Hachiōji suburbs and finally end at Tama. The line lies completely within the geographical border of Tokyo. Trains run at a speed of 65 km/h. Full journey on this line takes about 36 minutes.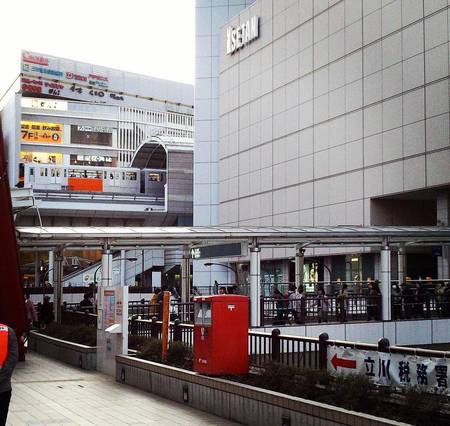 Monorail Tama
The stations are user-friendly. Even international visitors will find the system easy to use. Each station is denoted by a specific image and has two platforms and a station building. The track is constructed 15 m above ground. From Tama Toshi Monorail, it is possible to transfer to multiple railway systems, e.g. JR East's Chūō Main Line, Odakyu Tama Line, Keio Sagamihara Line and Nambu Line.
The stations on this line are:
Tama-Center
The station has a central location in the Tama New Town. Multiple shops and government buildings are located surrounding the station. At this terminal station, interchanges are possible to Odakyu Tama Line and to Keio Sagamihara Line.
Matsugaya
The station is located above Tokyo Metropolitan Route 156 in proximity to schools, parks and shipping areas. The station mainly covers the Matsugaya and Kashima areas in Tama New Town.
Ōtsuka Teikyo-Daigaku
This station is close to Ōtsuka campus of Teikyō University, OK Store supermarket (Tama-Ōtsuka branch), Festa Resort Yaen hotel etc.
Chūō-Daigaku-Meisei-Daigaku
This is the only station in Tama Toshi Monorail system that is not elevated. It is near Meisei University and Chūō University campuses, FamilyMart convenience store etc.
Tama-Dōbutsukōen
The station is adjacent to Tama Zoo and Keio Rail-Land. At this station, you can interchange to Keio Dobutsuen Line.
Hodokubo
The station is located above Tokyo Metropolitan Route 503 and is in the center of a dense residential area. From this station, it is easy to reach Hino Takahatadai Post Office, Hino City Yumegaoka Elementary School and Hino City Furusato Museum.
Takahatafudō
This station remains populated by students who commute daily to nearby university campuses. At this station, you can interchange to Keio Dobutsuen Line and Keio Line. Get off to reach Kongōji Temple as well as to explore nearby shopping centers.
Manganji
This station is built just above the junction of Tokyo Metropolitan Route 503 and National Route 20. Interesting spots near this station are Sekiden Bridge, Atagosan Sekidenji, Tokyo Metropolitan Hino Senior High School, Hino City Clean Center etc.
Kōshū-Kaidō
Located above Tokyo Metropolitan Route 503, this station is surrounded by residential complexes.
Shibasaki-Taiikukan
Located above Tokyo Metropolitan Route 149, this station gives you easy access to Tama River and Tachikawa Municipal Shibasaki Gymnasium.
Tachikawa-Minami
The station is also located above Tokyo Metropolitan Route 149. It is a small walk away from the JR Tachikawa Station. This station allows transfers to Nambu Line, Ōme Line and Chūō Main Line. Important areas covered by the station are Tokyo Metropolitan Tama Cultural Center and Library, AREAREA shopping center etc.
Tachikawa-Kita
This station also allows the above-mentioned transfers. From this station, you can take a small walk to the JR Tachikawa Station. In the locality, you'll find Cinema City / Cinema Two movie theater complex, Isetan (Tachikawa Branch) etc.
Takamatsu
Main units of Tama Toshi Monorail including its headquarter are located in the surrounding of the Takamatsu station. Besides, in the nearby, located are National Institute of Polar Research, National Institute of Japanese Literature, Showa Commemorative National Government Park, National Hospital Organization Disaster Medical Center etc.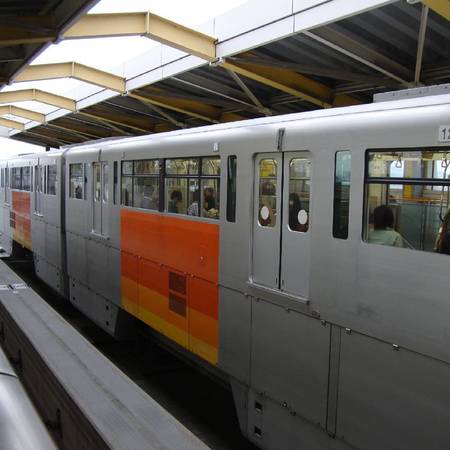 Tama Toshi
Tachihi
Also built above the Tokyo Metropolitan Route 43, this station has mostly warehouses in the nearby. From the station, you can easily reach Tachihi Driving Range, headquarter of Tachikawa Enterprise Co. Ltd., Shinnyo-en and ABC Housing World Tachikawa showroom.
Izumi-Taiikukan
The station is located above Tokyo Metropolitan Route 43, surrounded by predominantly residential areas. Besides, the station is close to Tokyo Metropolitan Sunagawa Senior High School, Tachikawa Municipal Izumi Gymnasium, TOTO Tachikawa Showroom and Tachikawa City Fifth Junior High School.
Sunagawa-Nanaban
The station is located just above the junction of Tokyo Metropolitan Routes 7 and 43. Residential neighborhoods and shops are within its proximity. In the nearby, you'll also find Kobushi Kaikan, Tachikawa City Library (Saiwai Branch) and Tachikawa Kominkaen.
Tamagawajōsui
At this station, interchange to Seibu Haijima Line is possible. The station is located near residential complexes and commercial buildings. Tamagawa-Jōsui flows from nearby. Get off at this station to reach The Risshō Kōsei Kai cemetery.
Sakura-Kaidō
This station is located above the Tokyo Metropolitan Route 43. Nearby points of interest are Casio Hitachi Mobile Communications (Tokyo Plant), Morinaga Milk Industry (Tokyo Tama Plant) and Sakura Kaidō.
Kamikitadai
It is also located just above the Tokyo Metropolitan Route 43. Get off at this station to reach Higashiyamato City Fourth Junior High School, Higashiyamato Kamikitadai Post Office, Tokyo Metropolitan Route 5 and Kita-Tama-Seibu Fire Station.
Expansion
The long-term plan of the corporation is to build a 93 km long track. However, construction work hasn't begun yet. The monorail system is struggling financially. Whereas Tokyo Monorail takes passengers to Haneda Airport, Tama Toshi system lacks such connection. At this moment, no concrete information is available on system's expansion.
Fare and Ticket
Tama Toshi Monorail fare is calculated section wise. Every passenger, 6 years old or older must buy a ticket to ride Tama Toshi Monorail. For children between 6 to 11 years, there are child tickets which usually cost half of adult tickets. Tickets are to be bought either from ticket vending machines or from ticket windows located in the stations.
Besides regular single journey ticket, the monorail authority sells multiple discount tickets, namely, One-day Tickets, Ticket Books and Tama Monorail Ticket Sets. For students and daily commuters, Commuter Pass is the most suitable. For selling such passes separate machines and separate windows are available in the stations. To buy commuter passes you can use your Suica or PASMO card.
Get full information on fare calculation from here.
Go through corporation's FAQ page for ticketing options.
Facilities and Services
The journey by Tama Toshi Monorail is enjoyable because of the following facilities:
All the elevated stations have escalators and elevators.
Surveillance cameras are fitted in the stations for remote monitoring.
Instructions on the ticket machines are written in English and Japanese.
The trains are either air-conditioned or heated as per outside weather condition.
Rules
While riding the Tama Toshi Monorail, keep the following in mind not to break monorail rules:
Only disassembled or folded bikes are allowed on the trains.
You must not carry items more than 2 m of length with you on the trains.
Animals and inflammable are not allowed on trains. To carry pets, passengers must use carriers.
To shoot within monorail's vicinity, you have to take prior permission from the corporation.
Tips
Here are some tips to make your monorail ride more enjoyable:
Students should always ask for delay certificate if their trains are more than 10 minutes delayed and they are late for their class or exam.
Station staffs check under the platforms every day but only after the last train stops. If you have dropped any of your belongings there, come one or couple of days later in search of it.
If you have multiple unused Ticket Book tickets, return them and get a percentage of your money back.