Berlin Metro
The Berlin Metro (in german Berliner U-Bahn) was opened in 1902 and has been updated almost until 2009. The construction of this system has been affected by milestones such as the 1st and 2nd World War, in which the works were paralyzed and part of the network was damaged. When the city was divided by the wall, metro stations were also abandoned between East Berlin and West Berlin. It is one of the most functional and practical network in Europe and the largest metro system in Germany. There are 10 lines serving 170 stations in 145 kilometers. Trains can reach speeds of 72 km/h although the normal traveling speed is 30 km/ h.
The Berliner Verkehrsbetriebe (BVG, Berliners Public Transport) is the company that manages the Berlin metro, in addition to buses, trams and ferry. The suburban train (S-Bahn), managed by the S-Bahn Berlin GmbH, complete the transport network in Berlin. This network covers a total of 1626 kms of bus lines, 286 kms of tram lines, 330 kms of train lines and 145 kms of metro.
Berlin metro is used by over 1.4 million people daily. Annually more than 500 million passengers travel in metro.
Berlin metro lines (U-Bahn)
Berlin metro has 10 lines, including the U55 extension. Some sections run underground and some others on the surface.
Line U1 (Green)
Runs from East to West Berlin from Uhlandstraße to Warschauer Straße in a travel time of 21 minutes. It covers an area of 8.8 km long that serves 13 stations. It's the oldest line in Berlin. It opened in 1902. In addition to the first stations built in the system, this line has other interesting stations for tourists, as Kurfürstendamm where the Kaiser Wilhelm Memorial Church is, and Wittenbergplatz next to the KaDeWe mall.
Stations: Uhlandstrasse, Kurfürstendamm, Wittenbergplatz Nollendorfplatz, Kurfürstenstrasse, Gleisdreieck, Möckernbrücke, Hallesches Tor, Prinzestrasse, Kottbusser Tor, Görlitzer Bahnhof Schlesisches Tor, Warschauer Strasse.

Line U2 (Red)
The red line runs from Ruhleben station in West Berlin to the east ending at the North Station, Pankow. It covers a route of 20.7 kms long and serves 29 stations. The time required for the complete journey is 47 minutes. The most interesting places that can be accessed from this line are Alexanderplatz, Potsdamer Platz, the zoo, the Deutsche Oper, ... and some more.
Stations: Ruhleben, Olympia-Stadion Neu-Westend, Theodor-Heuss-Platz, Kaiserdamm, Sophie-Charlotte-Platz, Bismarckstrasse, Deutsche Oper, Ernst-Reuter-Platz, Zoo, Wittenbergplatz Nollendorfplatz, Bülowstrasse, Gleisdreieck, Mendelssohn-Bartholdy-Park, Potsdamer Platz, Mohrenstrasse, Stadtmitte, Hausvogteiplatz, Spittelmarkt, Märkisches Museum, Klosterstrasse, Alexanderplatz, Rosa-Luxemburg-Platz, Senefelderplatz, Eberswalder Strasse Schönhauser Alle, Vinetastrasse, Pankow.

Line U3 (green-blue)
It begins in the southwest of the city in the Krumme Lanke station and ends in the center of Berlin in the Nollendorfplatz station. It covers a route of 11.9 kms long and serves 15 stations. The total time for a full ride is 24 minutes. It is not an especially interesting line for tourists line.
Stations: Krumme Lanke, Onkel Toms Hütte, Oskar-Helene-Heim, Thielplatz, Dahlem-Dorf, Podbielskiallee, Breitenbachplatz, Rüdesheimerplatz, Heidelberger Platz Fehrbelliner Platz, Hohenzollernplatz Spichernstrasse, Augsburger Strasse, Wittenbergplatz Nollendorfplatz.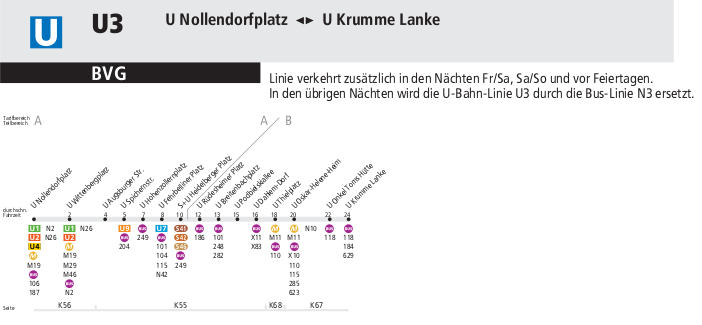 Download metro map of Berlin, U3 line
Line U4 (yellow)
The yellow line links Nollendorfplatz to Innsbrucker Platz. It's the Berlin metro shortest line with 2.9kms and 5 stations. It takes six minutes to travel it. It was inaugurated in 1910.
Stations:Innsbrucker Platz, Rathaus Schöneberg, Bayerischer Platz, Viktoria-Luise-Platz, Nollendorfplatz.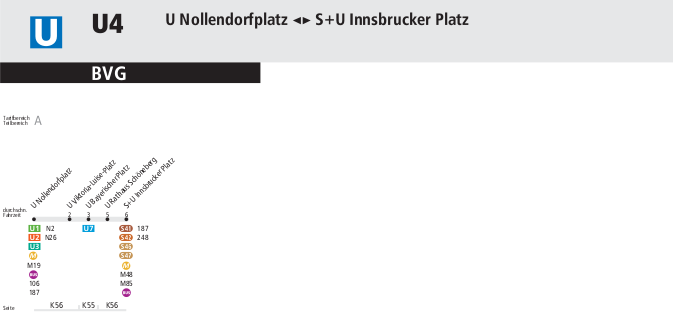 Download map of Berlin subway, line U4.
Line U5 (Brown)
The first station is Hönow in the east and reaches the station Alexanderplatz. In this line you can access Friedrichshain on Frankfurter station. Here begins the U55 line to Hauptbahnhof. There are 20 stations in 18,4kms. The journey time is 33 minutes.
Stations: Alexanderplatz Schillingstrasse, Strausberger Platz, Weberwiese, Frankfurter Tor, Samariterstrasse, Frankfurter Allee, Magdalenstrasse, Lichtenberg, Friedrichsfelde, Tierpark, Biesdorf-Süd, Elsterwerda Platz, Wuhletal, Kaulsdorf Nord, Neue Grottkauer Strasse, Cottbusser Platz, Hellersdorf, Louis-Lewin-Strasse, Hönow.

Download map of U-Bahn U5 line.
Line U55
The U55 line is an extension of the U5 line. It's 1.8kms long and serves only three stations. This line was built in 2009. Travel time is 2 minutes.
Stations: Hauptbahnhof, Bundestag, Brandenburg Tor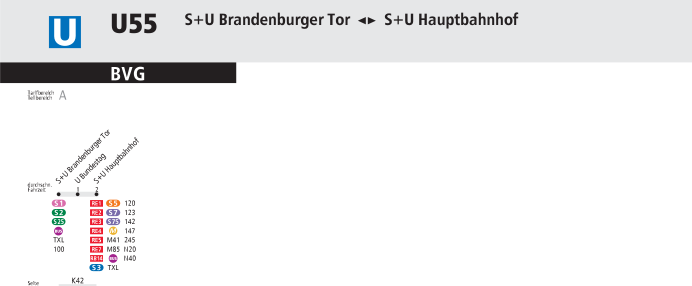 Download U55 Line Map, U-Bahn.
Line U6 (Purple)
It begins in the Alt-Tegel station in the northwest and reaches the Friedrichstrasse station in the center. The line ends at the South station Alt-Mariendorf. It's 19.9 kms long and serves 29 stations. The time to make the journey from end to end is 38 minutes. An interesting station in this line is Kochstraße
Stations: Alt Tegel, Borsigwerke, Holzhauser Strasse, Otisstrasse, Scharnweberstrasse, Kurt-Schumacher-Platz, Afrikanische Strasse Rehberge, Seestrasse, Leopoldplatz, Wedding, Reinickendorferstrasse, Schwartzkopffstrasse, Zinnowitzer Strasse Tor Oranienburg, Friedrichstraße, Französische Strasse, Stadtmitte, Kochstrasse , Tor Halesches, Mehringdamm, Platz der Luftbrücke, Paradestrasse, Tempelhof, Tempelhof Alt, Kaiserin-Augusta-Strasse - Ullsteinstrasse, Westphalweg, Alt Mariendorf.

Line U7 (light blue)
The Berlin metro light blue line is 32 kms long and serves 40 stations. It is the longest line in Berlin metro. A complete trip takes 57 minutes. It begins in the northwest in the Rathaus Spandau station and ends in the southeast station Rudow. One of the most interesting stations of this line is Richard-Wagner-Platz near the Charlottenburg Palace.
Stations: Rathaus Spandau, Altstadt Spandau, Zitadelle, Haselhorst, Paulsternstrasse, Rohrdamm, Siemensdamm, Halemweg, Jakob-Kaiser-Platz, Jungfernheide, Mierendorffplatz, Richard-Wagner-Platz, Bismarckstrasse, Wilmersdorferstrasse, Adenauerplatz, Konstanzer Strasse, Fehrebelliner Platz, Blissestraße , Berlinerstrasse, Bayerischer Platz, Eisenacherstraße, Kleistpark Yorckstrasse, Möckernbrücke, Mehringdamm, Gneisenaustrasse, Südstern, Hermannplatz, Rathaus Neukölln, Karl-Marx-Strasse, Neukölln, Grenzzallee, Blaschkoallee, Parchimer Allee, Britz-Süd, Johannisthaler Chaussee, Lipschitzallee, Wutzkyallee , Zwickauer Damm, Rudow.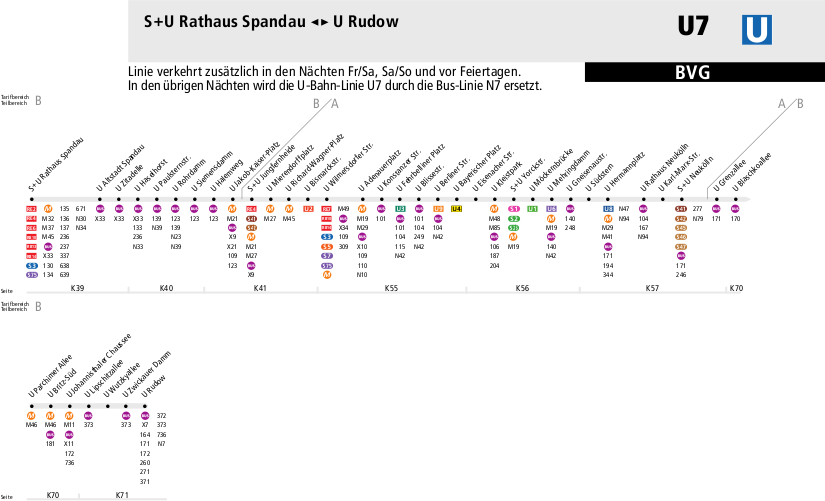 Line U8 (Dark Blue)
Line U8 crosses the city from north to south. It stretches from Hermannstraße Station to Wittenau. The route is 18kms long and serves 24 stations. Time to make a complete trip is 36 mins.
Stations: Wittenau, Rathaus Reinickendorf, Karl-Bonhoeffer-Nervenklinik, Lindauer Allee, Paracelsus-Bad, Residenzstrasse, Franz-Neumann-Platz, Osloer Strasse, Pankstrasse, Gesundbrunnen, Voltastrasse, Bernauer Strasse , Rosenthaler Platz, Weinmeisterstrasse, Alexanderplatz, Jannowitzbrücke, Heinrich-Heine-Strasse, St. Moritz, Kottbusser Tor, Schönleistrasse, Hermannplatz Boddinstrasse, Leinestrasse, Hermannstrasse

Line U9 (Orange)
The orange line stretches from north to south. This route serves 18 stations and is 12,5kms long. It goes from Osloer Straße to Rathaus Steglitz, located in the south. The time required to make a complete trip is 23 minutes.
Stations: Osloer Strasse, Nauener Platz, Leopoldplatz, Amrumer Strasse, Westhafen, Birkenstrasse, Turmstrasse, Hansaplatz, Zoologischer Garten, Kurfürstendamm, Spichernstrasse, Güntzelstraße, Berliner Strasse, Bundesplatz, Friedrich-Wilhelm-Platz, Walther-Schreiber-Platz, Schlosstrasse, Rathaus Steglitz.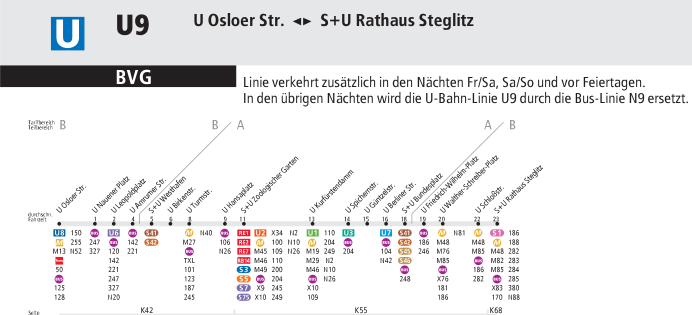 Berlin Underground hours and frequency of service
The Berlin metro operates from 4:30 to 00:30 on weekdays.
The frequency of services varies depending on the time of the day. On weekdays, from 6:00 am until 20:00 pm frequency is 5-10 minutes. On Saturdays, Sundays and holidays frequency is 10 minutes. At night hours, from 00:30 until 05:30 on Saturdays and Sundays from 00:30 to 7:00, the frequency is 15 minutes. All lines except the U4 operate by night on weekends and holidays. p>
On Weekdays the metro night service is replaced by buses operating less regularly. Specifically the bus lines that are in service are the N1, N2, N3, N5, N6, N7, N8 and N9.
Tickets and fares
Berlin is divided into 3 tariff zones. Zone A, B and C.
The zone A is the city center and the suburban train (S-Bahn) ring.
The zone B reaches the boundary of the urban area of ​​the city of Berlin.
The zone C covers Greater Berlin area including the Berlin-Schönefeld Airport, Potsdam, Oranienburg and Sachsenhausen.
Based on these three areas, we can buy three types of tickets. For the AB zones, for BC and for the entire system, the ABC zones. There are 3 fares: the regular fare, which is applicable to adults, the reduced rate for children from 6 to 14 years inclusive. The fare for children under age 6, that travel free. The tickets are valid for both the metro and suburban trains, and also for buses and trams
Although the most direct and easy way to buy your ticket is going to vending machines at any station, tickets can also be purchased at any sale point of the BVG or S-Bahn, and even online.
Einzelticket (single ticket)
A single ticket for zones AB is priced at €2.70 and is valid for traveling for two hours in the same direction. For zone B-C costs 3€ and for zones ABC 3.30€
Tagesticket (ticket for one day)
You can use from the moment it is validated until 3 am the next day. It is priced at 6.90€ for zones AB, 7.20€ for zones BC and 7.40€ for zones ABC.
Kleingruppenkarte (ticket for small groups)
It is a good choice for groups up to 5 people (from 3 people is already a good business). It costs 16.90€ for zones AB, 17.20€ for zones BC and 17.40€ for zones ABC. It is valid for one day until 3 in the morning. P>
Welcome Card
If your stay in Berlin is two or more days and the purpouse of your visit is sightseeing, we recommended to purchase a Berlin WelcomeCard. With this card you can get a special ticket for 48 or 72 hours for unlimited travel on all transport in Berlin and save up to 50% in museums and other tourist and cultural attractions in Berlin and Potsdam. WelcomeCard also comes with a guide with maps and recomendations of what to see and what to do in the city. The Berlin Welcome Card for zones AB and for one person is priced at 16.50€ for two days and 21.50€ for 3. The WelcomeCard-Berlin/Potsdam ticket for 3 zones is perfect if traveling with children. Valid for one adult and up to three children under 14 years. Comparing the prices of tickets to the Welcome normal card, you can see that you can easily save money.
You can take your bike paying an extra fare in some trains provided that there is enough space. If you carry a dog a reduced fare ticket is needed.
There are also weekly, monthly and other passes and types of tickets. You can get all the updated info about tickets in official website.
How to use the Berlin metro?
The first thing I recommend is to get a metro map. Map are available in any station. If you buy a Berlin Welcome Card you also get detailed guides and a map. Of course, you can also print the map above in our website. Do not be alarmed if at first it seems too complicated because it is not. Traveling by subway can get you to almost anywhere in the city. But if there is no metro service to your destination a buses or trams will do the job.
On the map we have to find our destination stop and also the direction in which we are going. When we know the direction we have to find the last stop on the line and that will be our reference. We have to look at the signals in the station and displays at the entrances to each platform. It also appears in the header of each train.
Now we only need to buy the ticket. For reference, to travel through the center and the most interesting neighborhoods and points of Berlin, a ticket for zones AB would be enough. If we want to visit Potsdam or Sachsenhausen concentration camp on the outskirts of Berlin we need a ticket for zones ABC. In every station there are ticket machines where we can pay in cash or with credit card. These machine menus are in 6 languages. There are no barriers or turnstiles to prevent passengers to the platforms, however, it is required to validate your ticket in the machines that are enabled for that purpose (they are small red or yellow machines usually next to the tickets vending machines). There is staff who will request the ticket and if not carrying a valid or a not properly validated ticket you expose yourself to a fine which usually have to be paid on the spot. There are cases in which the staff has followed the passenger to an ATM. The controls are random and the metro staff do not wear uniforms, but they must be identified as such. The fine is up to 60€. P>
Curious facts
The Berlin metro, like many other systems in Germany is called U-bahn. U-bahn is abbreviation for the German word Untergrundbahn which means underground or subway.
Even at rush hour you can find a seat in the Berlin subway.
Berlin metro is one of the most efficient and less polluting systems in Europe. >
Berlin metro trains are characterized by their yellow color.
Wikipedia Berlin metro map
Accesibility
The stations are designed keeping in mind people with disabilities and there are elevators and other ways to allow access to users with disabilities. There are intercoms for assistance in every station.