Tokyo Metro
Tokyo Metro, formerly known as Eden, is the rapid transit system serving the capital of Japan. This system became operational in 1927 as the Tokyo Underground Railway. It currently consists of 13 lines and 282 stations and a total network length of nearly 330 kilometers. The system is operated by Tokyo Metro Co. Ltd., a company jointly formed by the ministrerio Infrastructure, Transport and Tourism (MLIT) and the regional government of Tokyo and also by the company Toei Subway. This latter operates 4 of the 13 lines. It has a daily influx of about 8.7 million passengers.
Actually, it's not two but three companies operating in the same railway network. JR, a public company, and TOEI and TRTA that are private companies.
For the tourist it's certainly the best way to visit Tokyo as metro take you to shopping areas, churches, museums, parks, such as Sensoji Temple (Asakusa), the scramble crossing (Shibuya), Kabukicho (Shinjuku), Tsukiji Market (Tsukiji), Kabuki-za (Higashi-ginza) and Tokyo Tower (Kamiyacho).
Although at first glance the complex Tokyo subway map, like any other big megalopolis metro system map, may scare you, the Tokyo subway is very easy to use because of its special nomenclature and signs, English being used, used and of course the staff available to support travelers.
Tokyo Metro lines and stations
Tokyo subway nomenclature is fairly easy to learn and remember:
A letter to name the line.
A number to name the station
Station numbers are surrounded by a line of a color corresponding to the line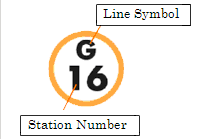 Lines operated by Tokyo Metro
Ginza line or line 3: This line is identified with the letter G and orange color. The subway in this line covers Shibuya to Asakusa route. The length of the line is 14.3km Ginza serving 19 stations. Stations: G-01. Shibuya, G-02. Omotesando, G-03. Gaienmae, G-04. Aoyama-Itchomoe, G-05. Akasaka-Mitsuke, G-06. Tameike-Sanno, G-07. Toranomon, G-08. Shimbashi, G-09. Ginza, G-10. Kyobashi, G-11. Nihombashi, G-12. Mitsukoshimae, G-13. Kanda, G-14. Suehirocho, G-15. Ueno-Hirokoji, G-16. Ueno, G-17. Inaricho, G-18. Tawaramachi, G-19. Asakusa
Line 4 or Marunouchi Line: Identified by the M letter and red color. This line runs in Ogikubo-Ikebukuro route which has 24 stations. The total length of the line is 24.2 km. This line also has a branch in the Nakano-Sakaue to Honancho route with 4 additional stations. The branch is also named after the letter "m" (lowercase) and add 3,2kms to the system length. Stations: M-01. Ojikubo, M-02. Minami-Asagaya, M-03. Shin-Koemji, M-04. Higashi-Koenji, M-05. Shin-Nakano, m-03. Honancho, m-04. Nakano-Fujimicho, m-05. Nakano-Simbashi, M-06. Nakano-sakaue, M-07. Nishi-shinjuku, M-08. Shinjuku, M-09. Shinjuku-Sanchome, M-10. Shinjuku-Gyoemmae, M-11. Yotsuya-Sanchome, M-12. Yotsuya, M-13. Akasaka-Mitsuke, M-14. Okkaigijidomae, M-15. Kasumigaseki, M-16. Ginza, M-17. Tokio, M-18. Otemachi, M-19. Awajicho, M-20. Ochanomizu, M-21. Hongo-Sanchome, M-22. Korakuen, M-23. Myogadani, M-24. Shin-Otsuka, M-25. Ikebukuro
Hibiya Line or line 2: Identified with the letter H and silver color. This route has 21 stations in 20,3kms. The Hibiya line covers the route between Naka-Meguro and Kita Senju. Stations: H-01. Naka-Meguro, H-02. Ebisu, H-03. Hiroo, H-04. Roppongi, H-05. Kamiyacho, H-06. Kasumigaseki, H-07. Hibiya, H-08. Ginza, H-09. Higashi-Ginza, H-10. Tsukiji, H-11. Hatchobori, H-12. Kayabacho, H-13. Ningyocho, H-14. Kodermmacho, H-15. Akihabara, H-16. Naka-Okachimachi, H-17. Ueno, H-18. Iriya, H-19. Minowa, H-20. Minami-Senju, H-21. Kita-Senju.
Tozai line or line 5: this line is identified with the letter T and the sky blue color. It has a total of 23 stations. The route covered is between Nakano and Nishi-Funabashi. The total length of this route is 30.8 km. Stations: T-01. Nakano, T-02. Ochiai, T-03. Takadanobaba, T-04. Waseda, T-05. Kagurazaka, T-06. Idabashi, T-07. Kudanshita, T-08. Takebashi, T-09. Otemachi, T-10. Nihombashi, T-11. Kayabacho, T-12. Mozen- Nakacho, T-13. Kiba, T-14. Toyocho, T-15. Minami-Sunamachi, T-16. Nishi-Kasai, T-17. Kasai, T-18. Urayasu, T-19. Minami-Gyotoku, T-20. Gyotoku, T-21. Myoden, T-22. Baraki-Nakayama, T-23. Nishi-Funabashi
Chiyoda Line or line 9: It is identified with the letter C and green color. The metro runs from Yo Yogi Uehara to Kita Ayase. It has a total of 20 stations and a legnth of 24 kms. Stations: C-01. Yoyogi-Uehara, C-02. Yoyogi-Koen, C-03. Meiji-Jingumae, C-04. Omotesando, C-05. Nogizaka, C-06. Akasaka, C-07. Kokkai-Gijidomae, C-08. Kasumigaseki, C-09. Hibiya, C-10. Nijubashimae, C-11. Otemachi, C-12. Shin-Ochanomizu, C-13. Yushima, C-14. Nezu, C-15. Sendagi, C-16. Nishi-Nippori, C-17. Machiya, C-18. Kita-senju, C-19. Ayase, C-20. Kita-Ayase
Yurakucho Line or Line 8: this line is identified with the letter Y and yellow color. The Yurakucho line route links Wakoshi stations to Shin-Kiba. In this route it pass through 24 stations: Y-01. Wakoshi, Y-02. Chikatetsu-Narimasu, Y-03. Chikatetsu-Akatsuka, Y-04. Heiwadai, Y-05. Hikawadai, Y-06. Kotake-Mukaihara, Y-07. Senkawa, Y-08. Kanamecho, Y-09. Ikebukuro, Y-10. Higashi-Ikebukuro, Y-11. Gokokuji, Y-12. Edogawabashi, Y-13. Idabashi, Y-14. Ichigaya, Y-15. Kojimachi, Y-16. Nagatacho, Y-17. Sakuradamon, Y-18. Yurakucho, Y-19. Ginza-Itchome, Y-20. Shintomicho, Y-21. Tsukishima, Y-22. Toyosu, Y-23. Tatsumi, Y-24. Shin-Kiba
Hanzomon line or line 11: It is identified with the letter Z and violet color. It serves the route between Shibuya and Oshiage stopping on their way in 14 stations. Stations: Z-01. Shibuya, Z-02. Omotesando, Z-03. Aoyama-Itchome, Z-04. Nagatacho, Z-05. Hanzomon, Z-06. Kudanshita, Z-07. Jimbocho, Z-08. Otemachi, Z-09. Mitsukoshimae, Z-10. Suitengumae, Z-11. Kiyosumi-Shirakawa, Z-12. Sumiyoshi, Z-13. Kinshicho, Z-14. Oshiage
Namboku line or line 7: Identified with the letter N and the green color. It serves the route between Meguro and Akabane-Iwabuchi where it stops at 19 stations: N-01. Meguro, N-02. Shirokanedai, N-03. Shirokane-Takanawa, N-04. Azabu-Juban, N-05. Roppongi-Itchome, N-06. Tammeike-Sanno, N-07. Nagatacho, N-08. Yotsuya, N-09. Ichigaya, N-10. Idibashi, N-11. Korakuen, N-12. Todaimae, N-13. Hon-Komagome, N-14. Komagome, N-15. Nishigahara, N-16. Oji, N-17. Oji-Kamiya, N-18. Shimo, N-19. Akabane-Iwabuchi
Fukutoshin lin or line 13: the line is identified with letter F and brown color. The metro runs from the station Wakoshi to Shibuya making stops in the following 16 stations: F-01. Wakoshi, F-02. Chikatetsu-Narimasu, F-03. Chikatetsu-Akatsuka, F-04. Heiwadai, F-05. Hikawadai, F-06. Kotake-Mukaihara, F-07. Senkawa, F-08. Kanamecho, F-09. Ikebukuro, F-10. Zoshigaya, F-11. Nishi-Waseda, F-12. Higashi-Shinjuku, F-13. Shinjuku-Sanchome, F-14. Kita-sando, F-15. Meiji-Jingumae, F-16. Shibuya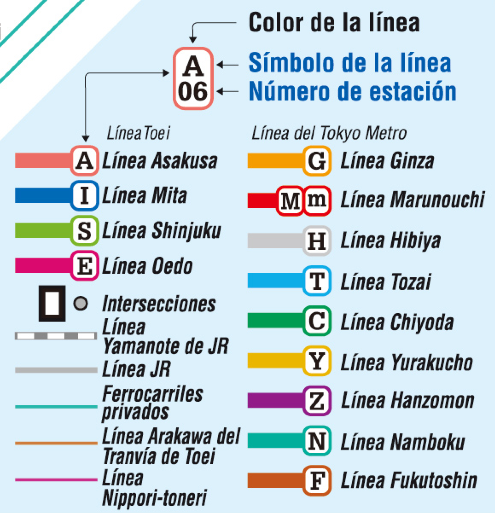 Lines operated by Toei Subway
Line 1 or Line Asakusa. It is identified with the letter A and the color pink. It has 20 stations: A-01. Nishi-Magome, A-02. Magome, A-03. Nakanobu, A-04. Tagoshi, A-05. Gotanda, A-06. Takanawadai, A-07. Sengakuji, A-08. Mita, A-09. Daimon, A-10. Shimbashi, A-11. Higashi-Ginza, A-12. Takaracho, A-13. Nihombashi, A-14. Ningyocho, A-15. Higashi-Nihombashi, A-16. Asakusabashi, A-17. Kuramae, A-18. Asakusa, A-19. Honjo-Azumabashi, A-20. Oshiage
Mita line or line 6.It's identified by the color blue and the letter I. It's 27 stations: I-01. Meguro, I-02. Shirokanedai, I-03. Shirkane-Takanawa, I-04. Mita, I-05. Shiba-Koen, I-06. Oniramon, I-07. Uchi-Saiwaicho, I-08. Hibiva, I-09. Otemachi, I-10. Jimbocho, I-11. Siudobashi, I-12. Kasuga, I-13. Hakusan, I-14. Sengoku, I-15. Sugamo, I-16. Nishi-Sugamo, I-17. Shin- Itabashi, I-18. Itabashe-Kuyakushomae, I-19. Itabashi-Honcho, I-20. Motohasunuma, I-21. Shimura-Sakaue, I-22. Shimura-Sanchome, I-23. Hasune, I-24. Nishidai, I-25. Takashimadeira, I-26. Shin-Takashimadaira, I-27. Nishi-Takashimadaira
Shinjuku line or line 10. It is the light green line and is identified with the letter S. It's 21 stations: S-01. Shinjuku, S-02. Shinjuku-Sanchome, S-03. Akebonobashi, S-04. Ichigaya, S-05. Kudanshita, S-06. Jimbocho, S-07. Ogawamachi, S-08. Iwamotocho, S-09. Bakuro-Yokoyama, S-10. Hamacho, S-11. Morishta, S-12. Kikukawa, S-13. Simumoshi, S-14. Nishi-Ojima, S-15. Ojima, S-16. Higashi-Ojima, S-17. Funabori, S-18. Ichinoe, S-19. Mizue, S-20. Shinozaki, S-21. Motoyawata
Oedo line or line 12. It's the fuchsia line and is identified with the letter E. It has a total of 38 stations: E-01. Shinjuku-Nishiguchi, E-02. Hingashi-Shinjuku, E-03. Wakamatsu-Kawada, E-04. Ushigome-Yanagicho, E-05. Ushigome-Kagurazaka, E-06. Idabashi, E-07. Kasuga, E-08. Hongo-Sanchome, E-09. Ueno-Okachimachi, E-10. Shin-Okachimachi, E-11. Kuramae, E-12. Ryogoku, E-13. Morishita, E-14. Kiyosumi-Shirakawa, E-15. Monzen-Nakacho, E-16. Tsukishima, E-17. Kachidoki, E-18. Tsukiji-Shijo, E-19. Shiodome, E-20. Daimon, E-21. Akabanebashi, E-22. Azabu-Juban, E-23. Roppongi, E-24. Aoyama-Itchome, E-25. Kokuritsu-Kyogijo, E-26. Yoyogi, E-27. Shinjuku, E-28. Tochomae, E-29. Nishishinjuku-Gochome, E-30. Nakano-Sakaue, E-31. Higashi-Nakano, E-32. Nakai, E-33. Ochiai-Minaminagasaki, E-34. Shin-Egota, E-35. Nerima, E-36. Toshimaen, E-37. Nerima-Kasugacho, E-38. Hikarigaoka
Tokyo metro hours
It works every day from five in the morning until 12:30 after midnight. The Tokyo subway has a fairly high frequency: in rush hour 3 minutes and 10 minutes in regular hours.
Tokyo Metro fares and tickets
To calculate the appropriate fee you can consult the rates chart near to every ticket machine. Besides the Tokyo metro provides an app for your smartphone and a search system.
Download de app for android and Ios:
The tickets in vending machines can only be paid with coins and bills. Passes can be purchased using a credit card.
Using Tokyo metro
It's as easy as passing your ticket over the green arrow in the entry barriers at platforms. Do not forget to pick it up again. If instead of a regular ticket you are using a card, you pass it over the card reader with a blue light.
Regular tickets
Regular tickets are available at automatic ticket machines in the stations. Prices are calculated based on the distance traveled. There are several sections with different prices and also different prices for adults or children.
1-6 kms. Adults: 170 yens. Children: 90 yens.
7-11 kms. Adults: 200 yens. Children: 100 yens.
12-19 kms. Adults: 240 yens. Children: 120 yens.
20-27 kms. Adults: 280 yens. Children: 140 yens.
28-40 kms. Adults: 310 yens. Children 160 yens.
Coupon tickets
The Normal Coupon Tickets are sold in lots of 11 trips and can be used at any time of day (whether it's peak or peak off time). The price is the same as if you bought 10 normal tickets. You get a small discount on the price.
There are also Coupon Tickets for non peak hours. They are sold in lots of 12. Can be used from Monday to Friday from 10:00 to 16:00, on weekends and holidays, on 30 and 31 December and on 2 and 3 January. There also exist Discount Coupon Tickets for weekends and holidays (Weekend / Holiday Discount Coupon Tickets) that are sold in packs of 14 and can be used only on Saturdays, Sundays, holidays and on 30 and 31 December and 2 and 3 from January.
The coupon tickets are valid for three months from the time of purchase.
1 day open ticket
Valid for unlimited travel for one day on all lines of Tokyo Metro. Adult: 600 yen, Children: 300 yen
1 day Ticket for Tokyo y Toei lines
Unlimited travels. Adults: 1000 yen, children: 500 yen
1 day student pass
Only valid for Tokyo metro lines. Price: 300 yen.
Combined ticket
Valid for a whole day in all metro lines (Tokyo and Toei), Toei Streetcar (Toden), Toei Bus,... Adult: 1590 yen, children: 800 yen
Student-Commuter Railway Pass
There are also tickets for frequent travelers. There is a Student / Commuter Railway Pass that allows unlimited trips on a specific route. This pass is not transferable. There is also the Tokyo Metro All Line Pass for unlimited travel on all Tokyo subway routes. There are 1, 3 or 6 months periods, with prices of 17,300 yen 49.310 yen 93.420 yen respectively.
Pasmo Card
The PASMO Card is a prepaid smart card that can be used in many public transport systems in Tokyo incluiding trains and buses. It is valid for 10 years.
Suica card
It is another prepaid card that can be used in transport systems and also to pay. It can be used on JR trains, subways and buses. To get one you have to leave a deposit of 500 yen.
Line transfers
There are special tickets that allow you to transfer to the Toei Subway lines and other rail services with a discount rate
Age discounts
Adults: Are people over 12 years
Children from 6 to 11 years or 12 years still in elementary school. The fare is half the adult fare
Toddler: Children of 1 to 6 years. These children travel free when accompanied by an adult or a child.
Infant: children under 1 year old. Always travel for free.
Parking in Tokyo Metro
There is parking close to each subway station. In some you will pay the appropriate fee.
Curious facts
In the Tokyo subway are cars Women Only at rush hour, from the start of service until about 9.30am. It is a security measure. Besides women, elementary school children, and disabled children can travel on them.
Smoking is forbidden in stations.
There is free wifi in 143 subway stations in Tokyo. Search by network name "Metro_Free_Wi-Fi" or "Toei_Subway_Free_Wi-Fi
If you haven't bought the right ticket for your trip, you can enter the ticket at a vending machines for this purpose and will calculate the difference to pay.
Phones must be set on silent mode and if you are near courtesy seats, turned off. Courtesy seats at the end of each car, identified by a sticker and they are so called because you have to give them to someone who needs them more than you. Pregnant women have their special seats reserved.
Tokyo metro make available to its users Information Desks from 10:00 to 18:00 to assist users providing them with information and support in English. They are found in Shinjuku, Ginza, Shibuya and Omote-sando stations. There also is the figure of Service Manager, from 10:00 to 17:00. It's staff to assist the user in buying tickets and providing information on routes, destinations, etc. They speak English, Chinese and Korean. They are in the following stations: Shinjuku, Ginza, Omote-sando, Tokyo, Ueno, Ikebukuro Kudanshita, Iidabashi, Oshiage, Otemachi, Shimbashi, Yurakucho, and Hibiya Nihonbashi stations.
Airport service
From Narita Airport: you can come by bus. In the Keisei line by transfer to the G16 or H17 station. In the JR line by transfer to the station M17.
From Haneda Airport: you can come to Tokyo in the Keykiu line. It takes about 30 minutes to do the trip. Transfer at G8 station.
Also in Tokyo monorail and it takes about 20 minutes.
Images and other media