Chiba Monorail
Introduction
The present system consists of 2 lines, 18 stations and a 15.2 km long track. It is the longest suspended monorail track in the world, as per Guinness Book of World Records. Also known as Twoliner, it is an example of the modern sophisticated monorail system. An award-winning model of monorail car, called Urban Flyer is currently in use. Its main feature is glass flooring in driver's cabin.
The system is in operation since 1988. Chiba Urban Monorail Co. Ltd. operates the system. Every day, more than 45000 passengers travel through these monorails. It connects Downtown Chiba, JR stations, Chiba port etc.
Historical Background
Chiba is the prefectural capital of Chiba and the regional hub in the east of Tokyo. Between 1940 and 2000, its population increased 10 times. The consequent residential and commercial developments towards the west part of the city called for a further mode of public transit.
As there was no more scope left on the surface level, a suspended monorail was planned. The initial design came in 1975. In March 1988, Line 2, the section between Chishirodai Station and Sports Center Station started operation. The portions from Sports Center to Kencho Mae and to Chiba Minato were opened in March 1999. The system is a joint venture of the city of Chiba and the Chiba Prefecture.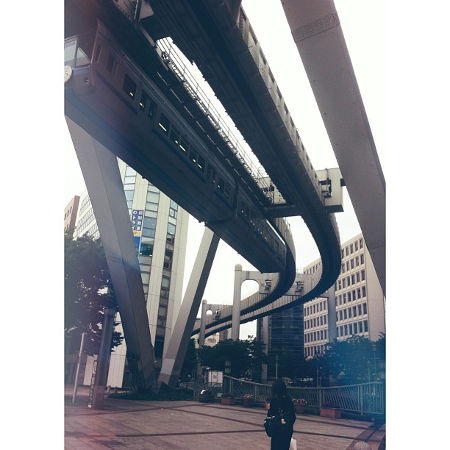 Chiba Metro
Hours of Operation
The operating time of Chiba Urban Monorail is from 6 AM to 12 AM. However, on weekends and holidays, trains start running a bit late. One train comes every 15 minutes, on rush hours earlier. View the train timetable here.
Lines and Stations
Of the two lines, Line 2 started operation first. Both the lines have double track route. Some of the stations are 6 stories high. Both the lines offer multiple interchange possibilities. At Chiba station, a four beam structure is constructed to facilitate the transfer. The lines cover some of the tourist spots e.g. Chiba Zoological Park and Chiba Port Tower and important business districts of the city. They take you to Chiba Station from where you get direct connections to Narita International Airport.
The trains are made of aluminum and have two cars. They operate with 1500V DC. During the peak period, sometimes 4 car trains are used. Each train has a capacity of carrying 42 passengers.
Line 1
Line 1 runs from Chiba Minato Station to Kencho-mae Station. It has a 3.2 km long track along 6 stations. A complete journey on this line takes around 5 minutes. From this line, passengers can interchange to multiple lines of East Japan Railway (JR East) and also to Chiba Urban Monorail Line 2.
The stations on this line are: Chiba-Minato, Shiyakusho-Mae, Chiba, Sakaechō, Yoshikawa-Kōen, Kenchō-Mae
Line 2
Line 2 connects Chiba Station to Chishiro-dai Station. The line covers 13 stations along a 12.0 km long track. It takes around 20 minutes to make a full journey on this line. It allows transfers to Line 1 as well as to JR East lines.
Main stations on this line are: Chiba, Chiba-Kōen, Anagawa, Sports Center, Dōbutsu-Kōen, Tsuga, Oguradai, Chishirodai-Kita, Chishirodai
Future expansions
There was a plan to extend Line 1 another 3.4 km incorporating 6 more stations between Chiba Municipal Aoba Hospital and Kenchō-mae Station. Unfortunately it was cancelled as the evolution process showed low profitability. The committee also proposed closing of a current operational portion between Chiba Station and Kenchō-Mae. However, in future, Line 1 may be eventually extended to Chiba University. The long-term plan is to extend the track up to 40 km.
Fare and tickets
The fare is determined on the basis of distance traveled. The fare for 1.9 km is 170 yen, for 3.1 km is 178 yen etc. The maximum fare is 430 yen. Children fares are half of the adult fare. Disabled persons also get discounts on the ticket fare.
Options to pay fares include single journey tickets, Suica and PASMO smart card, etc. The single journey tickets are to be obtained from the ticket vending machines in the stations.
Besides, there are passes like 2-day free pass, holiday free pass, lunch time free pass which entitle the passengers discounts on the fare price. 2-day pass can be used for two consecutive days and costs 1000 yen for adults. As the name suggests, holiday pass is valid on holidays, Saturdays and Sundays. It costs an adult 600 yen. Lunchtime pass is valid between 10 AM and 6 PM on weekdays. An adult's fare is 600 yen. Holiday pass and lunch time pass are valid only on the date of purchase.
Calculate your Chiba Monorail fare from here.
Facilities and Services
For the passengers of Chiba Urban Monorail, the corporation has made available the following services:
The system has been made very secure. There are thick metal codes to save the monorails from falling. In addition, multiple evacuation options are there in case of any accident or emergency.
Monorails are disabled-friendly.
Free and paid parking lots for bikes and four wheelers are there near every station.
Rules
Familiarize yourself with the Chiba Monorail rules not to violate them.
If you are buying tickets from the vending machines, always have appropriate coins.
Don't rush to board the trains. Let others get off before you get in.
Never carry any inflammable with you while on the stations as well as on the trains.
Riding the trains without proper tickets attracts penalties.
Tips
These are few tips to make the best use of Chiba Urban Monorail:
If you have any confusion regarding the fare or any other travel related matters or don't know how to use the ticket at the entry point, feel free to contact the armed or unarmed station staffs.
You can reserve a train ride for any of your personal or professional get together.
Station windows and outside dealers are selling small monorail souvenirs. You may buy one or more of these for your personal collection.
Media