Germany Metro Systems: Hamburg
Hamburg is a city located in the Northern side of the Federal Republic of Germany. It is also one of the country's constituent states. It has a total surface area of 755 square kilometres, and is divided by the great Elba River. With a population of approximately 1.8 million people, it is one of the country's most populous metropolis. One of the city's main landmarks is its riverside port: it is one of the oldest ones in the country as well as a major sea trade hub.
Although it is not a massive tourist destination, Hamburg is still an undeniably attractive city. The traditional architecture styles found in its streets, as well as the many canals and artificial lakes spread around the city have called for many comparisons to Venice or Amsterdam. In addition to its advanced cultural development, Hamburg takes pride in its gastronomy, which greatly benefits from the abundance of seafood.
Thanks to its proximity to the coast, the city enjoys a warm and humid weather. Temperatures range from 20 to 23 C° during the warmer months, with peaks of up to 30 C° during the summer, and from 0.3 C° to -1 C° during the winter.
Transport in Hamburg
The Hamburg Metro traverses the city through 104 kilometres of tracks, which span in all four cardinal points. It was officially inaugurated on the 15th of February 1912, with a line connecting the Rathaus and Barmbek stations. It is fully integrated with the S-Bahn, a commuter train line that serves the entire Hamburg Metropolitan area. The Hamburg Metro is designed to support standard-sized electrical wagons through a 750 volt DC rail. Nowadays, most of the rolling stock is made up of type DT5 wagons, characterized by its internal sprinkler system. Specifically, the DT5 has the peculiarity of being the rapid transit train model to enjoy an A/C cooling system and wagon transitions. On a daily basis, approximately 600 thousand passengers use the Hamburg Metro. The system is operated by the Hamburger Verkehrsverbund (HVV), a public utility company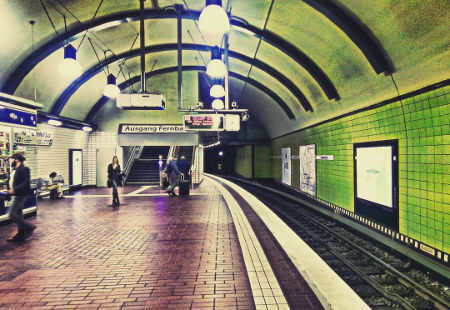 Transport in Hamburg
Known as: U-Bahn
Length: 104 kilometres
Track width: 1.435 mm
Number of lines: 4
Number of stations: 91
Maximum speed: 72 km/h
Website: www.hochbahn.de/hochbahn/hamburg/de/
Operator: Hamburger Verkehrsverbund (HVV)
Daily passengers: 600.000
Founded on: February 15th, 1912
History
In 1906, two companies – Siemens & Halsker and Berlin's AEG – won the tender to build an underground train system to serve the city of Hamburg. The first stage of the project was finished in 1907, and five years later, the entire first line was completed, traversing the distance between Rathaus and Barmbek. This section comprised both underground and elevated train tracks.
The first line (U1) was continuously expanded during the following decades. During this time, approximately 20 stations were added. However, its expansion was interrupted during World War 2, when the city was bombed as part of "Operation Gomorrah". This destroyed the section between Hauptbanhof to Rothenburgsort.
Almost 7 decades passed between the initial inauguration of the Hamburg Metro and the opening of its second line (U2), which did not begin operations until 1970. The system's third line (U3) was subsequently inaugurated in 2009, while the fourth line (U4) began operations in 2012, as part of a comprehensive extension and renewal program.
Lines and Stations
The Hamburg Metro comprises 4 lines and 91 stations. Most of the tracks are underground; however, there are brief sections on the surface. The Hamburg Metro covers most of the city's metropolitan area. The system is operated by the Hamburger Verkehrsverbund (HVV), a subsidiary that manages the train and bus system in Hamburg.
U1
This line crosses the city along its north-south axis, following a U-shape route around the city. It starts at Norderstedt Mitte Station and finishes at Ohlstedt / Großhansdorf. The total distance covered by this line is 55.8 kilometres, which are divided among 46 stations. The U1 line can be identified on maps by the colour blue, and it's served by type DT4 trains.
U2
This line crosses the city from north to south first, and then east to west, drawing an L shape. It covers 24.3 kilometres of tracks and encompasses 25 stations. This line is represented with red on all Metro maps, and its terminal stations are Niendorf Nord and Mümmelmannsberg. The U2 fleet is made up by DT4 trains.
U3
This is a circular line that connects all the city's axis. It extends over 20.6 kilometers and comprises 25 stations. Barmbek and Wandsbek-Gartenstadt act as its terminals. It can be identified of Metro maps by yellow lines. Its fleet is made up in DT4 trains.
U4
This is the newest line in the Hamburg Metro system, and it crosses the city from east to west, running parallel to the U2 through a sizable portion of it route. Its terminal stations are HafenCity Universität and Billstedt. With a total length of 12.2 kilometres, it is the shortest line in the city's underground system. Its fleet is made up of both DT4 and the more modern DT5 trains.
Integration with other transport networks
Although the Hamburg Metro covers almost the entire city of Hamburg, the network is fully integrated with other transport system, which complete and extend its service area. The most important one is the S-Bahn, a commuter rail network that extends across the Hamburg Metro area and includes both underground and surface tracks. The S-Bahn extends over 147 kilometres, divided among 6 lines that traverse the city through every side. Out of the 68 stations included in the S-Bahn network, some are only locals while others belong to the national rail system.
However, in addition to the S-Bahn, the HVV offers two additional public transport systems to complement its coverage. One of them is the bus line, with routes extending for over 920 kilometres, both inside the city and its suburbs. The bus network is made up of 1300 stops, served by a fleet of 800 vehicles.
In addition, Hamburg has a metrobus system, divided in 23 lines. Unlike the bus network, the metrobus runs parallel to the metro lines and share most of its stops with them. This is one of the fastest modes of transport after the rail system.
The SchnellBus provides a further complement to the Metro system. It consists of 8 lines that serve the city's residential districts and connect it to the city centre. Its vehicles run along the city's outskirts, and provides a safe and quick transport alternative.
Finally, the HVV also offers tourists and residents a fleet of small electric cars known as the Switchh. These can be rented at any point of the day, and can be driven almost anywhere in the city centre. Payment plans vary according to the total travel distance, but usually range between 8 (9.43 US$) and 90 (106.08 US$) euros.
Airport connection
The Hamburg- Fuhlsbüttel International Airport is located only 25 minutes away from the city. This is the fifth largest airport in Germany, and its size, facilities and amount of daily incoming flights place it at the same level of importance of Berlin's Tegel International Airport.
Since it is located only 9 kilometres away from the city centre, there are many ways to access the airport. Nevertheless, the easiest, cheapest, and fastest one is through the S-Bahn. The S1 line has a station directly in front of the airport. A ride from Hamburg's Central Rail Station, Hamburg Hauptbanhof, costs only 3 euros and takes 24 minutes. After arriving to the Central Rail Station, passengers can transfer to the U-Bahn or to a bus line within minutes.
Opening hours and train frequency
The Hamburg Metro runs continuously between the hours of 4 AM until 1 AM of the following day. This schedule may be slightly modified depending on the specific line and the day of the week. The average frequency between trains is every five minutes during the day and every ten minutes at nighttime. However, this is also subject to adjustments.
U1
The first train leaves Nordestedt Mitte at 4:07 AM, and the last train arrives to Großhansdorf staton at 1:11 AM. On Saturdays, Sundays, and holidays, this metro line operates continuously until 1:00 AM on Monday.
On average, trains leave each station ever five minutes between opening time and 8 PM. After this time, trains leave each station every 10 minutes. On weekends and holidays, trains will leave every 20 minutes.
U2
The first train leaves Neiendorf Nord at 4:20 AM and the last train arrives at Mümmelmannsberg at midnight the following night. On Saturdays, Sundays, and holidays, trains run continuously until 12:23 AM of the following Monday or working day.
Regarding train frequency, the average frequency on weekdays is every five minutes. After 8 PM, frequency is lowered to every 15 minutes. On Saturdays, Sundays, and holidays, trains will depart each station every 20 minutes.
U3
The U3 line opens at 4:18 AM, as the first train leaves Barmbek station; it closes at 12:42 after the arrival of the last train to Wandsbek-Gartenstadt. On Saturdays, Sundays, and holidays, the line operates between 4:28 AM and midnight,
From Monday through Friday, between opening time and 10 AM, trains will depart each station every ten minutes. After 10 AM, frequency is increased to every five minutes. On weekends and bank holidays, the average frequency is set at 10 minutes.
U4
The first train in the U4 line leaves HafenCity Universität station at 4:30 AM, and the last train arrives at Billsted at 12:07 AM the following day. On weekends and bank holidays, trains run continuously from 4 AM until midnight of the following day.
On weekdays, trains arrive at each station every 10 minutes, and this frequency is kept throughout the day. On Saturdays, Sundays, and holidays, trains arrive at each station every 20 minutes between 4 AM and 7:30 am, and every 10 minutes thereafter.
Prices, tickets, and passes
The Hamburg Metro offers its passengers a wide array of tickets and passes. The price of each single-trip ticket may vary depending on the distance of the trip, the passenger's age, and the specific mode of transport used. All prices are determined by the Hamburger Verkehrsverbund GmbH (HVV), the subsidiary in charge of financing and controlling the local transport network.
In order to determine the price of tickets, the HVV has developed an area-based system. For this purpose, the city has been divided in concentrical circles or rings, each one identified by a letter, in order to cover the city centre and its suburbs.
Rings A and B are the only ones served by the U-Bahn. They represent Hamburg city proper and some of its immediately adjacent suburbs. The other rings, C, D, and E, are served by the S-Bahn and bus lines. These areas represent the city's outskirts and nearby villages.
In addition to the area system, there are also different types of ticket prices, depending on the type of travel. These are:
Single ticket: This is a single-passenger, single-ride ticket that allows travel between any of the city's rings. Its price varies according to the areas covered.
9 AM day ticket: This ticket allows travel from 9 AM onwards, for up to one adult and three children between the ages of 6 and 14. It can be used for passengers who need more than one ride per day.
All-day ticket: This ticket allows multiple trips around the city for one day. It is valid for one adult and up to three children aged 6 to 14.
9 AM group ticket: This allows up to five people to travel with just one ticket. It can only be used after 9 AM.
Single ticket - child: This is designed for children aged 6 to 14 who need to perform simple trips (with no transfers or connections).
9 AM day ticket - child: It has the same benefits as the adult 9 AM day ticket, but with a reduced fare. T can only be used by children aged 6 to 14.
Student tickets: These are designed for students at any academic institution, aged 11 to 21.
The table below provides further information on the ring-based area system and its corresponding prices for each ticket: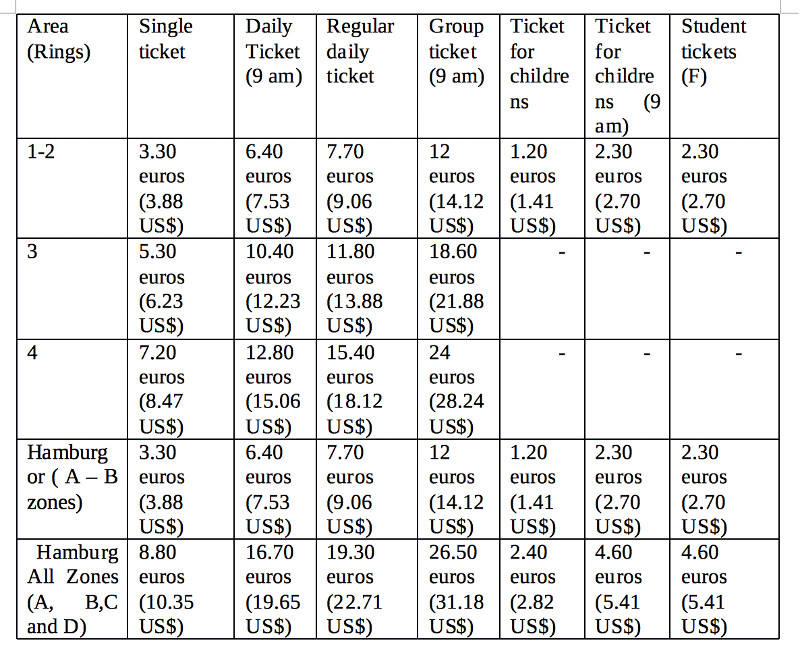 Hamburg metro tickets
In addition to the above-mentioned tickets, there are special passes designed to be used within the city centre. These include: short-journey tickets, which cost 1.60 (1.88 US$) euros and only allow passengers to cross a specific number of stations; local-distance tickets or Kurztrecke, which cost 2.20 euros (2.58 US$); and the Hamburg Card, which costs 10 euros (12.35 US$). This last option allows five users to travel within the city's different rings for five days.
Future expansions
Hamburg is one of the cities in Germany that has kept a great growth pace over the past 10 years. For this reason, the public transport system is also being continuously expanded, and there is already a refurbishment project in the works. One of the major plans for the HVV is to expand the U4 line between HafenCity Universität and Elbrücken. It is estimated this will be ready in 2018. Furthermore, a new station for the U1 (Oldenfelde) is already being built, and is expected to open in 2019.
Furthermore, two more projects have already been approved, although construction is yet to start. Both involve extending the U4 line between Horner Rennbahn and Dannaralee stations, and between Elbrücken and Hargburg Rathaus stations. In addition, works to begin construction of a new line are expected to begin in 2021. This line, the U5, will cover the distance between Bramfel and Osdorf. The U2 line also has drafted two expansions: from Mümmelmannsberg to Bergedorf and from Niendorf Nord and Oldesloer Straße.
Advice
Although Hamburg is one of the safest cities in Germany, it is always wise to take certain precautions when using its public transport system. Passengers are advised to be mindful of their personal belongings, and to hang any purses or backpacks in front of their bodies.
In order to locate any missing or lost objects, passengers are advised to wait five days and call the City's Lost Property Central Office. HVV staff will forward any objects found to this office within the established timeframe.
Passengers who have any doubts regarding the type of ticket they should use are encouraged to visit the HVV official website or to call 040-19449 Any passenger with impaired mobility can request access to a special plan, designed by the HVV, which includes special prices and recommendations regarding the accessibility of each station.
Trivia
The HVV has designed a special leaflet, detailing all services and features of its public transport system, for refuges currently living in Hamburg. These manuals include a series of tips on how to use public transport and come in the following languages: German, English, Tigrinya, Arabic, and Farsi.
The HVV subsidiary also offers a parking service called Park+Ride. This service allows passengers to rent a car, park it on any HVV station, and finish the trip on a different mode of transport.
Carrying a bike is completely allowed in all the HVV transport networks and doesn't carry any additional fees.
Among the many services offered by the HVV, special mention should be awarded to a program designed to help Hamburg's new citizens. It offers customised help to learn how to navigate the different modes of transport available. To contact them, call 040/19449.
Sightseeing with the Hamburg Metro
Hamburg is one of Germany's most attractive cities. Although it is an eminently trade-based city, and most of its urban development revolves around it, it remains a city full of fun opportunities. It is considered one of the leading engines of German culture, as well as a major culinary destination. The city is also proud of its parks and gardens, which lend a perfect balance to the exuberant urban landscape. Please keep reading to learn more about some of the city's most interesting attractions, and how to reach them using the Hamburg Metro:
Miniatur Wunderland: This is the largest miniature model in the world. It was designed as a model railway exhibit, with 5 sections spanning across 11 thousand metres. Some call this exhibit the "little German wonderland". Located on Kehrwieder Street 2-4 | Block D, 20457, it can be easily reached via the U-3 line: it's a short walk from Rödingsmarkt station.
Hamburgmuseum: This is Germany's largest history museum. The building itself is noteworthy, as it is one of the most important classical buildings in the city. It dates back to the early 20th century. The Museum houses some of the most important works from the baroque period, built by Dutch artist Jan van Valckenborgh between 1616 and 1625. To visit the Museum, board a U3 train down to St Pauli station.
Heiligengeistfeld: This is one of Hamburg's most popular attractions, and is frequented by locals and tourists alike. This themed amusement park, located at St Pauli quarter, offers rides for the entire family. It is particularly popular at night thanks to its beautiful light show. In order to visit Heiligengeistfeld, board a U-2 train down to Messehallen station.