Tianjin Metro
Tianjin was the second Chinese city after Beijing to build a subway in order to facilitate urban transport of persons and lighten up urban traffic. It was built in stages from 1970: a strong earthquake in 1976 interrupted the construction to be restarted in 1979 and finally opened in 1984. The system is managed by the company "Metro Group Tianjin Co. Ltd" and "Binhai Mass Transit Development Co." the latter concentrated in the fashionable district of Binhai.
Lines and stations
Tianjin metro is a 4 lines system serving a total of 86 stations over 136.9 kms, as well as one tram line. Lines 2 and 3 are the newest ones operating since 2012. Annual ridership is almost 42 million passengers.
Line 1
Line 1 is 26.2 km long and serves 24 stations from Liuyuan to Shuanglin of which 8 are elevated, 13 underground and one on the surface. It is Tianjin metro first line and began to be built in 1970. The construccion of this line was delayed because of the earthquake. In August 1980 the 5,3kms stretch from Xinanjiao to Xinhua Road was completed. In December 1984 the West Railway Station to Xinanjiao station stretch added 2.2kms to the line. In October 2001, this line was closed for improvements, renovations and expansion until June 2006 when finally it was inaugurated for the second time.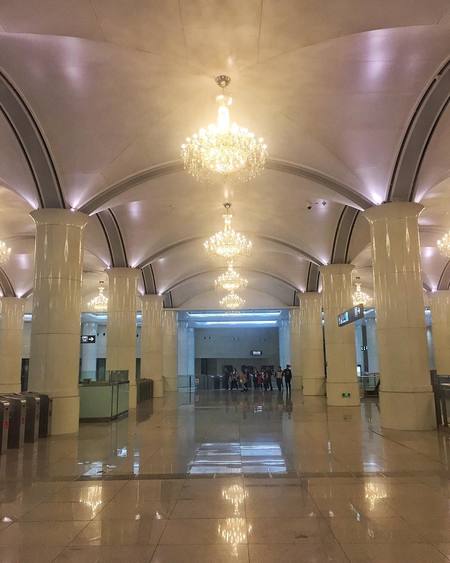 Tianjin
Stations: Shuanglin,Caijindaxue (Tianjin University of Finance & Economics),Huashanli,Fuxingmen,Chentangzhuang,Tucheng,Nanlou,Xiawafang,Xiaobailou,Yingkoudao,Anshandao , Haiguangsi,Erweilu,Xi'nanjiao,Xibeijiao,Xizhan (Tianjin West Railway Station),Honghuli,Qinjiandao,Benxilu ,Guojiuchang,Xihengdi,Liuyuan,
Line 2
This line runs Tianjin from east to west. It covers a length of 23.5 km with 19 stations connecting six districts of the city: Xiqing, Nankai, Heping, Hebei, Hedong and Lidong. Stations: Caozhuang, Bianxing, Jieyuanxidao (West Jieyuan Avenue), Xianyanglu (Xianyang Road), Changhonggongyuan (Changhong Park), Guangkaisimalu (Guangkai 4th Road), Xi'nanjiao, Gulou, Dongnanjiao, Jianguodao (Jianguo Road), Tianjinzhan (Tianjin Railway Station), Yuanyangguojizhongxin (Yuanyang International Center), Shunchiqiao, Jingjianglu (Jingjiang Road), Cuifuxincun, Yudongcheng, Dengzhoulu (Dengzhou Road), Guoshanlu (Guoshan Road), Konggangjingjiqu (Airport Economic Area), Binhaiguojijichang (Binhai International Airport)
Line 3
This line runs from the northeast to the southeast of the city. It's 34 kms long and serves 26 stations. Line 3 connects with all the other lines (1, 2 and 9) at the Tianjin Railway Station. It was developed in several stages: in 2012 opened Xiaodian to Gaoxinqu station section and in December 2013, Nanzhanto to Gaoxinqu station (South Railway Station) extension was completed.
Stations: Nanzhan (Tianjin South Railway Station), Yangwuzhuang, Xuefugonguequ (Xuefu Industrial Zone), Gaoxinqu (Hi-tech Industrial Development Area), Daxuecheng (University Town), Huayuan, Wangdingdi, Hongqinanlu (South Hongqi Road), Zhoudengji'nianguan (Zhou Enlai & Deng Yingchao Memorial Hall), Tianta (Tianjin Radio & Television Tower), Wujiayao, Xikanglu (Xikang Road), Yingkoudao (Yingkou Road), Hepinglu (Heping Road), Jinwan'guangchang (Jinwan Square), Tianjinzhan (Tianjin Railway Station), Jinshiqiao, Zhongshanlu (Zhongshan Road), Beizhen (Tianjin North Railway Station), Tiedonglu (Tiedong Road), Zhangxingzhuang, Yixingfu, Tianshili, Huabeijituan (Huabei Group), Fengchanhe (Fengchan River), Xiaodian
Line 9
It's an almost 53 kms long line that serves 19 stations connecting Tianjin to Binhai. That's why it's also known as Binhai Line. The total time to make a journey from end to end is about 1 hour. It connects with the TEDA tram line.
Stations: Tianjin Railway Station, Dawangzhuang, Shiyijing Road, Zhigu, Dongxing Road, Zhongshanmen, Yihaoqiao, Erhaoqiao, Zhangguizhuang, Xinli, Dongli Economic Development Area, Xiaodongzhuang, Junliangcheng, Tianjin Pipe Corp, Zhongxicun, Hujiayuan, Tanggu, TEDA, Citizen Plaza, Binhai University, Convention and Exhibition Center, Donghai Road
TEDA Modern Guided Rail Tram
It's a light rail system serving the so-called TEDA, Tianjin Economic Developing Area. It has been the sector of the city that has grown more over the last 25 years. However, the movement of large masses of people between the central areas of the city and TEDA have been very complicated.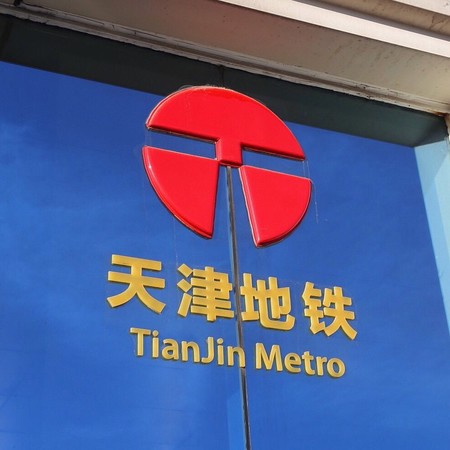 The TEDA Modern Guided Rail Tram was opened in 2007. It is the only tram system moves on wheels and is the type Translohr, guided by a central monorail. It's total length is 8 kms and serves 14 stops.
Stations: TEDA, First Avenue, Second Avenue, Third Avenue, Fourth Avenue, Fifth Avenue, Sixth Avenue, Seventh Avenue, Ninth Avenue, Tenth Avenue, Eleventh Avenue, International Joint Academy, College District, North of College District,
Future extensions
New lines are under construction. Line 5 will run nort-south direction connecting Shuangjie Street to Liyuantou. Line 6 will run north east to south east, linking Dabizhuang to Shuanggang station.
The are also 4 projected lines. Line 4, a northwest – east line that will go from Xiaojie Street to Civil Aviation University of China. Line 7, from northeast to southwest, from Dabizhuang to Liyuantou. Line 8, from north to south, from Xiaodian to Zhangjiawo High-Speed Train Station. Line 10, west to east, Xinhua Road to Erjing Road.
Schedules and frequencies.
Line 1 service starts operating at 6:00 in the morning and stops at 22:15 pm. Frequency: Monday to Friday during peak hours, 6:30-8:30am, there is a train every 5-6 minutes and from 4:30-6:30pm every 5-7 minutes. 8-10 minutes in normal hours. Saturdays and Sundays there is a train every 8-10 minutes throughout all the day.
Line 2. The first leaves at 6:00 am in both directions from Caozhuang and from Binai Airport. The last train is at 10:12 and 10:05 respectively. Frequency: There is a train from Monday to Friday during peak hours, 6:30-8:30 am every 6-8 minutes and from 4:30-6:30pm every 6-8 minutes. 8-10 minutes normal hours. Saturdays and Sundays there is a train every 8-10 minutes throughout the day.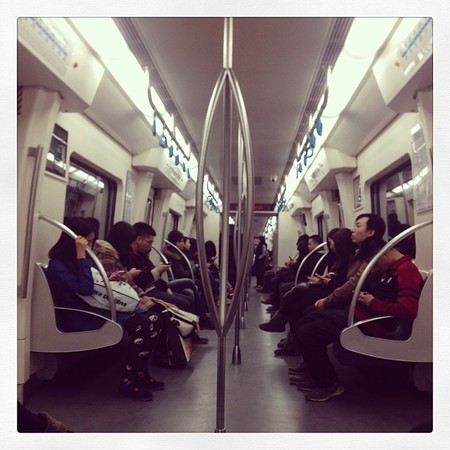 tianjin Metro
Line 3. The first leaves at 6:00 am from Xiaodian station to Hi-Tech Industrial Zone. On the contrary, also at 6:00 am. Frequency: Monday to Friday during peak hours, 6:30-8:30 am every 5-7 minutes and 4:30-6:30 pm every 5-7 minutes. 8-10 minutes in normal hours. Saturdays and Sundays there is a train every 8-10 minutes throughout all the day.
Line 9. The first train leaves from Central Railway Station at 6 am and the last at 10pm. From Donghai the first and last trains leaves at 7:03 am and 11:03 pm respectively. Total travel time is 62 minutes. Frequency: 5-10 minutes during peak hours and 10 to 12 minutes during normal hours, including the weekend.
Tickets and fares
In Tianjin subway fares are calculated according the distance traveled. So they have variations between 2 and 5 yuan.
CNY 2 for 1-5 stops.
CNY 3 for 6-10 stops.
CNY 5 for 17 or more stops.
Metro tickets and line 9 tickets can be purchased at the ticket offices of all stations or in automatic ticket machines. Each ticket is valid for three hours. Once the ticket is validated the passenger has three hours to leave the station. A child shorter than 1.10 meters can travel for free with an adult.
There are discounts for students and the elderly. You can also ride the Tianjin metro by using the City Card and the Common Stored Value Ticket
Media
Tianjin metro map in wikipedia