Chengdu Metro
Introduction
Chengdu metro is the rapid transit system serving the Chengdu city in Western China. It is the first metro system in western China and seventh in the whole nation. For the first time in China, a city government and Ministry of Railways came into a collaboration to run a metro system. It has three main parts: the metro lines, the city railways and a light rail train. The metro lines and city commuting train lines are already operational; the light rail line is expected to start operation from 2017.
Historical Background
Chengdu is the capital and the business hub of Sichuan Province in China. It is at present home to more than 10 million people. Being the 10th largest city in the nation, Chengdu has always experienced pollution and traffic congestion problems. As a result, a metro system was highly desirable in the city.
Chengdu metro was conceived in 1985 but it took another 7 years to complete the paperwork. After another 12 years, the metro operators came into the scene.
Construction of Line 1 started towards the end of 2005.
Line 1 entered into revenue service on 27th Sep. 2010.
Construction of Line 2 began in 2007.
In 2010 and 2011 respectively, construction of its west and east extension started.
Work on Line 4 began in 2011.
Work on Line 3 began in 2012.
In 2013, Line 1 and Line 2 were further extended to Ocean Park Station and Xipu respectively.
In 2014, Line 2 was extended to Longquanyi.
In 2015, Line 1 South Extension and Line 4 Phase 1 entered full service.
Hours of Operation
The trains run from 6 AM to 11 PM. However, the hours of operation may slightly vary from one line to another. Trains come every 5- 6 minutes. This frequency is reduced during the off-peak hours and also during weekends.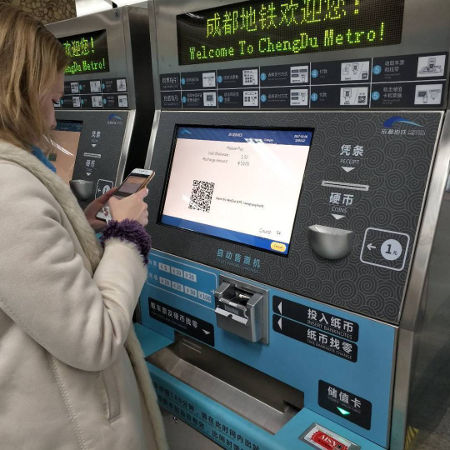 Chengdu Metro
Lines and Stations
Three lines, namely, Line 1, Line 2 and Line 4 are currently operational. The lines run completely underground and offer mutual interchanging possibilities.
Line 1
This is a north-south line connecting Shengxian Lake to Guangdu. In the north, the line starts near North Chengdu Railway Station and in the south ends near South Chengdu Railway Station. It is the first line of Chengdu metro that started revenue operation. This is again the first metro line in the mainland China to use natural and square ventilation system for energy efficiency. On the map, it is indicated with blue color.
The track is 18.5 km long running through 17 stations. It covers multiple tourist spots and business centers including Wenshu Fun, Wenshu Monastery, Nijiaqiao etc. Transfers from this line to other Chengdu metro lines and also to China Railway High-Speed are possible.
Main stations on this line are: Shengxian Lake, North Railway Station, Luomashi, Tianfu Square, Sichuan Gymnasium, Jinjiang Hotel, South, Railway Station, Hi-Tech Zone, Financial City, Century City, 3rd Tianfu Street, Guangdu
Line 2
Line 2 runs from the northwest corner to the southeast corner of the city. It starts from Xipu Station in the Pi County and ends at Longquanyi Station in Longquanyi district. It connects important spots like University of TCM (Provincial People's Hospital), Chadianzi Bus Station and East Railway Station. On the map, it appears orange in color.
The track is 44 km long having 32 stations along it. From Line 2, passengers can interchange to other operational Chengdu metro lines and also to Chengguan Line and China Railway High-Speed line. A whole journey on this line takes around 65 minutes.
Main stations on this line are: Xipu, Yipintianxia, Shuhan Road East, CUTCM & Sichuan People's Hospital, People's Park, Tianfu Square, Chunxi Road, East Railway Station, Chengdu Institute of Public Administration, Longping Road, Longquanyi
Line 4
It is an east-west line connecting Intangible Cultural Heritage Park to Wannianchang. It covers major spots e.g. Jinsha Site Museum, Chengdu Culture Park, Wide and Narrow Alleys etc. The complete line is 22.4 km long having 16 stations along it. On the Chengdu metro map, it appears green in color.
Transfers from this line to Line 1 and 2 are possible at Luomashi Station and Chengdu University of TCM & Sichuan Provincial People's Hospital Station respectively. When all the other lines of the metro system will open, more transfers will be possible from this line. A full journey on this line takes around 33 minutes.
Main stations on this line are: Intangible Cultural Heritage Park, West Railway Station, CUTCM & Sichuan People's Hospital, Luomashi, Cultural Palace, 2nd Chengdu People's Hospital, Southwestern University of Finance and Economics, Wannianchang
Future expansions
Another 7 lines are planned to complete a network of 10 metro lines by 2035. Line 1, when complete will have 31.6 km track length connecting 23 underground, elevated and ground level stations. Construction of Line 7 should start by 2017. Work on Line 10, Phase 1 should also start in the same year. Work on Line 5 is expected to begin in 2019.
Line 6, 8, 9, 11 and 17 are currently in the planning phase. The long-term goal is to create a network of more than 13 lines. By 2020, 13.1 million people and by 2035, 14.1 million people are projected to use the metro system every day.
Fares and Tickets
In Chengdu metro, the price of the ticket is determined on the basis of the number of traveling stations. The adult fare for 6 stops is CNY 2, for 12 stops is CNY 3, for 18 stops is CNY 4, for 32 stops is CNY 6 and for 40 stops CNY 7. This means, the maximum fare on Line 1 is CNY 5, on Line 2 is CNY 6 and on Line 4 is CNY 4. Children, students and senior citizens get a 50% discount on the adult fare.
A passenger can buy either single journey ticket or use Chengdu Transportation Smart Card. With the later, he/she is entitled to a 10% discount on the metro fare. However, it does not include transfers. The metro authority is soon going to introduce different types of passes for traveling through the different lines.
Facilities and Services
Following facilities add an extra layer to your riding joy:
Highly advanced communication systems including electronic display boards are installed in every station of the metro system.
All the operational 3 car trains are fully air-conditioned.
The stations have escalators and elevators.
Rules
To ensure hassle free journey for you and your co-passengers, follow these rules:
No smoking and eating are allowed on the trains.
Never use the train seats for sleeping.
Ticket machines only accept CNY 1 coins and CNY 5 and CNY 10 notes.
Passengers must allow X-ray of their bags before entering the stations.
Tips
Following tips may prove handy while using the Chengdu metro:
If you don't have appropriate coins and notes for the ticket machines, buy tickets from ticket booths.
While exiting a station, make sure you place the ticket on the right ticket collection slot. Otherwise, another gate will open.
Media