Nanjing Metro: Main information
Metro Nanjing is the rapid transit system that serves Nanjing City and its suburbs. The system became operational in September 3, 2005 with a single line, but the first serious proposal for a metro system was presented to the Municipal People's Congress in 1984. In 2010, a second line was added the system, 55 stations and a total of 87 kilometers of track. According to the plannin scheduled for 2030, there will be 17 lines spread over a length of 617 kms serving more suburban areas. Currently, six lines are in operation: lines 1, 2, 3, 10, S1 and S8, where "S" indicates a suburban line. These lines connect Yangtze River, Nanjing city itself, two railway stations, the Lukou Internationnal Airport and Luhe Development Zone. Annually, more than 503 millions passengers ride the system. Daily statistics show that on average 1.417 million passengers make use of public transport services in Nanjing.
Nanjing Metro Lines and stations
There are currently six operational lines and several others under construction. Every line is named with a number or the letter "S" followed by a number. Each line is also represented by an unique colour so they can be easily differentiated.
Line 1 (sky blue) - Line 1 became operational in 2005. It runs from north to south. This subterranean line starts in Maigaoqiao station to the Olympic Stadium and then a branch continues to south to the Pharmaceutical University of China. The total length of this line is 46.2 kilometers serving 31 stations.
Line 2 (red) - It started operating in 2010. Travels from west to east. It goes from Youfangqiao to Jingtianlu. The total length of the line is 40.8 kilometers serving 26 stations.
Line 3 (green) - Line 3 is in operation since 2015. It runs from north to south. It leaves from Linchang Station and goes to East Mozhou Road, passing through several tourist attractions like the Temple of Confucius, Lake Xuanwu and the Presidential Palace. The total length of the line is 45 kilometers serving 29 stations.
Line 10 (Champagne) - Line 10 began operating in 2014. It runs from west to east, connecting the areas of Pukou, Jianye and Yuhuatai. The total length of the line is currently 21.6 kilometers serving 14 stations, but will be completed in the coming years to provide a total of 33 kilometers of track and 21 stations.
Line S1 (emerald green) - Line S1, also known as the Ninggao line, began operating in 2014. It runs from north to south. It should serve the areas of Jiangning until the town of Gaochun. At present, only Phase 1 of the project is being built: a line linking South Station to Lukou International Airport. There are 8 stations on 35.8 kilometers of track, but a total of 14 stations and 88 kilometers of track are planned.
Line S8 (orange) - Line S8 came into operation in 2014. It runs from Taishanxincun to Jinniuhu. The total length of the line is 45.2 kilometers serving 17 stations.
Lines 4 (purple), S3 and S7 are currently under construction. Line 4 will run from west to east and will be 43.1 kilometers long serving 22 stations. The S3 line, also called the Ninghe Intercity Line, will connect Nanjing to the He region in Anhui Province. The first phase of the project will build a travel distance of 37.8 kilometers on 18 stations. Line S7, also called Ningi Line, will travel from north to south, passing through the Lukou and Lishui regions. It will have a total length of 30.8 kilometers spread over 9 stations.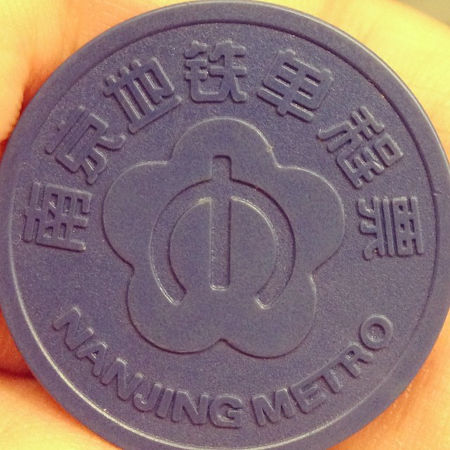 Nanjing Metro token
Schedule: Nanjing Metro Timetable
Nanjing Metro is in operation from 6 am to 11 pm. Each line has its own schedule according to these general hours.
Line 1 is open from 5.42 am to 11.19 pm (Pharmaceutical University of China direction) and from 6.46 am to 12.27 am (Maigaoqiao direction).
Line 2 is open from 06:00 to 23:00 (Jingtianlu direction) and from 6:53 to 23:54 (Youfangqiao direction).
Line 3 is open from 6 am to 11 pm (East Mozhou Road direction) and from 7 h 12 to. 00 h 12 (Linchang direction).
Line 10 is open from 06:00 to 22:20 (Andemen direction) and from 6.34 to 23.34 (Yushanlu direction).
Line S1 is open from 6 am to 10 pm (airport direction) and from 6 h 14 to 22 h 34 (south station direction)
Finally, the S8 line is open from 6 am to 7 pm (Jinniuhu direction) and from 6.50 am to 7.50 pm (Taishanxincun direction).
Headway
The frequency in line 1 from Maigaoqiao to Andemen is about 3 minutes and 6 minutes in its branches. Line 2 has a frequency of 6 to 8 minutes. Line 10 has a frequency of 6 to 8 minutes. The frequency in line S1 is 10 minutes, in line S8 is 14 to 29 minutes.
Fares and tickets
The price of the Nanjing metro is dependent on the distance traveled. Passengers can purchase a one-way ticket in customer service desks or in ATMs. ATMs accept currency and 5 and 10-yuan banknotes. The price of the ticket can vary between 2 and 9 yuan depending on the chosen destination. For journeys of 8 stations or less or a distance of 10 kilometers or less, the ticket costs 2 yuan while it costs 3 for trips of 10 to 16 kilometers. Transfers from 16 to 22 kilometers, 22 to 30 kilometers, 30 to 38 kilometers, 38 to 48 kilometers, 48 ​​to 58 kilometers and 58 to 70 kilometers cost respectively 4 yuan, 5 yuan, 6 yuan, 7 yuan , 8 yuan and 9 yuan. 1 yuan is added to the previous rates for every additional 9 kilometers if the distance is more than 70 kilometers. In addition, lines 1 and 2 charge 6 yuan for the entire route while lines 3 and S1 as well as 10 and S8 charge respectively 7 yuan and 4 yuan.
There is also a Nanjing Public Utility (PUIC) chip card, also called Jin Ling Tong in Chinese. The PUIC card is available for citizens and visitors. It has several advantages: 5% discount on metro fares, a 20% discount on city buses, many discounts in a multitude of attractions, supermarkets, parking and shopping centers,.. Recharging the card can be done at various locations throughout the city as well as at the metro station. It can be used not only in the metro but also through the Nanjing public transport network, in city buses, taxis and the ferry service.
Two types of cards exist: personalized or non-personalized. Personalized cards have an initial charge of 30 yuan, which will be refunded upon return of the card simply by showing the identification card used during its acquisition. These cards have a minimal fee of 1 yuan every 30 months and are intended for adults or students. Non-personalized cards unfortunately can not be refunded.
There is another type of card intended exclusively for Nanjing citizen users: the Nanjing Citizen Card (NJCC) card. This smart card has two functions: the first function allows the use of the public transport service and the second function facilitates the banking and social security order. Those who own this card can then use it for additional services depending on their needs, such as obtaining a PUIC service or bank credit. It is available at a cost of 20 yuan.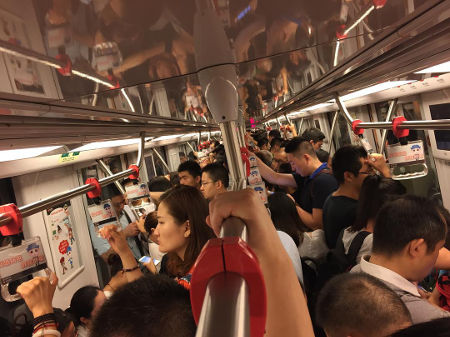 Park and Ride
There are parking lots at specific stations.
Rules and tips
As the subway serves several attractions and shopping areas in the city, it is obviously the best way to travel through Nanjing: it is fast and safe. Therefore, it is strictly forbidden to transport animals, whether in a cage or on a leash, in the metro facilities. Only one case makes exception to the rule: guide dogs accompanying persons with visual impairment. Moreover, all types of bicycles can not be used or transported under any circumstances on the premises of the metro. It is strictly forbidden to consume food and drink inside the metro wagons. Anyone who does not comply with this regulation is liable to a fine ranging from 20 to 200 yuan depending on the offense. It is essential to travel with a valid and validated ticket, since passengers not complying with this rule are liable to a very strict fine: they will have to pay an amount equal to the higher one for the distance traveled in addition to a penalty on the tariff which may be five times the cost of the maximum tariff.
Curious facts
The German company Siemens was contracted to create a signaling system for lines 1 and 2. For line 2, it worked in partnership with the Nanjing Research Institute of Electronic Technology (NRIET).
Metro seats are the same color as the color of the line on which they circulate.