Changchun Rail Transit
Historical Background
Changchun is the capital city of China's Jilin province. It is one of the major hubs of mainland China and home to more than 6 million people. The city is the major center for automotive business in the nation. It was also the venue for Asian Winter Games in 2007. A rapid transit system was necessary to manage city's traffic pressure. As a result, in 1939, the Changchun Rail Transit system was conceived to serve city's residents and visitors alike.
When Changchun light rail system started revenue service, other Chinese cities were only discussing the possibilities. Line 3 was brought into service on Oct. 10, 2002. At that time only the portion between Changchun Railway Station and Weiguangjieand Station was operational. On Dec 26, 2006, it was further extended to Changyingshijicheng. Line 4 is operating since June 30, 2006, between Chechang and Dongdaqiao. On May 7, 2012, Line 4 was further extended to Changchun Railway Station North.
Hours of Operation
The subway system is open from 6:00 AM till 10:00 PM. A slight variation in this timing can be observed depending upon the particular line. On peak hours, one train comes every 4 minutes. At other times, every 8 minutes.
Lines and Stations
The light rail system currently consists of two lines: line 3 and line 4. Both lines form a loop-like structure and intersect at Changchun Railway Station. However, an interchange between the lines is not possible here.
In the south side, the two lines meet to generate an interchange possibility. This transfer takes place at Linhejie Station on Line 3 and at Weixinglu Station on Line 4. The two stations are connected by a 200 m long passage. Despite having two different names, these are actually the same station.
Some of the 49 stations are elevated, some are at ground level and others are underground.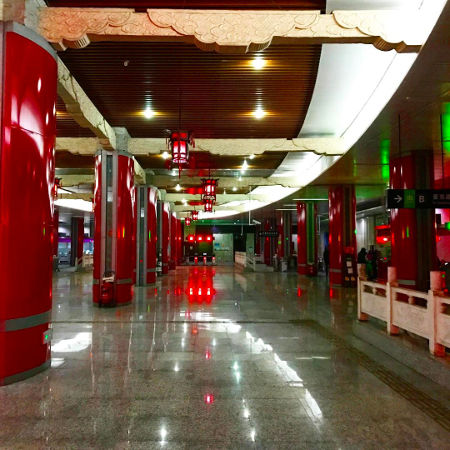 Puppet Emperor Subway Station, Changchun
Line 3
Line 3 is a northwest-southeast line extending from Changchun Railway Station in Kuancheng District to Shijiguangchang Station in Nanguan District. It is a 32 km long line connecting 33 stations. It passes through important areas e.g. Jingyue Park, Jingyue campus of Northeast Normal University and Convention & Exhibition Center.
The complete journey on this line takes 65 minutes. The stations are at ground level or elevated. Single articulated trains run on this line.
Main stations on this line are:
Changchun Railway Station
Liaoninglu
Xi'anqiao
Jiefangqiao
Fusonglu
Guigudajie
Nanhudalu
Guigudajie
Kuanpingqiao
Linhejie
Jingyuegongyuan
Huaxuechang
Changyingshijicheng
Line 4
Line 4 is at present partly operational between Changchun Railway Station North and Chechang Station. It passes through 16 stations along a 16.3 km long track. It also connects several important pockets of the city including the Museum of Imperial Palace of Manchu State.
A complete journey on this line takes a little more than half an hour. Some of the stations on this line are underground; some are elevated. Trains on this line have two coupled sections and two middle sections.
Main stations on this line are:
Changchun Railway Station North
Beiyataidajie
Weihuanggong
Jilindalu
Pudonglu
Weixinglu
Nansanhuan
Chechang
Expansion
Line 3 is planned to be extended from Changchun Station to Yongning Lu Station. Once extended, there will be another transfer possible to Line 4 at Museum of Imperial Palace of Manchu State.
Line 4 will be further extended to have total 45 km of track length along 33 stations. There is a plan to construct 19 light rail lines totaling a track length of 527 km. Line 1 and Line 2 are now being constructed. Constructions of Line 5,6,7,8,9,10 are also going to start soon.
Routes of new lines:
Line 1: from Beihuanchenglu to Lanjia; from Hongzuizi to Yongchun
Line 2: from Dongfangguangchang to Xiangshui
Line 5: from Fufeng to Xinglongshan
Line 6: from Changchun West Railway Station to Fuzhilu
Line 7: from Bailongju to Taipingcun
Line 8: from Lanjia to Changping Cooperation Zone
Line 9: from Haoyue Park to Fuzhi Road South
Line 10: from Mishazi to West Highway
Fare and Ticket
Fare in Changchun subway is distance based. For the first 14.5 km, an adult pays CNY 2. After 14.5 km up to 24.5 km, the fare is CNY 3. For traveling further, one has to pay CNY 4.
You can buy either a single journey ticket or use your Light Rail Smart Card. Later entitles you to a 5% discount on the ticket price. The single journey tickets can be obtained from the ticket vending machines or from ticket windows at the entry points of every station. These tickets must be returned at the exit point.
Facilities and Services
Following are some of the many facilities that the Changchun Rail Transit Corporation offers to ensure hassle-free journey for every rider:
All seats are heated to make the journey comfortable during the winter season.
Every station has a nearby bus route.
Train floors are only a few centimeters above the rails. It is very convenient for children and elderly people to get in and off the train.
All the announcements on the stations and also in the trains are in Chinese and English.
Rules
In the interest of smooth running of the system, passengers are requested to abide the following rules:
Fare evasion results in strict penalties. You may have to pay multiple times of the original fare price.
Smoking and consumption of alcohol are banned on the stations and also on the trains.
Photography is also not permitted.
If required, the metro security authority may carry a security check of you.
Tips
To get the best experience of Changchun subway, keep the following points in mind:
Always have the subway map with you while traveling through Changchun Rail Transit system. These maps are available free of cost at the ticket windows or information centers.
If there are multiple exit points, first decide which one will take you close to your destination and then proceed.
Media