Dalian Metro
Located in the southern province of Liaoning, Dalian is a major city and maritime port of the People's Republic of China.
It is Liaoning Peninsula's most southern city and the second largest city in the province.
Traditionally, it has served as the maritime meeting place for the great powers. The area was controlled by Japan and Russia during various eras, before China declared its sovereignty.
Thanks to Asia's economic boom, Dalian currently stands as a financial, transportation and logistics powerhouse, benefited by its strategic position facing the Yellow Sea. The city's advancement has been quite remarkable. In recent years. It placed 48th in the Global Financial Centres Index and 82nd in the Global City Competitiveness Index not to mention its 2006 recognition as China's most habitable city.
However, beginning in the mid-50s, Dalian underwent a significant population growth that put the city's services at risk, among which public transportation was especially challenged.
During the second half of the twentieth century, officials had a plan to combine buses and trams. This led to the trolleybus, but all initiatives failed.
It was the late 90s when the city's transportation authorities and the Ministry of Urban Planning, opted for a definitive solution and proposed a subway system. Consequently, in the year 2000, with the introduction of a new millennium, work began on what is now known as the Dalian Metro. Its official inauguration was in 2003.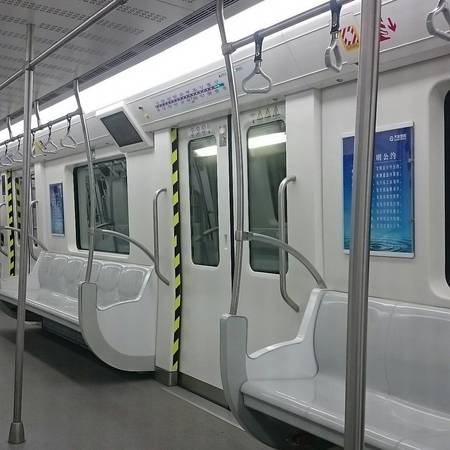 Dalian
Lines and stations
The Dalian Metro has 4 operating lines that make up a total of 153 kilometers (95.1 miles). Currently, there are 69 stations. The routes connect in central Dalian and service the city's northern, eastern and western zones. Each one has a designated color and number.
Line 1
Route 1 was inaugurated in 2015. It was constructed to connect the southeastern and northern zones of Dalian while traveling through the city center. It has a 28.34-kilometer (17.6-mile) railway and 22 stations and extends from Phoenix Peak to what is known as the Development Area. There are additional plans to construct a branch from Wuyilu to Jinbohaian, which will be carried out in three phases. Phase one will extend from Yaojia to the Convention and Exhibition Center. Phase two extend to Hekou and the remainder will be completed in phase three. Following the completion of this line, there will be a tram and metro service extending from Shahekou to Hekou.
Line 2
Like line 1, line 2 opened at the beginning of 2015, connecting the residents of the city's central-eastern zone to the central-western zone. There are 29 stations across a total length of 42.56 kilometers (26.45 miles). This route extends from Houyan to Donghaigongyuan and its architecture forms a distinctive C shape.
Line 2's current expansion plans will be carried out in two phases. The first phase will connect it to the city's airport, while the second one will be an extension to Dalian's main train station.
Line 3
The purpose of line 3 was to connect the Development Zone and the Jinshitan sector with the city center. It has a winding route with mostly elevated or ground level sections. This line enhances the urban development of this section of the metropolis, departing from a northern zone, not currently serviced by the bus routes. It crosses five districts, extends 63.45 kilometers (39.4 miles) and has 18 stations.
Line 12
Line 12 was previously an extension of tram route number 202 but was redesigned to be a part of the metro's current heavy transport system. Its inauguration took place on December 30, 2013, at which point it connected the residents of northern Dalian to the city center via its 40.38 kilometers (25.1 miles) and 8 stations.
In addition to being identified by the number 12, the trains that circulate this route are also distinguished by the color purple. Also notable are the station names, that were translated from Pinyin (the official romanization of Chinese letters) to English, to make it easier for tourists to understand them.
Transfers
The four routes that make up the Dalian Metro connect at the various system stations detailed below.
Dalian North Railway Station (大连北站) : Located in the Ganjingzi district and serviced by line 1, this station provides a connection to the Dalian Train Station's northern terminal.
Xi'an Road (西安路) : Located in the Shahekou district, this station has transfer points to lines 1 and 2.
Hekou (河口) : Located in the Ganjingzi district, this station connects to lines 1 and 2 and 12.
Airport (机场) : Located in the Ganjingzi district, this stop is serviced by line 2 and provides a connection to the Dalian-Zhoushuizi International Airport terminal.
Dalian Railway Station (大连站) : Located in the Xigang district, this station is serviced by line 3, and connects to Dalian's main train station.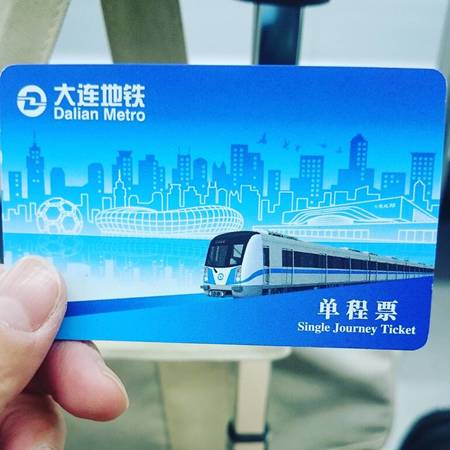 Dalian Metro
Schedule
Considering the span of the city and although Dalian is very populated and there is important commercial activity, daily metro service is somewhat reduced.
Trains begin to operate at 5:30 a.m. when most businesses open and most locals begin working. They run continuously until about 10:30 p.m. Although service is available throughout the day, people traveling after closing must rely on alternative modes of transportation, which are typically more expensive.
The Dalian Metro maintains the same schedule from Monday to Sunday, every day of the year –with the exception of some service interruption during breakdowns and system maintenance.
However, train frequency does vary according to the day and time. During the week and during non-peak hours, the frequency is every 4 minutes while it is reduced in half to just 2 minutes, during peak hours. The frequency is every 4 minutes on weekends, during which there are no peak hours.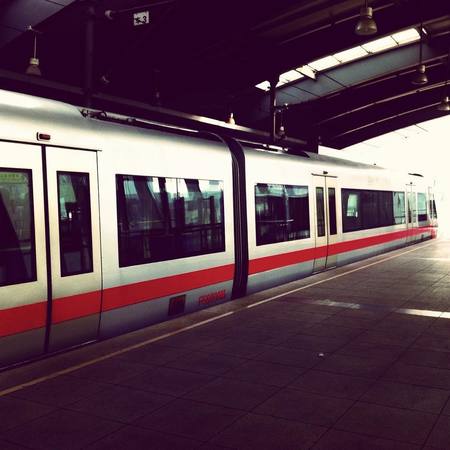 Fares
The Dalian Metro is extremely cost-effective for both locals and tourists. The ticket price is based on the number of kilometers the rider wishes to travel. The fares start off at 2 yuan on lines 1 and 2, which would reach a maximum distance of 6 kilometers. An additional yuan is added for every 2 kilometers beyond this distance, so an 8-kilometer trip would cost 3 yuan.
Line 3's fares are based on the number of stations that the rider travels. Ticket prices start at 1 yuan for every two stations, not counting the rider's current location. A trip taken to the other end of the line would reach up to 8 yuan.
The tickets on this route have a time limit before they expire. If this occurs before a trip can be completed, a refund request may be made at the ticket offices.
Line 12's fare system is the same as line 3's. This is available on the Dalian Metro's official web page.
Tickets
Dalian Metro tickets contain an embedded magnetic stripe, making it necessary for riders to pass them over the turnstiles when entering and exiting stations.
Tickets can be acquired from the dispensers found in ticketing areas. These are especially convenient for tourists since they are available in English, Japanese, Korean and Russian.
Tickets can also be obtained directly from ticket offices.
In addition to basic tickets, in which the rider pays for a particular trip, system officials periodically issue commemorative tickets —celebrating special dates— that provide offers ranging from trip discounts to a single payment for an entire day of travel.
Pearl Card
The reloadable Pearl Card is the most convenient payment method for the Dalian public transportation system. A Pearl Card with an available balance can be used on all the city's bus lines as well as throughout the metro network.
It can prove extremely beneficial when taking the metro. There is a 10% discount for using it on line 3 – although this route does not apply to the student version of the Pearl Card--. Trips are discounted 20% on lines 1, 2 and 12 and similarly, there is a student version that offers a 50% savings on these three routes.
Pearl cards may be purchased from automatic machines in station ticketing areas. Reloading can be done with cash, through Alipay or with WeChat.
A mobile version of the Pearl Card was also recently released. Thanks to this, riders can add to their balance via the company's downloadable app. Using NFC technology, the phones can then be passed over the turnstiles' magnetic stripe reader.
Regulations
Dalian Metro officials urge riders to ensure that their baggage does not disturb other passengers, nor obstruct normal transportation operations.
Treating metro personnel and other passengers cordially in metro facilities is of extreme importance. One should be certain to avoid disturbing or inconveniencing other passengers.
Keep in mind that all riders over 6 years of age must have a ticket to travel in the train system.
Fireworks should not be transported on metro vehicles. Doing so will result in expulsion from the metro.
Don't lean on the screen doors that separate the rail tracks from the platforms.
Smoking is completely prohibited in all metro facilities.
One should avoid running in metro stations and move at a moderate speed to prevent any possible accidents.
Dalian Metro officials prohibit alcohol consumption in transportation vehicles. Entering the system while intoxicated is also prohibited.
Do not panic in case of emergencies and follow the instructions of security personnel.
When traveling with a baby stroller, one should ride in the front or rear ends of the trains.
As a safety precaution, riders should not attempt to get on or off the metro once they hear that doors are closing.
Media devices should be used with headphones, while traveling in train cars.
Attempts to sabotage the work of metro operating personnel is strictly prohibited.
Panhandling is prohibited in Dalian Metro owned areas.
Firearms may only be carried by properly identified police officials.
Express permission for recording must be granted by local authorities.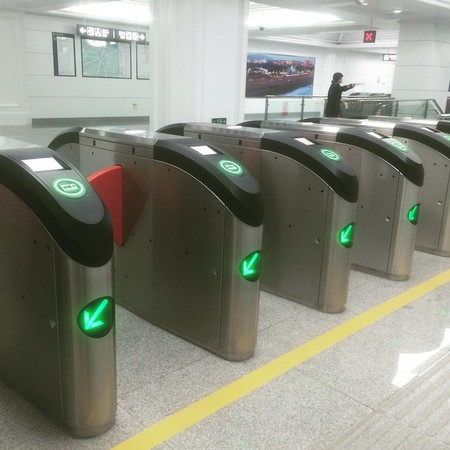 Interesting facts
The Dalian Metro transports over 430 thousand passengers daily, a figure that reaches 157.2 million passengers annually.
In 2017, the Dalian Metro became China's first subway system to have information available in languages other than English and Mandarin. In October of that same year, machine dispensers were also set up in Japanese, Korean and Russian.
The Dalian Metro is managed by two companies. Lines 1 and 2 are managed by the Dalian Metro Co., while routes 3 and 12 are run by the Dalian Public Transportation Group Co.
There is a maternity room available at Xi'an Road station, which is available on lines 1 and 2. Mothers can receive advice on nursing and other baby related issues.
While riders on routes 1 and 2 have full 3G and 4G mobile coverage, the signal is lost in the tunnels on lines 3 and 12, making the connections unstable.
All Dalian Metro stations have public restrooms.
Connection to the airport
Fortunately for riders, the Dalian metro has a station that connects directly to the Dalian-Zhoushuizi International Airport. This is the Airport Station stop, on line 2, whose three exits lead directly to the terminal area. Exit A gives access to the recently inaugurated building facility, an expansion put in place by local authorities. It also provides access to airport terminal D.
Exit B leads to terminal C of the new building, under construction.
The time it takes to reach the Dalian-Zhoushuizi International Airport will be based on the person's location. The price varies from 2 yuan, within relatively close proximity, and reaches up to 4 or 5 yuan.
The subway is the quickest and most economical option for travelers. However, one must take baggage into account, since it can limit passenger mobility and may actually be a reason to seek other traveling options.
There are bus stops outside of the air terminal with buses that travel to Dalian's other bordering towns and the parts of the city not serviced by the metro. Nearby taxi service and vehicle rentals are also available.
Future expansions
Included below are some projects in addition to new routes and the expansion of already existing ones:
1. Northern Extension to Line 1: This extended route will connect route 1 to the new airport being constructed in northern Dalian. The network will be 13.2 kilometers (8.2 miles) and provide a connection to Yaojia's residents.
2. Line 7: This new line will extend 16.5 kilometers (10.3 miles) along which 17 stations will be constructed. The residents of Lily Mountain Villa will be connected to the rest of Dalian's rail network, through a project that will cross several mountainous areas.
3. Line 10: Line 10 will be the first project to provide a metro connection to residents of southern Dalian. It will extend 22.8 kilometers (14.2 miles) through Jinpu district.
According to the most recent public plans, line 10 will have transfers to line 1 and 2, adding a third to Xi'an Road station. Accordingly, 6 stations have already been built with an expected completion of line 1 prior to 2020.
Tourist sites
While in Dalian, one must visit the beautiful Dalian Forest Zoo, located southwest of the city. One will need to take a cable car to connect directly to the facility. Species from all over the world, with a special presence of animals from Asia can be appreciated here. The panda bear pavilion is one of the most striking attractions, due to the animal's status as an endangered species. Visitors can also enjoy the park's regularly organized exhibitions.
One must take the 40 bus to reach the zoo. The bus stop is located near the Railway Station metro station, accessible by line 2.
The popular underground shopping center, Victory Square is also located near this stop. A variety of stores and businesses can be found in its many corridors. Keeping the city's tourists in mind, most signs are available in English. Walking around this interesting space and enjoying the establishments is highly recommended during Dalian's hot summer months. The interior temperature will remain much cooler.