Metros in Spain: Málaga Metro
With a little more than 570,000 residents, Málaga is the sixth most populated city in Spain and the second most populated in the autonomous community of Andalucía.
During the 19th century, it experienced strong industrial development, in which it was established as the country's first city to be considered industrialized. Though the Spanish Civil War later ravaged it.
Following the military conflict, Málaga initiated a new modernization process throughout the 60s and 70s that was upheld by its port's strategic location. The port was ideal for trade with the Mediterranean and for the simultaneous tourist boom.
These factors became the cornerstone for advancing the consolidation of the metropolis' service sector while transforming a significant tourist industry.
Having no other alternatives, Málaga's local officials began to come up with ways to improve the city's public transportation, especially in the constantly congested city center.
In the 90s, they laid out the necessity to construct a rail system that would meet all local demand. However, it would not be until 2006, when work would begin on what was designated the Málaga Metro. It carries the "metro" name, though it more resembles a light rail, due to its size and technical features.
Eight years later, in 2014, a new alternative for getting around the city opened its doors. It has a current route of 11.3 kilometers (7 miles) of which 17 stations operate on two lines.
Metro de Malaga
Lines and stations
The Málaga Metro currently has a route of 11.3 kilometers (7 miles), with a total of 17 stations and two commercial lines. Its network served about 5.6 million people at the close of 2017, representing a 10% increase from the prior year.
The construction of both lines was determined by the demands of a high traffic area, alleviating all central Málaga's major traffic arteries. Likewise, although there have been rumors about a possible third route in the future, they have not been confirmed by the proper officials.
The following are Málaga's Metro lines.
Line 1
Inaugurated on July 30, 2014, it has 7.50 kilometers (4.7 miles) of railroad that connect 13 stations. Its extension comprises El Perchel neighborhood. It moves throughout the city center and includes the Cruz de Humilladero district to Ciudad Universitaria. The following are this line's stations.
El Perchel: This station, with the same name as the neighborhood in which it is located, is part of the famous Málaga-Centro district. It was inaugurated in 2014 and shares service with Line 2.
La Unión: This stop is in the Cruz de Humilladero district, at the end of La Unión street, from, where it takes its name. It opened its doors in 2014.
Barbarela: Located on Juan XXIII Avenue, this station is also in the Cruz de Humilladero district and is very close to the San José Obrero Specialty Center known to locals as "Barbarela".
Carranque: This station, opened in 2014, is located specifically on Virgen de la Cabeza street, near Ciudad Deportiva de Carrenque and very close to Carlos Haya Hospital.
Portada Alta: This stop is located near José Bergamín Square, where the Potada Alta and La Barriguilla neighborhoods meet at the end of Cómpeta Street.
Ciudad de la Justicia: Located in the Teatinos-Universidad district, on Louis Pasteur Boulevard, this station can be found next to the courthouse complex, Ciudad de la Justicia.
Universidad: Also, in Teatinos-Universidad district, this railway stop provides direct access to Teatinos-University Campus, where several of the University of Málaga's branches are located.
Clínico: This station is near the Virgen de la Victoria Hospital in Puerto de la Torre district on Louis Pasteur Boulevard.
El Cónsul: As part of Málaga Metro's first construction plan, this stop is in the Teatinos-Universidad district near Louis Pasteur Boulevard.
Paraninfo: This station was initially nicknamed "Rectorado", but its name was changed right before its inauguration. It is in the Teatinos-Universidad district.
Andalucía Tech: Located in the Teatinos-Universidad district, this stop is very close to the Soliva and Los Asperones neighborhoods, where the Málaga Metro train route ends.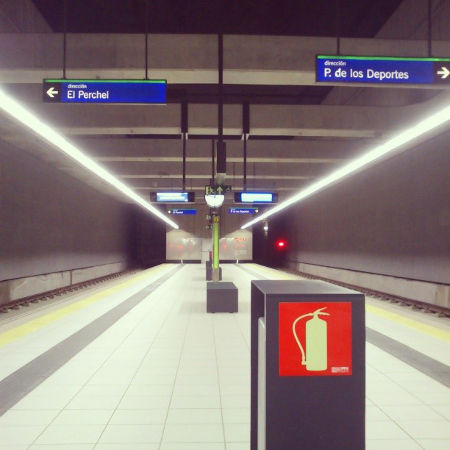 Line 2
Like Line 1, Line 2 was opened to the public in 2014 with a route of 5.7 kilometers (3.5 miles) and 9 commercial stations. It serves neighborhoods like Poligono Alameda, passing through Centro district and District 7. The distance between each stop is 680 meters (2,231 feet) as the trains reach an average speed of 30 km/h (18.6 mph) usually completing the total route in 9 minutes. There are also plans to extend the route to at least 4 more stations, although the opening dates have not yet been determined.
Guadalmedina: This station is in El Perchel neighborhood in Centro district and its name is attributed to the Guadalmedina River. Although it was expected to operate by 2016, its doors will not open to the public until right before 2020. Like Line 2, this stop also services Line 1.
El Perchel: Although this station is located between the Explanada de la Estación and RENFE neighborhoods, its name comes from its proximity to the El Perchel neighborhood in Centro district. It was opened on July 30, 2014 and like the Guadalmedina station, it serves Lines 1 and 2.
La Isla: This station is in La Princesa Neighborhood in the Carretera de Cádiz district where Juan Pablo II Bridge and Héroe Sosotoa street meet. It is also very close to the northern portion of the Jardín de la Abadía and Parque Ayala neighborhoods.
Princesa-Huelin: Located in the La Princesa neighborhood, from where it takes its name, this station can be found extremely close to the Juan XXIII Bridge and the Huelin and Alaska neighborhoods in the Carretera de Cádiz district.
El Torcal: This station lies at the top of Velázquez Avenue in the El Torcal neighborhood of the Carretera de Cádiz district.
La Luz-La Paz: Although this station was nicknamed "Los Guindos" and prior to that "Velázquez" at its 2014 inauguration (due to its connection to both streets) the residents on each side of this stop successfully renamed this station after their neighborhoods, La Luz and La Paz.
Puerta Blanca: Located right inside the Puerta Blanca neighborhood in the Carretera de Cádiz district, this station was part of the first construction plan.
Palacio de los Deportes: Its name is attributed to its location right beside the indoor sporting arena, Palacio de Deportes José María Martín Carpena found on Miguel de Mérida Nicolich street in the Carretera de Cádiz district.
Connections
The Málaga Metro is extremely connected to other modes of transportation, integrating various alternatives for traveling throughout the city and its suburbs. Although all the stations are linked in some way to other systems, the following stand out:
El Perchel: This is a station that serves both Line 1 and Line 2, and additionally allows riders, in surrounding areas, access to Málaga-María Zambrano. Málaga-María Zambrano is the main railway terminal, where high speed intercity trains, called Cercanias Málaga" provide service to residents in outlying areas. The terminal is also where the Málaga bus station offers city and intercity bus service. Additionally, operating from this terminal is EMTSAM, a company responsible for mobilizing part of Malaga's urban population via buses.
Universidad: Associated with Line 1, riders at this station can also board EMTSAM vehicles, specifically routes 11, 18 and 22 and the city bus lines M-116, M-143, M-114, and M-166.
Clínico: Like Universidad, this station is associated with Line 1, as it connects with EMTSAM routes 11, 18, and 22.
Puerta blanca: Associated with Line 2, this below ground stop gives riders the option of taking city bus routes 5, 9, 10, 31 and A.
Fares
Although Málaga Metro fare options and payment plans are not the most comprehensive, they are designed to fulfill customer needs, including 4 possible options at the time of travel.
Casual Ticket: Primarily, there is the casual ticket. It is the most basic and the best option for non-frequent riders. With this reloadable and cardboard textured ticket, a rider can take the metro for just €1.35 ($US 1.61) It's also worth noting that this ticket can be validated many times, meaning it can be used by up to 9 people at the same station provided that there is a sufficient balance on the card.
Málaga Monadero Metro Card: A secondary option is the monadero metro card, an alternative designed for those who frequently use metro services. Reinforced with a more durable material than the casual ticket, it can be loaded with a maximum balance of €25 ($US 29.90) while a minimum balance of €5 ($US 5.98) is required. This payment option reduces the trip price to €0.82 ($US 0.98). Like the casual ticket, the monadero metro card can be validated many times, allowing access to 9 people on the same pass.
Transport Mondadero Consortium Card: This card is integrated with other public transportation systems such as the city buses. It is the best option for those who frequently use the city's massive transportation system since the same pass can be used for different services. Having one of these cards reduces the metro trip to €0.82 ($US 0.98) although if a transfer is made from a city bus or intercity bus, the fare drops to €0.65 ($US 0.78). Like the two preceding options, this card can be validated multiple times, allowing 9 people to use it at the same station.
Transport Consortium Card for Large Families: The transportation consortium card for large families allows users access to discounts sponsored by the Málaga Transport Consortium. As a special pass, it is nontransferable and cannot be validated multiple times. It can only be used by the individual receiving the benefit.
Video
Schedule
The Málaga Metro offers an inviting schedule to meet riders' needs, taking holidays and similar occasions into consideration. The following is the metro's varying schedule.
Monday to Thursday: 6:30 am – 11:00 pm
Fridays and the days prior to holidays: 6:30 am – 1:30 am
Saturdays: 7:00 am – 1:30 am
Sundays and holidays: 7:00 am – 11:00 pm
The train frequency varies between 6 and 10 minutes from Monday to Thursday, from 6 to 15 minutes on Fridays, and from 10 to 15 minutes on Saturdays, Sundays, and holidays.
Regulations
The Málaga Metro has various rules that it encourages its riders to follow to avoid possible penalties and to also improve service. Below are some of the regulations to be followed.
To optimize movement throughout the system, it is suggested that riders allow passengers to exit the train cars before boarding.
Use escalators appropriately by standing to the right and allowing other riders with greater urgency to pass on the left.
People with reduced mobility and those traveling with strollers have priority use of the elevators. Similarly, it is recommended that elevators be used by elderly people and pregnant women.
Being aware of emergency devices and alarms and only using them in true emergency situations is appreciated.
The use of the available trash bins to maintain Málaga Metro's cleanliness is appreciated. Otherwise one could be subjected to a fine.
Avoid obstructing the movement of other passengers, including transporting large items that could disturb other riders.
When traveling with a child, hold his or her hand and keep watch at every moment to prevent dangerous situations.
According to established regulations, failing to bring along a transportation ticket, bringing one that has expired, or bringing one that is invalid is considered an infraction that will result in a fine.
Trains should not be boarded or exited once the signal has sounded for the closing of doors. People doing so could be subject to a fine.
Tobacco consumption is completely prohibited in the system's stations and trains.
Recording video or taking photographs for reporting is not permitted unless the facilities' authorized officials have given prior approval.
Eating and drinking is prohibited in Málaga Metro facilities.
Roller skating is prohibited in the metro system's stations or train cars.
Traveling with animals in the metro system is prohibited unless they are guide dogs or small enough to be carried in appropriate travel containers.
Bicycles are permitted in metro facilities although they must be moved to create a path for people with reduced mobility.
Connections to the airport
The Málaga Metro doesn't have a direct connection to the Málaga-Costa del Sol Airport, meaning none of its stations flow directly into the terminal area. However, via a rapid transfer, one can arrive there without any difficulty.
Simply take either of the two routes that the metro provides, boarding the trains going in the direction of El Perchel station. Once reaching this destination, exit the station and walk to the Málaga-María Zambrano train terminal. One must pay attention to the various trains of the Renfe C1 Line that are directed towards the airport. These trains normally depart every 20 minutes, arriving at the terminal in just about 8 minutes. It costs €1.70 ($US 2.03) and runs from 6:20 am to 11:20 pm.
The trip is similar, if wishing to travel from the Málaga-Costa del Sol Airport to Málaga's city center. Right under Terminal number 3 (T3) lies the train station where Renfe C1 Line is operated. A ticket to the city center can be obtained here. Trains going to other parts of the province can be boarded here as well. Other mobility alternatives to consider are the taxi stand outside the terminal, the bus station and car rental companies.
Future expansions.
It's important to note that as of today, the Málaga Metro is not undergoing any construction expansion, strictly speaking, given that the current work is focused on heightening the works of the initial project. A finalization date had been set in 2019, but it has been put forth for 2020.
Once this work has been completed, both lines will connect to the center of Málaga and interconnect to one another as well. However, in the future, officials have laid out the possibility of connecting a second below ground route to the city's airport via an onsite station. It presents a potential project that follows the trend of other Spanish cities, in that the airport terminals are connected to the metro system.
The construction of a third line to serve the La Malagueta neighborhood, in the Este district, has also been seriously considered. However, the project could be substituted by an extension of the network of the intercity railway. In any case, officials will make the final decision, once the current work is done.
Tourist attractions
Near Princesa station, riders can find Málaga's Russian Museum Collection of Saint Petersburg, a very popular center among those who visit the city for its diverse exhibitions.
Every year, more than 100,000 tourists visit the museum's facilities, which also include projection rooms, a lecture hall, an auditorium, and the headquarters of its Virtual Museum. In its 2300 square meters (24,757 square feet) the same collections are never repeated meaning that, every visit allows the spectator to appreciate different works from Russia's greatest artists.
The Automobile and Fashion Museum can also be found near Princesa station. It is a recent museum, where construction work was finalized in 2010, following the restoration of an antique tobacco factory. In its facilities, sit more than 90 vehicles from various eras. The earliest classic is from 1898. Undoubtedly, this is a must see stop for car lovers.