Alicante's metropolitan tram
The city of Alicante and its urban area (including municipalities such as San Vicente, El Campello, San Juan de Alicante and Mutxamel) have a population of over 450,000 inhabitants. It is an area of medium size but with intercity buses which originally had, was quite poorly communicated. Therefore, almost in 2000 began to raise the need for an integrated transport system.
The Alicante Tram has its origin in the railway line that linked Alicante to Denia in 1915. It was inaugurated on August 15, 2003 by the FGV (Ferrocarriles de la Generalitat Valenciana) with Puerta del Mar de Alicante to El Campello section. This initiative was the realization of a project that began with an experimental section covering a distance of 675 meters from Puerta del Mar to La Marina, and another 2825 meters between La Marina and Albufereta, where the tram shared routes with the rail. The project got the final impetus thanks to the great reception from users.
Currently, metropolitan TRAM of Alicante combines different services: tram, light rail, light train and commuter services that interact with each other complemented by the existing fare integration. There is also integrated in this system a metropolitan rapid bus. Alicante was the second Spanish city to introduce tram-trains on their system. Tram-trains can function as trains or trams benefiting from the advantages of both systems.
Alicante's Tram has a total of 5 lines and 71 stations. 128 kms of network path, of which just under 2 kms are tunnels. In 2013 it was used by almost 8 million people.
Alicante's tram: Lines and stations
The network design of TRAM Alicante (with several additional lines projected) serves the coastal zone and municipalities of its metropolitan area from the city center.
Lines in service
L1 line or red line, runs from Luceros to Benidorm. Total length of 43.210 km, 20 stations, of which 8 are shared. There are train-tram circulating in this line running every 30 min. It takes about 1 hour to make the complete journey. It has a top speed of 100kms/h and an average speed of 48kms/h. Opened in 2007. It goes through five municipalities: Alicante, Campello, Villajoyosa, Finestrat and Benidorm. Its 20 stations are: Luceros, Market, MARQ-Castillo, Sangueta, La Isleta, Lucentum, El Campello, Poble Espanyol, Amerador, Coveta Fuma, Cala Piteres, Venta Lanuza, Paradis, Villajoyosa, Creueta, Coastal Pastor, Vila Hospital , CC La Marina - Finestrat, Terra Mitica, Benidorm.
L1 line map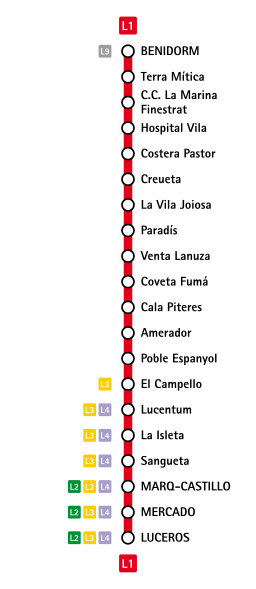 L2 line or green line: It has a length of 8.9 kms (1.6 underground and the rest on surface) and 14 stations (3 stations are shared). It goes from Luceros to San Vicente del Raspeig and has a frequency of 15 minutes. The journey time is 27 minutes. A maximum speed of 70kms/h and an average speed of 19,5kms/h. It is a light rail line with trams. In 2014 it was used by nearly 4 million people. Stations: Luceros, Mercado, MARQ-Castillo, La Goteta-Plaza Mar 2, Bulevar del Pla, Garbinet, Hospital, Maestro Alonso, Pintor Gastón Castellón, Virgen del Remedio, Ciudad Jardín, Santa Isabel, Universitat, Sant Vicent del Raspeig
L2 Line Map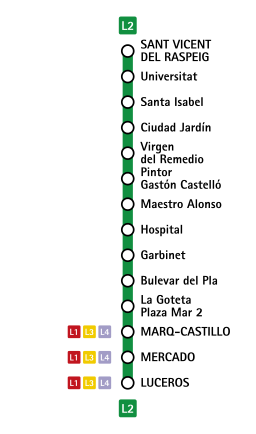 L3 Line or yellow line. It goes from Luceros to El Campello. The length of the track is 14,5kms and has a total of 17 stations of which 8 are shared. By this line circulate train-trams and trams. Opened in 2003. It has a top speed of 70kms/ h. It runs every 30 minutes. In 2014 it was used by more than 2 million passengers. Stations: Luceros, Mercado, MARQ-Castillo, Sangueta, La Isleta, Albufereta, Lucentum, Condomina, Campo de Golf, Costa Blanca, Carrabiners, Muchavista, Les Llances, Fabraquer, Salesians, Pla Barraques, El Campello.
L3 line map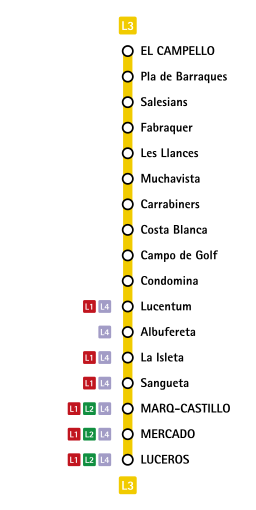 L4 line or purple line. It goes from Luceros to Plaza de La Coruña. The line has a length of 10,03kms. There are 18 stations of which 7 are shared. For this line circulate trams with a frequency of 30 min. The trams have a top speed of 70kms/h. In 2014 almost it had 1.5 million passengers. Stations: Luceros, Mercado, MARQ-Castillo, Sangueta, La Isleta, Albufereta, Lucentum, Miriam Blasco, Sergio Cardell, Tridente, Av. Naciones, Cabo Huertas, Av. Benidorm, Londres, Plaza de La Coruña, Instituto, Países Escandinavos, Holanda
L4 Line Map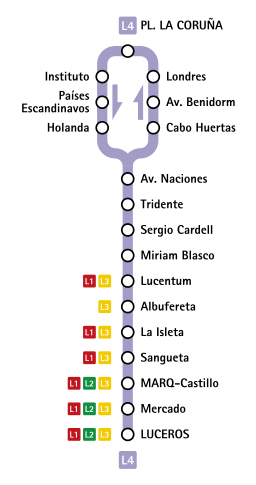 L9 line or grey line. Link Benidorm to Denia. The line length is 50.8 km. It has a total of 18 stations and only 1 of them is shared. The frequency of this line is 60 min. The maximum speed of the trains running on this line is 80 km/h and average speed is 42kms/h. In 2014 it had around 800,000 users. Stations: Benidorm, Disco Benidorm, Camí Coves, L'Alfàs del Pi, El Albir, Altea, Garganes, Cap Negret, Olla de Altea, Calpe, Ferrandet, Benissa, Teulada, Gata, La Xara, La Pedrera, Alqueries, Denia
L9 Line Map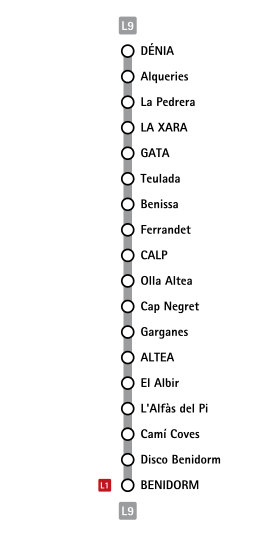 Closed Lines
4L line or shuttle 4L. This shuttle stopped its operation on July 1, 2013. It had a length of 1.3 km and only 3 stations: Puerta del Mar, La Marina and Sangueta. Top speed was 70kms/h and 20 Kms/h average. It had a frequency of 30 minutes. Trams line.
4L Shuttle Map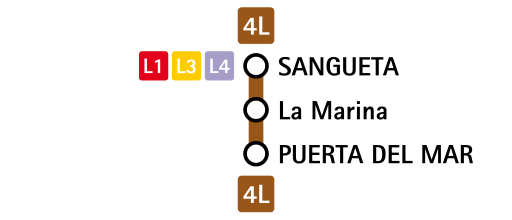 Projected lines
L5 line or blue line. It will join Villajoyosa to Algar. It'ss expected to have 14 kms of track and 14 stations where trams will circulate at a top speed of 70kms/h. Stations: Algar, Garganes, Altea, El Albir, Alfaz del Pi, Camí Coves, Benidorm Intermodal, Benidorm, Terra Mítica, C.C. La Marina - Finestrat, Hospital Vila, Costera Pastor, Creueta, La Vila Joiosa
L5 Line provisional map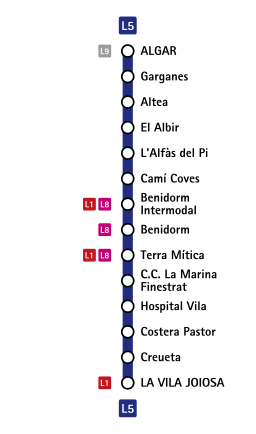 L6 Line. Currently under study. It would connect the Estación Central with Muchamiel.
L7 line or orange line. It will link Estación Central to Elche.
L7 line map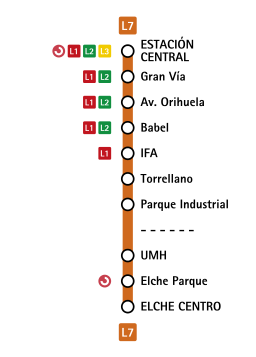 L8 line or pink line. It'll go from Parque Temático to Benidorm Centro. There are 5 planned stations. Benidorm Centro, Benidorm Intermodal, Benidorm, Terra Mítica and Parque Temático.
L8 line map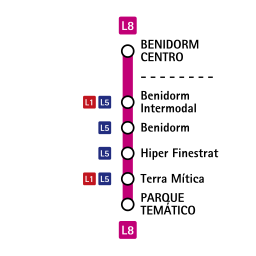 Tram Alicante Schedule
L1: first train is about: 5:40 and last one at 22:11.
L2 from 5:35 to 22:54
L3 first train is about 6:15 and last one is about 23:54.
L4 from 5:59 to 22:35
L9 from 5:50 to 21:59
Trains don't always stops at all stations. Weekends and holidays there aren't some services . You can download the schedules here
Fares and tickets
TRAM fares (FGV)
zones
1 Zone*
2 zones
3 zones
4 zones
5 zones
6 zones
Single ticket
1,35 €
2,50 €
3,75 €
4,85 €
6,05 €
7,15 €

Return

2,30 €
4,25 €
6,40 €
8,25 €
10,30 €
12,20 €
Groups 40%
0,85 €
1,50 €
2,25 €
2,95 €
3,65 €
4,30 €
Pensionista 50%
1,35 €
1,35 €
1,90 €
2,45 €
3,05 €
3,60 €
Card 10
7,60 €
14,00 €
21,00€
27,20 €
33,90 €
40,05 €
Card 30
21,50 €
39,75 €
59,65 €
77,15 €
96,20 €
113,70 €
T.A.T Gent Major

Todas las zones

Monthly
10,00 €
Yearly
89,95 €
Mobilitat
All zones
Monthly
10,00 €
Yearly
89,95 €