Metros in Italy: Genoa Metro
Genoa, capital of Italy's Liguria region, is the fourth richest city in the country. It has a population of 1,500,000 people.
For centuries, this metropolis' economy had been based on maritime trade thanks to its port. Considering Italy's large size, it is the second most important one in the nation, only behind that of Trieste.
At the same time, Genoa rose up as a highly industrialized city, with an enormous scientific duty to its academic institutions and an unequivocally rich cultural heritage. This turned it into a highly sought after tourist destination, registering up to 7.6 million visitors during the summer season alone.
Such an important city required an advanced transportation system and as it couldn't be any other way, the Genoa Metro, known among locals as Metropolitana di Genova was constructed in the mid-80s.
The construction work reached its height in 1990, coinciding with the celebration of the 14th World Cup. From that point, the system was progressively expanded, including the current 7.2 kilometers (4.7 miles) distributed across 8 commercial stations. What stood out as reduced passenger use and the route's short distance placed it more in the category of a light rail than a metro, although the name effectively gave it the allusion of a metro.
Line
The Genoa Metro is 7.2 kilometers (4.7 miles) long, served by only one line with 8 stations. It transports about 41,000 passengers daily, a rather low number for a metro system. It extends from the Certosa neighborhood in to the Rivarolo district to Genoa's city center. Genoa's metro system includes the following stations: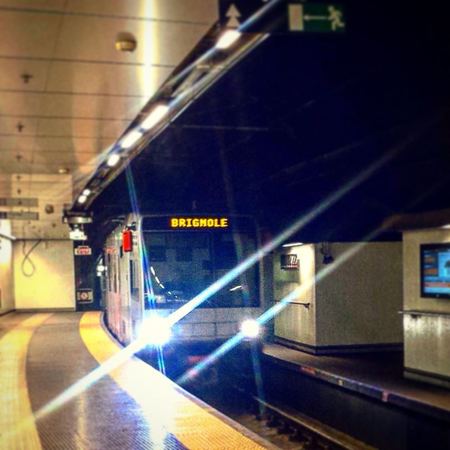 Genoa Metro
Brin: Situated in the Certosa neighborhood, in the Rivarolo district, this station has provided service since 1990 when it first opened its doors to commercial stops. Designed by architect, Renzo Piano, it is characterized by its elevation and platform ceiling made of crystal.
Dinegro: Opened on June 13, 1990, this stop can be found close to Piazza Dinegro where various bus stops and the ferry station are located. Also nearby is Genoa's financial district, San Benigno.
Principe: The opening of this station took place on July 13, 1992, coinciding with Genoa's International Exposition. It is located near Piazza Acquaverde with the railway station that shares the same name.
Darsena: This station was inaugurated in 2003 as part of the expansion of Principe-San Giorgio. Found on Gramsci Avenue on the western part of historic Genoa, visitors can appreciate the Genoa Port's display of historic evolution from inside the station.
San Giorgio: Located between the Piazza Cavour and Piazza Caricamento on Turati Avenue, the station has provided service since 2003. Its name comes from the San Giorgio Palace located near the station. It is immensely popular among tourists.
Sarzano/Sant'Agostino: This station is located near Piazza Sarzano and the church of Sant'Agostino. Frequented by the public since 2006, it is one of the deepest stations in the system at 26 meters (85 feet) below the surface.
De Ferrari: Opening its doors in 2005, this station is the work of Renzo Piano's with modifications by Renzo Truffelli. It was baptized with the name Ferrari due to the Piazza located below it. The Piazza Ferrari is also where both the Carlo Felice Theatre and the Ducale Palace is located.
Brignole: Inaugurated in 2012, this is Genoa metro's most recent station. It is characterized by the preservation of some of the archaeological discoveries found during its excavation and can be found very close to Piazza Verde right in the center of the city.
Connections
In spite of not being very extensive, the Genoa metro network is well connected with other transportation systems including buses, trolleybuses, and train stations that lead into Italy's other cities. The following are Genoa metro connections.
Brin: Connections to this station can be found with the bus lines, 207, 7, I04 and I07.
Dinegro: This stop is linked with the bus lines 1, 3, 7, 9, 18, 20, 32, 38, 340, 618, 635, ACQUI, DI-VA, GE-BR, I10, n1 and n2. It also connects with the Traghetti ferry terminal.
Principe: This stop has the advantage of a direct transfer, passing underground, to the Stazione di Genoa Piazza Principe railway station, from which trains depart to all of Italy. Similarly, this station connects with the bus routes 3, 20, 32, 34, 35, 36, 38, 54, 618, 634, 635, 641, n1, n2 y sm.
San Giorgio: This station has only one connection with the bus lines 13 and cm.
Brignole: This Genoa Metro terminal has a direct transfer to the Stazione di Genova Brignole at Brignole railway station, which in turn connects with the following bus routes 15, 31, 40, 49, 67, 70/75/76, 84, 480, 482, 603, 604, 649, 656, 680, 683, ACQUI, DI-VA, GE-BR, GE-LA, OT-GE y VLB.
Darsena, Sarzano/Sant'Agostino and De Ferrari stations don't have any direct connections with the bus lines. However, riders will come across the bus stops, with the proximity of the stations being less than 100 meters (.06 miles) away from them.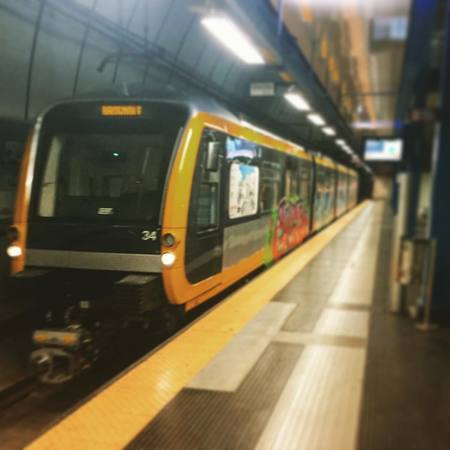 Principe (Genoa Metro)
Schedule
The Genoa metro provides service to locals and tourists all day long, every day of the year with the exception of some scheduled maintenance work that requires service interruption. In these cases, riders are notified of the inconvenience beforehand.
The stations open at 6:30 am, from the time the first trains leave from the line's two terminal stops. Trains run nonstop for 16.5 hours, shutting down at 11:00 pm, though those in charge of Genoa Metro keep the stations open an additional 10 minutes to ensure all facilities are cleared of passengers.
In the same manner, trains arrive every 5 minutes during peak hours and every 7 minutes during non-peak hours. During holidays, the time between trains tends to be longer, ranging between 8 and 12 minutes.
Fares
Genoa's public transportation center is thoroughly linked as the same passes can be used on buses, trolleybuses and the metro. Still, the passes are divided into two major categories: biglietti (tickets) and abbonamenti (payment plans). Both have their pros and cons, with the former being thought of for those people who use the public transportation system sparingly, while the latter is perceived to be used by frequent riders. Biglietti, the traditional metro ticket, can only be used during a specified time period. Abbonamenti, which are plans matched to the riders' distinct requirements, are credited to refillable cards for long term use.
Biglietti Tickets
Biglietto Ordianario: This first option is for those who only wish to use public transportation for very short periods of time. With this option, riders can take advantage of 100 minutes of unlimited travel on the city's buses, trolleybuses and the metro. It costs €1.50 (US$ 1.85).
Biglietto Integrato: Like the Biglietto Ordianario this ticket provides unlimited trips of 100 minutes to riders within the public transportation system. This includes buses, trolleybuses and the metro. Additionally, they allow for a second class suburban trip on the TrenItalia trains. The cost is €1.60 (US $1.97)
10 Biglietti Integrati: If spending only a temporary time in Genoa and not a frequent rider, this ticket is an excellent option to always have in your wallet. It includes 10 passes, each 100 minutes that can be used on the trolleybuses, buses, and the metro plus one suburban trip in the TrenItalia network. It costs €15.00 (US$ 18.46).
Biglietto 24ore Genovapass: If you wish to travel around the city for an entire day without worrying about a set time period, the Genovapass is your best choice. This allows access to all of Genoa's public urban transportation services for 24 hours beginning from the first time the ticket is used. It includes buses, trolleybuses and the metro system. It costs up to €4.50 ($US 5.54).
Biglietto Volabus: This ticket is specially designed for passengers that want to go to the Genoa-Cristoforo Colombo Airport. It is an express bus trip traveling directly from the city's town center to the airport terminal. Even so, it also includes 60 minutes of unlimited travel on buses, trolleybuses and the metro. It costs €6 ($US 7.40).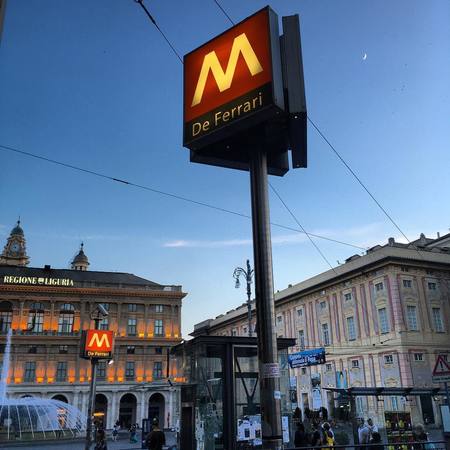 Piazza De Ferrari
Abbonamenti
Abbonamento settimanale: With this plan, credited every seven days from the time of payment, Genoa Metro riders will enjoy seven days of continuous access to the city's public transportation system, including buses, trolleybuses and the metro. Its price is €17 ($US 21).
Abbonamento mensile: With this personalized and reloadable card, the current plan can be voided and changed to have unlimited access to the city's public transportation system over 30 days, from the time of their payment. The cost for this option goes up to €46 ($US 57).
Abbonamento annuale: Similar to the previous plans, this payment plan allows riders unlimited trips on Genoa's entire public transportation network. The major difference is that it is valid for 365 days from the time of payment. Its cost goes up to €395 ($US 487).
Abbonamento annuale under 14: Like the previous plan, this provides its recipient with a full year (365 days) of unlimited travel on all of Genoa's public transportation systems including the bus, trolleybuses and metro lines. However, it's only valid for minors under the age of 14. It costs €240 ($US 295)
Abbonamento annuale over 65: This is a payment plan specially created for seniors – people over the age of 65 who have an annual income of less than €22,000 ($US 27,077). It costs €345 ($US 425) and allows its recipient access to all Genoa's public transportation systems.
Regulations
Metro station access, circulation and authorized activity
Access to Genoa's Metro is subject to rules and guidelines that riders must follow if they wish to use the system. Otherwise, access could be denied.
Once inside the metro stations, avoid obstructing the free movement of other passengers in the system and do not disturb personnel in charge of running the subway facilities.
Escalator use
Using the metro escalators without shoes is prohibited.
Umbrellas or similar objects should not be placed between the escalator stairs as it can damage the equipment.
No sitting on the escalator steps.
Throwing trash on the escalators is prohibited.
No activating emergency devices located on the escalators when not facing a true emergency.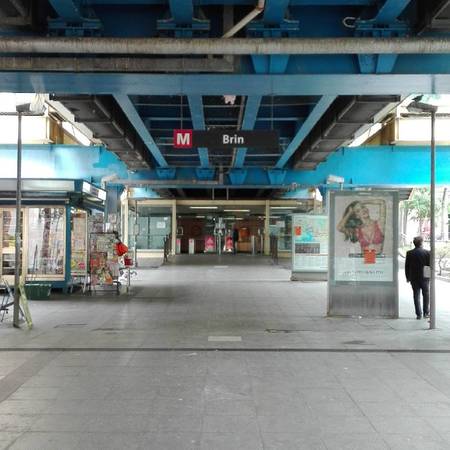 Brin (Genoa Metro)
Elevator use
Smoking and spitting in the elevators is prohibited.
Elevator mechanisms should not be damaged, destroyed or altered.
Transporting arms, fireworks or flammable materials is strictly prohibited.
Elevators are not to be used in a drunk or otherwise intoxicated state, nor while inappropriately dressed.
Singing, shouting or using multimedia devices without headphones on the elevators is prohibited.
Advertising or conducting commercial activities on Genoa Metro's elevators is prohibited.
Transporting Animals
Owners or those responsible for large dogs must purchase a ticket for the animal.
Guide dogs, cats, and small or medium sized pets can travel for free.
All dogs, regardless of size should use a muzzle and be kept on a leash by their owners
Any other animal that is not a dog or cat needs to be kept in its appropriate cage.
Transportation of bicycles
One bike per passenger is permitted on the metro. It must be foldable and once folded, it may not measure more than 85x75x40 cm (33 x 30 x16 in)
There is no additional cost for transporting bicycles throughout the metro system. It is completely free.
Connection to the airport
The Genoa Metro doesn't have a direct connection to the Genoa Airport. However, part of Azienda Mobilita e Trasporti's (AMT)'s strategy is easing the movement of people to key parts of the city with a direct bus service that connects the town center and the metro with the airport. AMT manages Genoa's public transportation system.
The vehicles that offer this direct bus service are called Volabus. They are Gran Turismo coaches featuring all the amenities that guarantee an excellent trip. Those wishing to take this mode of transportation must take it from either Brignole or Principe station from Volabus labeled stops. Metro personnel is also available if there are questions. Once onboard and having paid the respective travel fee – the trip will take about 30 minutes to arrive to the airport terminal.
Conversely, when flying into Genoa Airport and wishing to travel to Genoa's city center, you will follow very similar steps. From right outside, you will primarily look for various bus stops similar to taxi stands. Go to one of the stops identified as Volabus from which a bus will arrive to take you to your destination. Vehicle rental companies are also located inside the airport if one does not wish to take public transportation due to luggage size or personal preference. In any case, there are various options now available for traveling from the airport to Genoa's city center.
Yast another Genoa Metro plan
Interesting facts
The Genoa Metro is considered more a light rail than a standard metro due to its length and low rider usage.
The metro transports 41,000 passengers daily which by year end translates into 15 million riders.
The first consideration for a possible metro system rose in the early 20th century when Italian engineer, Angelo Massardo proposed the idea. However, several initiatives were rejected and replaced by more tram construction.
Due to being just about 7 kilometers (4.4 miles) in length, it is considered the shortest metro in Italy.
Future Expansions
Among the De Ferrari and Brignole stations, it was projected that the expansion of the Piazza Corvetto stop would not be executed due to the lack of a proposal and it not being in the primary plans of the metro's latest expansion. Nonetheless, it remains in place as a project.
At the same time, there are discussions to possibly extend the Brin station to Polcevera Avenue or to extend Brignole terminal to Piazza Terralba, Piazza Martinez and the San Martino Hospital.
An article on Brignole station from the newspaper, Il Secolo XIX (2013) detailed the city government's plans to approve resources for construction of an extension to reach Piazza Terralba in the San Fruttuoso district. Also according to the article, the new underground entrance would be very close to Piazza Martinez.
Tourist Attractions
The city's main tourist attractions are located extremely close to Genoa Metro's 8 stations, among which is the Darsena station. Located just a few feet away, the maritime museum, Museo del Mare is the largest of its kind in all the Mediterranean and one of the most modern in Italy. Each of its four floors have various displays including a bookstore on the ground floor that is a model of a 1976 submarine for visitors to explore.
The historic city center is located on the other side of the Darsena station where right outside is the rich architecture of the past.
In a similar manner, the Aquarium of Genoa can be found just a few steps from the San Giorgio station. It is the largest in the country, the second largest in Europe and the ninth largest in the world. Visitors can admire the tremendous diversity of species inside this aquarium as it contains creatures from the Pacific Ocean to animals indigenous to the Amazon. A trip through the aquarium takes 2 and a half hours, during which, one can appreciate 70 different tanks, home to 15,000 animals and 400 species. Without a doubt, it is a must see attraction when visiting the city that saw the birth of Italy.