Metros in Italy: Turin Metro
The city of Turin, located in Northern Italy and known by locals as Torino, is one of the region's major cultural hubs. Its history dates back to the birth of what is known nowadays as Italy. Currently, the city's population is just over 2 million people. In 1861, Turin was named Italy's first capital.
During World War II, the city lost much of its monuments, although it kept high levels of industrialization. Because of this, it later became the third-richest city in the country, after Rome and Milan.
It also houses important and internationally-renowned universities, such as the University of Turin, which have brought a harmonic level of academic, industrial and cultural development to the city.
Therefore, Turin's importance for Italy's economy called for the design of a mass transit system that could address its population's demands. This gave birth to the Turin Metro – known in Italian as Metropolitana di Torino.
Although the first drafts for an underground system date back to the 80s, construction did not begin officially until the year 2000.
The celebration of the 20th Winter Olympics, held in 2006, served as the trigger to kick-start construction. During that year, the first section of the Metro was inaugurated. However, the project did not reach 100% completion until 2011, thanks to a large injection of capital.
Nowadays, the Turin Metro encompasses 13.2 kilometres of tracks, distributed along a single line between 21 commercial stations, which serve 155,000 people per day.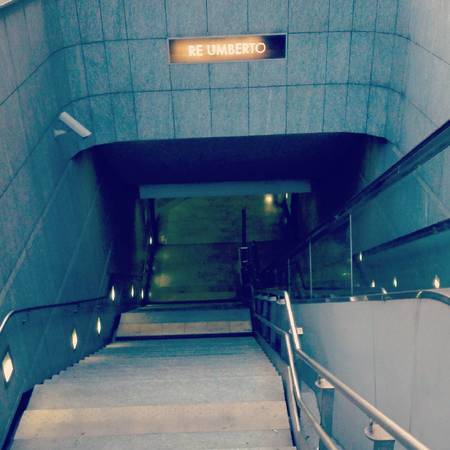 Torino Porta Nuova
Lines and stations
The Turin Metro has a single line – although a second one is in the works - which runs for 13.2 kilometres and serves 21 stations.
On average, it takes 25 minutes to go from one terminal station to the other.
The stations were designed by a team lead by Thomas Muirhead (London) and Giovanni Brino (Turin), who were also in charge of the administrative offices, the control centre, and the trains' maintenance workshop.
Please see below for a list of stations in the Turin Metro Stations:
Fermi: This is the western terminal station, located in one of the city's outer neighbourhoods, Collegno, on De Amicis Avenue. It was inaugurated in 2006, as part of the project's first phase.
Paradiso: Also opened in 2006, this station is located in the Collegno neighbourhood, on Corso Francia Avenue. Inside the stations, passengers can admire the works of Italian pain Ugo Nespolo, who drew inspiration from Turin's industrialization.
Marche: This station first opened its gates in February 2006, and is located on the intersection between Corso Francia and Eritrea Avenues, inside Turin's city limits.
Massaua: Inaugurated in 2006, it is located on Corso Francia Avenue, where De Sanctis and Pietro Cossa streets meet, right under Piazza Massaua.
Pozzo Strada: This station, dating back to 2006, also lies under Corso Francia Avenue, on the corner with Gianfrancesco Re. It is decorated with beautiful wall art that evokes Turin's rural past, before the advent of industrialization.
Monte Grappa: This station has been open since February 2006 on Corso Francia Avenue, close to Monte Grappa and Monte Cucco. Inside, it is decorated with Alpine motifs.
Rivoli: It was inaugurated in February 2006 on the intersection between Corso Francia and Corso Vittorio Emmanuelle II, close to Piazza Rivoli.
Racconigi: This stop is located on Corso Francia Avenue, between Corso Racconigi and Corso Svizzera Avenues. It has been in operation since 2006, and its décor references the Racconigi Castle.
Bernini: This station is located on Bernini Square, directly beneath the intersection between Corso Francia, Corso Tassoni, and Corso Ferrucci. It was also opened in 2006.
Principi d'Acaja: First opened in 2006, this station is located on Corso Francia Avenue, between Principi D'Acaja and Casa Fenoglio-La Fleur streets.
XVIII Dicembre: Located on the square of the same name, this station was opened on the 4th of February 2006. Both the station and the square right on top of it commemorate the tragic fascist massacre of December 18th, 1922.
Porto Susa: This station lies close to Corso Inghilterra street, and was opened in October 2007.
Vinzaglio: This station is directly beneath the intersection of Corso Vittorio Emmanuele II, Corso Vinzaglio, and Corso Duca degli Abruzzi. It was first opened in 2007.
Re Umberto: This station, inaugurated on October 5th 2017, is located on the corner of Corso Vittorio Emmanuele II and Corso Re Umberto. Inside the station, passengers can find a variety of references to the deeds of King Umberto I of Savoia.
Porta Nuova: Located directly underneath Carlo Felice square, this stop has been in service since October 2007 and is the largest of the Turin Metro network.
Marconi: This station first opened its gates in March 2011, as part of the network's third expansion. It is located on the corner of Nizza and Marconi streets.
Nizza: This station is located on Piazza Nizza and was inaugurated on March 6th, 2011, as part of the underground network's third expansion.
Dante: This station is located under Piazza De Amicis, in the city's centre. It was first opened in 2011.
Carducci-Molinette: Users may find this station, which began service on March 6th 2011, on Piazza Carducci.
Spezia: In operation since 2011, this station is located on Corso Spezia street.
Lingotto: This is the second terminal station of the Turin Metro network. It is located on the southern edge of the city, close to Bengasi square on Nizza Avenue. It opened in 2011.
Connections
Turin Metro stations are highly interconnected with the different bus lines that serve the city and its surrounding suburbs. Likewise, inside each individual station, passengers will be able to find maps showing nearby bus routes and the available transfers. Important transfer stations include: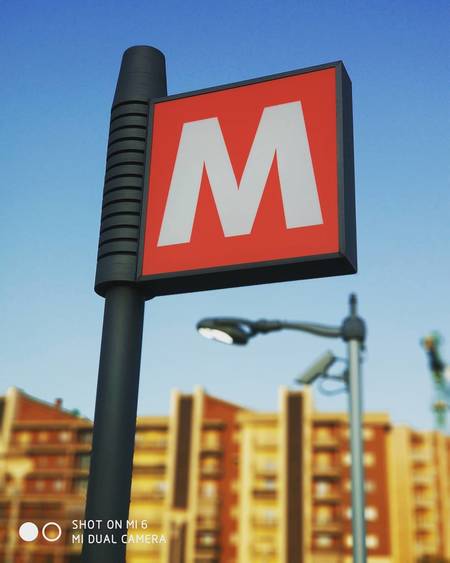 Fermi (Turin Metro)
Fermi: In addition to several bus lines nearby, Fermi station allows passengers to transfer into local commuter trains. These are run by GTT, which oversees regional railways.
XVIII Dicembre: This station is connected to bus line 10N, 29, 46, 49, 51, 55, 56, 57, 59, 59/, 60, 71, 72 and 72; tram routes 10 and 13; and the intercity bus company Dora Express
Porta Susa: There are several bus stops in the area. In addition, there is a major railway station on its surface, the Stazione di Torino Porta Susa. This station connects to all major cities in Italy.
Re Umberto: This stop allows transfers to bus lines 7, 9, 14, 15, 33, 52, 63, 64, 67, 68, and STAR 1, as well as some tram lines.
Porta Nuova: This is, undoubtedly, the Turin Metro's major connection hub. In addition to commuter trains, it allows transfers to tram lines 4, 7, and 9; as well as bus lines 6, 11, 12, 33, 58, 58/, 61, 64, 67, 68, and 101.
Fares
The Turin Metro allows passengers to use different payment methods, which include access to complementary urban transit networks, such as buses or trams. These include stub-like tickets as well as card-based monthly passes. It is important to note that the underground system is very well connected to surface urban transport, so any tickets bought at Turin Metro stations will also be valid for buses and trams.
Tickets
Biglietto ordinario urbano: This ticket is ideal for passengers who need to accomplish specific errands around the city. It allows passengers to use all urban transport methods in the city for 90 minutes – that is, trams, buses, and 1 metro ride. It costs 1.50 € and can be bought on any ticket sales kiosk.
Shopping: This ticket is valid for four hours, and allows unlimited travel among bus, tram, and metro networks. It has been designed for those who need to traverse the city with no restrictions, and it costs 3.00 €.
Giornaliero: Designed with tourists and visitors in mind, this 24-hour pass allows unrestricted travel across all of Turin's urban and suburban transport networks, including the Metro. It costs only 5 €.
Biglietto speciale: It comes in two variants: a 48 hour pass for 7.50 € or a 72 hour pass for 10.00 €. Both offer the same benefits during their activation period. This pass allows unrestricted rides across the city's urban and suburban transport networks.
Long term passes
Settimanale: This pass requires purchasing a reusable card (which costs 5 €), which can then be refilled on a weekly basis for 12 €. It allows unlimited rides across all urban and suburban transport networks for 7 days.
Mensile: This payment method also requires passengers to purchase a 5 € Metro card. It allows unlimited travel across all urban and suburban transport networks in the city for 30 days. It costs 38 €.
Annuale: This yearly plan allows 12 months of unlimited rides across all networks, through a single payment of 310 € - in addition to the 5 € customised Metro card.

Student passes

Mensile: Students between the ages of 15 and 25 can enjoy a discount on their public transport monthly passes. This includes urban and suburban transport networks, including the Turin Metro. In order to qualify, they will need to submit written proof of enrolment on any of the city's schools or universities, and receive a customised student card. This will allow them to purchase a monthly pass for only 21 €.
Plurimensil: Students between the ages of 15 and 25 can also purchase 10-month public transport passes. This pass will allow unlimited rides, across all urban and suburban transport networks, including the Metro. In order to qualify, they will need to submit written proof of enrolment on any of Turin's schools or universities, and collect a customised student card. Thanks to this card, they will only need to pay 175€ every 10 months.

Elderly Citizens

Mensile: People over 65 years old with a yearly family income under 36,151 € can apply for discounted monthly passes. If they meet the requirements, they only have to pay 20 € per month.
Annuale: Passengers who are over 65 years of age can apply for discounted yearly passes, as long as their yearly family income is under 35,151 €. If they meet the requirements, they can pay 217 € every year.

People with disabilities

People with disabilities will have to notify the relevant authorities as to their specific condition, in order to qualify for a discount on their monthly pass. Depending on the disability, final price may range from 16 € to 21 €.

Hours of Operation

The Turin Metro strives to offer its services during convenient hours for the city's visitors and residents alike. However, it should be noted that opening and closing times vary according to the day of the week. Read on for a full description of the Turin Metro's hours of operations.

Mondays: On Mondays, the Turin Metro opens its gates from 5:30 AM until late at night, at 10:00 PM.
Tuesdays through Thursdays: Between Tuesdays and Thursdays, the Turin Metro is open from 5:30 AM until 12:30 am (past midnight)
Fridays and Saturdays: On weekends, the Turin Metro opens up at 5:30 am and closes at 1:30 am.
Sundays and Holidays: On Sundays and bank holidays, services begin at 7:00 am and cease at 1:00 am Any changes to this schedule, caused by an extraordinary or unforeseen event, will be notified to passengers on the Turin Metro's official website.

Rules and Regulations

While using the Turin Metro, passengers may be required by an authorised staff member to show the stub or card used to access its services for verification purposes.
Train gates all open and close automatically, and passengers should refrain from forcing or blocking them.
When a train approaches a station, passengers waiting on the platform should stand to the sides of the gates, instead of directly in front of them. This is to avoid blocking the way out for passengers boarding off the train.
Once the alarm rings, signalling gates are about to close, passengers should not attempt to enter or exit the car.
When the train stops at either Fermi or Lingotto terminal stations, all passengers are required to board off the train, with no exceptions.
Selling, peddling, distributing fliers, and begging are strictly prohibited inside the Turin Metro's facilities.
Smoking is prohibited inside all Metro trains and stations
Baby strollers are allowed in the Metro, as long as they placed in a way that doesn't hinder or block other passengers' movement.
Passengers with luggage or suitcases can only carry up to two pieces, which should not exceed 80x50x50 cm each.
Pets are permitted in the Turin Metro, as long as they don't endanger other passengers and their owners carry the necessary tools for their restraint (i.e. leash, muzzle, or cage, depending on the animal).
The owner of said animal will held fully liable for any damage caused by it.
Bikes may be carried inside the Metro trains, but only on the specified days and times established on the Turin Metro website. Each wagon may only carry up to two bikes.

Airport Connections

The Turin Metro is not directly linked to the Turin Airport-Caselle. However, it is possible to take a bus from one of the Metro stations to the airport.

Passengers wishing to reach the Turin Airport may take the Metro up to the XVIII Dicembre station, where the Dora Express bus terminal is located. The trip costs only 3 euros and lasts approximately 20 minutes. After arriving to XVIII Dicembre, passengers will simply need to find the Dora Express kiosk, buy a ticket and wait around 15 minutes.

In order to reach the city centre from the airport, passengers will have to leave the air terminal and walk to any of the nearby bus stops. From there, it is possible to board a Dora Express bus to the XVIII Dicembre metro station, or any other bus route bound towards the city. Alternatively, there is also a railway station and a taxi stand in the immediate vicinity, which will allow passengers to reach their destination.

Trivia

The Turin Metro is fully automated, so you won't find any drivers on the power car
The Turin Metro serves 155,000 passengers per day, and an average of 41 million passengers per year.
During the 1920s, an initial tunnel was dug, intending to house an underground rail. However, this project was later abandoned, and the tunnel now serves as a parking lot for the modern Metropolitana di Torino trains.
The Turin Metro authorities are planning a second passenger line, although they have yet to set a date to begin construction.

Tourist Attractions

The city's famous Egyptian Museum is located few blocks away from the Porta Nuova station. This is one of Italy's oldest museums, and it houses one of the largest collections of Ancient Egyptian artefacts – only the Cairo Museum surpasses it. It was first opened in 1824 to display the city's growing collection of statues, sarcophagi, and papyrus scrolls.

The Museum is located in front of Piazza San Carlo, one of the city's most important landmarks. Here, cultural events, street fairs, and concerts are held on a regular basis. The Turin Cathedral of St John the Baptist, which houses the Holy Shroud of Turin, is also located in the area.