Gwangju Metro
Historical Background
Gwangju is the sixth-largest city in South Korea with over 1.4 million of a population. It used to be the provisional headquarter of South Jeolla Province. It houses more than ten universities and attracts tourists from around the world.
All these were quite enough reasons for the city authority to plan for an underground rapid transit system. After multiple delays, eventually, on August 28, 1996, the construction of the first line started officially. The partial operation began in 2004 connecting Nokdong to Sangmu. In 2008, the remaining route from Sangmu to Pyeongdong was added to it.
Hours of Operation
The trains run from 05:30 AM to midnight. The average frequency of trains is 8 to 10 minutes. During morning office hours, trains run every 5 minutes. In the evening rush hours, you'll get a train every 7 minutes.
Lines and Stations
Line 1 connects the east-west corners of the city. Starting from Pyeongdong it runs through important areas like Gwangju airport, Culture Complex, business district of Sangmu, downtown near Geumnammo-4 and 5 and ends at Nokdong. The two terminal stations are above the ground and the rest is underground. The section between Nokdong and Sotae is a shuttle line with trains coming every 30 to 60 minutes.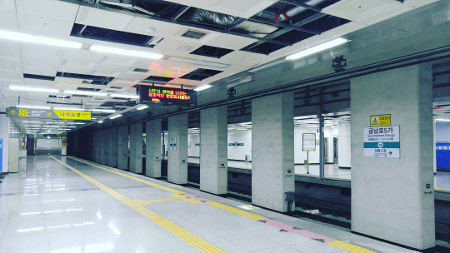 Gwangju Metro
A complete journey on this line takes around 37 minutes. Transfers to KTX and KoRail are possible at Gwangju Songjeong Station. A bus route operates near the Nongseong station.
Main stations on this line are:
Nokdong
Sotae
Culture Complex
Geumnamno 4(sa)-ga
Geumnamno 5(o)-ga
Yangdong Market
Nongseong
Uncheon
Sangmu
Kim Daejung Convention Center
Airport
Songjeong Park
Gwangju Songjeong Station
Pyeongdong
Expansion
Gwangju city authority has plans to stretch Line 1 further. Towards the south, it will be extended to Hwasun and towards the north to Naju. This has now become a part of the 5+2 extensive economic zone project and is getting high priority.
Line 2 was initially conceived as a ring-shaped route but the city government is now considering making it a north-south line. If constructed as a ring type line, it will be a 27.4 km long track connecting stations:
Baekyoon-gwangjang
Namgwangju Station
Gwangju Station
Gwangju Bus Terminal
Market
Sangmu
Baegun-gwangjang
Hyocheon Station
Constructed as a north-south line, it will have a 24.58 km long route connecting stations:
Hyocheon Station
Baekyoon-gwangjang
Namgwangju Station
Chosun University
Gwangju Station
Chonnam National University
Ilgongno
Bonchon-industrial Park
Cheomdan Area
Residents of Gwangju will make the final choice. There is the proposal of Line 3 also, though official information on that is yet to be published.
Fare and Tickets
The subway system doesn't discriminate in fare on the basis of distance traveled. A flat rate applies to all journeys. However there are two alternative ticketing options and each of them costs you different. You can choose to buy either Traffic Card or Single Journey Ticket.
A single journey ticket for an adult (19-64 years) costs 1200 won, for a teenager (13-18 years) costs 1000 won and for a kid (6-12 years) costs 400 won. If you have a traffic card, the prices will be reduced to 1100 won and 800 won respectively for adult and teenager. For children, the price remains the same. People aged over 65 years, babies (0-5 years), disabled persons and veterans can ride free of cost showing identity and age proofs.
Discounted or free-ride is possible, subject to certain conditions, on city buses and other public transportation vehicles using traffic cards. For groups of 20 people or more, there is also discount available on the total ticket price.
Tickets should be purchased from ticket vending machines located at the stations. Pre-paid traffic cards are available at metro station centers and at convenience stores.
Get the details of fares and discounts here.
Facilities and Services
Compared to Seoul or Incheon system, Gwangju metro system is small in size and coverage. Still, the authority makes available a plethora of amenities to make the journey an enjoyable one.
The stations have restrooms, sitting benches and refreshment corners.
Just outside the station, there are parking lots and bike stands.
On Sotae station, there is a Lost and Found center which helps passengers to find their lost items.
Elevators and escalators are available to enter or leave the subway stations.
All the announcements and written information inside the subway are in English and Korean.
Rules
The Gwangju Metropolitan Rapid Transit Corporation has set rules to ensure the safety of the riders and better management of the system.
A free ticket can be used only on the date of issuance.
A single journey ticket should be used within 2 hours once it is scanned by the subway sensor machines.
Smoking is prohibited on stations and also on the train.
Tips
These are few tips that can further smooth out your journey via Gwangju Metro.
Download the Subway Korea app in your mobile.
Make sure you have enough balance in your traffic card; otherwise, you won't be able to pass the entry and exit gates.
Always use the same traffic card in the whole journey to avoid double payments.
Media