Daegu Metro: Introduction
Historical Background
Daegu is the fourth largest city in South Korea and its economic and industrial hub. Since the 80s, the city experienced rapid economic progress and with the onset of the current century, it became the center of multiple international events. Though it has a well-developed railroad transportation system, it was not being possible to manage the traffic of 2.5 million people.
As a consequence, the city authority started construction of the first line in 1992. It was planned to build a 6-line network subsequently in three phases. On 26 November 1997, the first line started operation with 29 stations and 25 km long track. It was then extended another 0.7 km towards the south-western part of the country in 2002.
Construction of the second line started in 1997. Since 2005, it is operational connecting 26 stations over a 28 km long track. In 2012, it was extended another 3.4 km towards the east. Hitachi Ltd. started the construction of the monorail line in 2008. It has around 24 km long line connecting 30 stations.
Hours of Operation
The metro system operates from 05:30 AM in the morning till midnight. The average frequency of trains is 12 minutes with slight variation depending on the line. On busy hours, trains run at every 4 to 5 minutes interval.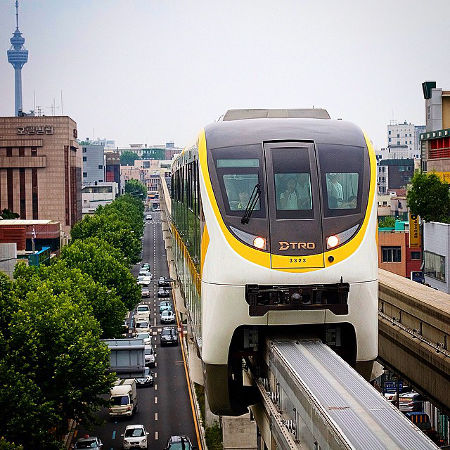 Daegu Metro
Lines and Stations
The three lines intersect each other at different stations. Line 1 and Line 2 intersect at Banwoldang station at the heart of downtown Daegu.
Line 1
The line extends from Daegok in the south to Ansim in the east. It lies completely within the border of the Daegu metropolitan area, though, in future, there can be an extension to Gyeongsan city. To travel through the complete line, it takes around 50 minutes. From this line, it is possible to make a transfer to Korail and KTX lines.
Main stations on this line are:
Daegok
Daemyeong
Hyeonchungno
National University of Education
Yeungnam University Hospital
Myeongdeok
Banwoldang
Daegu Station
Kyungpook National University
Ayanggyo
Yulha
Ansim
Line 2
This line extends from Munyang to Yeungnam University and connects the east-west corners of the city. A complete travel on this line takes around an hour. Main stations on this line are:
Munyang
Gangchang
Keimyung University
Seongseo Industrial Complex
Yongsan
Sinnam
Banwoldang
Kyungpook National university Hospital
Daegu Bank
Suseong-gu Office
Daegu Grand Park
Yeungnam University
Line 3
Also called Sky Rail, this is Korea's first bidirectional urban monorail system. The monorail is run by a driverless system. Starting from the KNU Medical center in the north the line runs through the center of the city and ends at Yongii in the south. A complete travel on this line takes around 50 minutes.
Main stations connected by this line are:
KNU Medical Center
Taejeon
Paldal
Buk-gu Office
Dalseong Park
Seomun Market
Sinnam
Myeongdeok
Suseong-gu Stadium
Children's Hall
Yongji
For further information on lines, stations and train schedule, visit Timetable.
Future Plans
An automated Gateway Transit Line is planned to be operational as a part of Deagu Metro system in near future.
Fares and Ticket
The fare of Daegu Metro is based on ticket type and age of the rider. It doesn't discriminate depending on the distance traveled. There are two types of tickets, namely, RF Card and Tokens.
For RF cards, a deposit of 950 won is required. Fare with RF card is 1100 won for adults (19-64 years) and 400 won for children (6-12 years). For youths (13-18 years), there is a 30% discount on adult fare. With tokens, the fare per adult person rises to 1200 won and per child 500 won. For youth, there is no discount on the cash purchase.
The tickets can be purchased either from ticket vending machines or from customer centers. Some ticket machines called complementary ticket machines, are reserved for KB Pass Card, BC Card holders. The tickets need to be punched at the entry and exit points of stations.
The details of tickets and fares are available on corporation's Fare & Ticket page.
Facilities and Services
To offer everyone a pleasant and comfortable ride, Daegu Metropolitan Transit Corporation has made the following provisions:
All the stations are equipped with disabled friendly amenities like wheelchair lift, elevators etc.
Announcements in the train are made in Korean and English.
The corporation offers Lost and Found service.
There are waiting and rest rooms on the stations.
Rules
There are certain rules that need to be followed for better management of the metro system and also for the safety of the passengers.
Riders should not eat or drink on the stations and should try to keep the station clean.
Animals shouldn't be brought to the stations.
Objects which weight more than 32 kg and whose width, length and height sum to over 158 cm are not allowed to enter the station.
Smoking is prohibited in all stations and trains.
Passengers should take note of No Passing zones.
Tips
To make the best use of Daegu Metro service, keep in mind:
In case there is an emergency inside the train, contact the crew via interphone.
If you are a victim or witness of any criminal activity, immediately call the anti-crime cell.
Mute your cell phone on the train not to disturb others.
If fallen on the line and the train is approaching, lie by the wall in the vacant place under the platform. Shout for help but don't panic.
Map
Deagu Metro Map shows different lines, stations and interchanging possibilities. Line 1, 2 and 3 are marked with red, green and orange color respectively.