South Korean Metros: Busan
Busan is the second most populated city in the Republic of Korea. Formerly known as Pusan, this city is located in the southeast Korean Peninsula. Its population has reached 3.5 million and it is home to the busiest port in South Korea, which is the ninth busiest in the world.
The city is located extremely close to Japanese territory, especially the Honshu and Kyushu islands. Busan has come to be known as South Korea's most powerful emerging economy, as well as a cultural epicenter. The city forms an important part of the industrial complex and is a vanguard of Korean progress.
Its status led to the organization of events such as the 2002 Asian Games in addition to it being selected as host of the 2002 FIFA World Cup.
Geographically, Busan is located among the various valleys that surround the Suyeong River and the Nakdong River, which is the longest in South Korea. The city's temperature ranges between 17 and 26 °C (62.6 and 78.8 °F) in the warm months and from 3 and 8 °C (37.4 and 46.4 °F) during the colder months.
The Busan Metro is this South Korean city's most important mode of transportation. The route is 116.5 kilometers (72.4 miles), including a total of 114 stations on four lines. Additionally, there are two small systems that connect to the Busan Metro. One of these is the Busan–Gimhae light rail and as its name indicates, this line connects the cities of Busan and Gimhae. The light rail has 21 stations. It also includes the Dongjae line, which has 14 stations and extends from Bujeon to Ilgwang, through the coastal zone. This gives the metro a total of 149 stations and a length of 168.4 kilometers (104.6 miles).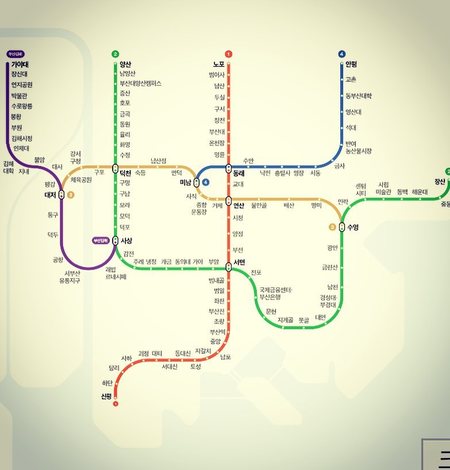 Busan
There are various types of vehicles in this system. The main manufacturer is the South Korean company, Hyundai. Line 1 has older models from 1994 and 1996. Line 2 has models from 1997 to 2002 while line 3 has models from 2004 and 2005 and a new series from 2013 was introduced for line 1. These include eight cars. Line 2's vehicles contain six cars and line 3's trains have four cars. Line 4 has the characteristics of a gas operated metro with six-car trains that are manufactured by Woogin Industrial Systems Co. Busan Metro's daily ridership in 2016 was 904,350. The public company, Busan Transportation Corporation is the system operator, but the Busan-Gimhae light rail is operated by the private company, B&G metro. The public railroad company, Korail manages the Dongjae line.
Known as: Metro
Length: 116.5 kilometers (72.4 miles), 168.4 kilometers (104.6 miles) with the Busan-Gimhae light rail and the Dongjae line
Rail width: 1,435 mm (4.71 ft)
Number of lines: 4, including the Busan-Gimhae light rail and the Dongjae line
Number of stations: 114, or 149 including the Busan-Gimhae light rail and the Dongjae line.
Website: www.humetro.busan.kr
Operator: Busan Transportation Corporation, B&G Metro (Busan-Gimhae light rail), Korail (Dongjae line)
Daily ridership: 904,350
Founding: July 19, 1985
Brief history
Population growth accelerated rapidly in South Korea in the last decades of the twentieth century. The city of Busan began to see the need for a new transportation system that would match the number of people, now residing in the city.
The future metro headquarters was built prior to this, on January 8, 1981. The construction of the first line began in June that same year, but was extended until September 1985, when the first section from Nopodong to Beamnaegol was inaugurated. This process was long and in 1983, the construction of a second phase, from Beomnaegol to Jungangdongm began. It opened in 1987. The result was the same with phase three which was extended to Seodaesindong in 1990 and to Sinpyeong in 1994. The Busan Transportation Corporation began regulating the metro on June 1, 1988.
Modernization and expansion of the Busan Metro took place in the 90s. Construction of the first part of line 2 began in 1991, with an extension from Yangsang Hopo to Seomyeon. It was inaugurated in 1999. Plans to construct a line 3 were also planned in 1996 and construction began in 1997. It was inaugurated almost a decade later, in 2005. However, line 2 followed its progress, adding two additional sections in addition to opening individual stations. Construction of line 4 began in 2003 and opened in March 2011. Technological advancements to the train's a system were developed while line 1 was also extended to Dadae. The line was inaugurated in 2017.
Lines and stations
The most important transportation system in Busan has four operating lines, numbered 1 to 4. It is also complemented by the Busan-Gimhae light rail and the Dongjae line which are managed by different operators. Originally, most stations were underground but various surface level stations have been constructed to adapt to the city's unique needs. The Busan Metro lines include:
Line 1
Busan Metro's line 1 travels the city from north to south. Its route is 39.8 kilometers (24.7 miles) and there are 40 stations. The trains on this line contain eight cars. The route's first section was inaugurated in 1985, following the beginning of its construction in 1981. There have been numerous expansions, completed in 1987, 1990, 1994 and there was the inauguration of a new 7.3-kilometer (4.5-mile) section in 2017. This is the metro's most notable route and expansion. Its terminal stations are Dadaepo Beach and Nopo. Orange is line 1's distinguishing color.
Line 2
Line 2 crosses the city of Busan from east to west. Its route consists of 46 kilometers (28.6 miles) along which 43 stations are located. The entire trip takes about an hour and 24 minutes. Although it is the system's longest line, the trains have just six cars. It was the second line to be inaugurated, in June 1999, even though construction began much earlier, in 1991. Expansions were made in 2003 and 2009. Several gradual expansions were already in progress, and one of these extended to Haeundae-gu in the far east via four additional stations. Jangsan and Yangsan are this line's terminal stations and it can be identified on system maps by the color, light green.
Line 3
Line 3 was inaugurated in 2005, following eight years of construction on the first section. The line currently consists of 18.3 kilometers (11.4 miles) along which 17 stations are located. This line has just three to four cars per train, since it is not one of the busiest. The terminal stations are Sueyong and Daegeo. Light brown is this line's distinguishing color. There are platform doors in all its stations, making it one of the few systems in the world with this distinction.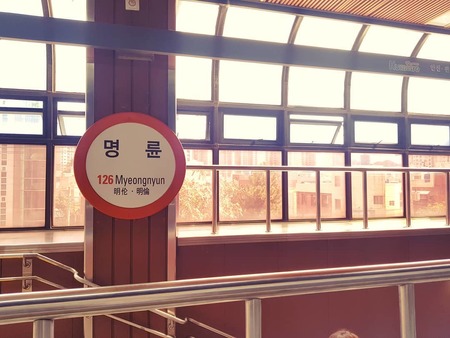 busan Metro
Line 4
Although originally planned as an extension to line 3, Line 4 was especially distinguished and inaugurated in 2011, making it the system's most recent line. It is also known as the Bangsong Line. As a rubber-tired metro, it is notably distinction from earlier models. Currently, this is the shortest line in the system. It extends 12.7 kilometers (7.9 miles) and has 14 stations. Eight of these are underground, one is surface level and five are elevated. The terminal stations are Minam and Anpyeong. The line color is blue.
Busan-Gimhae light rail
The neighboring city of Gimhae connects to Busan via the light rail. It was inaugurated in September 2011 and is operated by the private company, Busan–Gimhae Light Rail Transit Operation Corporation, better known as B&G Metro. Altogether, the total route is 23.9 kilometers (14.9 miles) and includes 21 stations. It was built as a new way to connect the Busan's International Airport, the surrounding areas and distant ones. Its terminal stations are Sasang and Kaya University. This light rail is typically identified by the color purple and each train has just two cars.
Dongjae Line
Korail is the public company that manages the South Korean railway system, including the Dongjae line. Its railway connects the Moryang and Bsanjin stations to Pohang station in South Korea. In reference to its route, the name means east coast line. The Busan section is integrated with the metro service. It travels between Ilkwang and Taehwa and is 28 kilometers (17.4 miles). The opening of an additional section, between Ilkwang and Taehwa, is planned for 2019. This line's color is Korail blue, which is slightly dark.
Connections to other systems
The metro is undoubtedly the most important mode of transportation in Busan, due to its practical connections to the city's various areas and its integration with similar systems. However, the other interconnected transportation systems are extremely important as well. For example, the Busan-Gimhae light rail connects to the rest of the system at the Sasang (line 2) and Deunggu (line 3) stations. The Busan section of the Dongjae line connects from its Geoje station to line 3. Its Busan National University of Education station connects to line 1 and BEXCO (Busan Exhibition and Convention Center) connects to line 2.
Buses are the city's most important transportation system, following the metro. They operate mainly within the city but also serve the neighboring areas of Ulsan, Gyeongsangnam, and Gimhae, in addition to others. There are 34 bus operators with various assigned routes. Despite the many operators, the system is unified, with no distinctions in fare charges. Currently there are 131 routes. The regular buses that cover all the route stops are usually blue. The express buses make limited stops and connect the city center to the metro and distant areas. Typically, they are red. There is a night time bus that only runs after 10:00 p.m. and there are tourist buses and a limousine for the Gimhae airport.
The Busan railroad is another major system when considering outer-urban transportation. With the availability of ground level high-speed train trips, the southern half of the Korean Peninsula is extremely interconnected. There are important railway stations like Busan, which is connected to line 1, and Gupo and Gaya that connect to line 2. The Gyeongbu line could be taken as one example along with others to connect to the country's various regions.
Busan's port is extremely important, due to it being a coastal city. Although it is mainly commercial, there are various passenger transportation routes. These mainly serve as a connection from the city to other parts of the Korean Peninsula and particularly to the neighboring Japanese islands and the Japanese city of Fukuoka.
Connections to the airport
The Gimhae International Airport serves the city of Busan. Located in the neighboring city of Gimhae, it was inaugurated in 1978 and a new terminal opened in 2007. This airport is Air Busan airline's main operating hub and is one of the most important ones in the southern Korean Peninsula.
Its connection to the integrated metro system is simple. The Gimhae International Airport station, found on Busan-Gimhae's light rail, is located at the airport. One may connect from this line to line 2 at Sasang station or to line 3 at Deunggu station.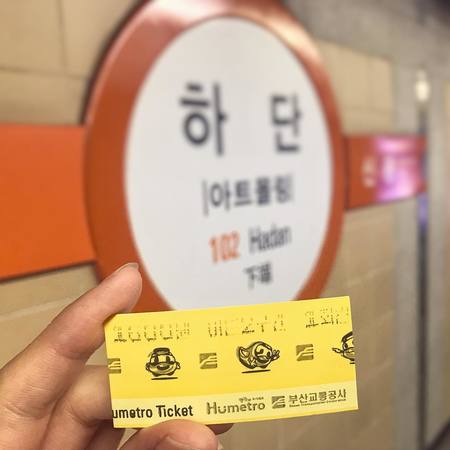 Busan
Schedule and frequency
The Busan Metro schedule is considerably uniform despite its many lines.
Line 1's first train departs at 5:04 a.m., while the last train reaches Dadaepo Beach station at 11:11 p.m. Four trains begin operating on Line 2 from about 5:00 a.m., with the first beginning at 5:18 a.m. and its schedule remains the same on Saturdays and Sundays. It runs until 11:43 p.m., with a train traveling towards Gwangan station. Line 3's operating schedule begins at Suyeong station at 5:20 a.m. It's final train, traveling in the direction of Daejeo station, departs at 11:59 p.m. with six trains providing frequent service during this time. Line 4's trains begin operating at Minam station at 5:40 a.m. There are just two vehicles running during this time but its service runs the longest, with the last train, departing at 12:20 a.m. in the direction of Anpyeong,
The Busan-Gimhae light rail system operates between 5:00 a.m. and 12:00 a.m. The complete route lasts about 37 minutes. The average frequency between trains during peak hours is 3.9 minutes. During regular hours, on ordinary days, it is every 6 minutes. This figure can reach up to 10 minutes at night. This system makes 424 daily trips. The Dongjae line's train arrives about every 15 minutes during peak hours but can reach up to 30 minutes during non-peak hours,
Line 1's frequency begins about every 14 minutes, but quickly drops to 9 minutes until 7:00 a.m. when it becomes every 5 minutes. It later stabilizes to about every 6 to 7 minutes until 5:00 pm when it again becomes 4 to 5 minutes. The frequency gradually decreases until it reaches 8 minutes at 9:00 p.m., and it decreases to every 10 minutes at 10:00 p.m.
Line 2 is very similar. Operations begin at a frequency of at least 13 minutes, which gradually decreases. By 7:00 a.m., it drops to 6 minutes and reduces to every 4 minutes in the hours that follow. It returns to every 6 minutes by 10:00 a.m., which reaches 8 minutes, beginning at 12:00 p.m. The frequency returns to every 5 minutes but rapidly changes to 7 minutes at 9:00 p.m. and from 10:00 p.m. onward, the frequency becomes every 10 minutes.
Line 3 begins operating at a frequency of every 15 minutes, but drops to every 5 minutes at 7:00 a.m. At 12:00 p.m. trains arrive every 7 minutes. Beginning at 6:00 p.m., the frequency is every 5 minutes. This continues for a couple of hours before reaching 8 minutes at 10:00 p.m. and operations end at a frequency of 10 minutes.
Line 4's frequency begins at 10 minutes but quickly changes to 5 minutes at 8:00 a.m. It later stabilizes between 7 to 8 minutes throughout the day, until finally reaching 5 minutes at the end of the afternoon, running at a bit more reduced time. By the end of the night, trains arrive every 8 to 10 minutes.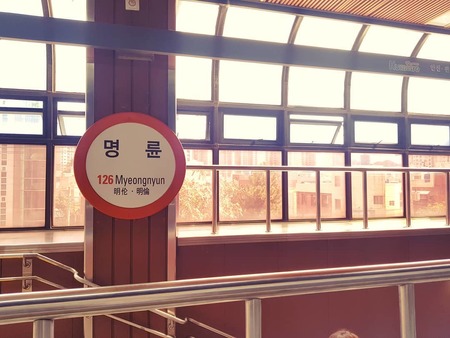 Fares, tickets and cards
The payment structure for the Busan Metro is integrated with the rest of the public transportation systems. It is also determined by the distance traveled during a trip. Since 2014, trip fares for under 10 kilometers (6.2 miles) are 1200 won ($US 1.15), while trips over this distance cost 1500 won ($US 1.33). The cost of trips under 10 kilometers (6.2 miles) for adolescents is 1050 won ($US 0.93), while longer trips cost 1200 won ($US 1.07). Short distances for children cost 650 won ($US 0.58) and longer ones are 750 won ($US 0.67). Tickets are mainly purchased from the station machine dispensers. Seniors aged 65 and over, people with disabilities, citizens in the military and veterans travel free of charge.
Day passes are also available for purchase. There is a 24-hour unlimited trip ticket for 5000 won ($US 4.44). A 7-day pass is 21,000 won ($US 18.64) and a monthly pass is 60,000 won ($US 53.28).
Cards offer another form of payment. The Hanaro Card and the Digital Busan Card are the main ones. They offer a 10% discount to adults and a 20% discount to youth between the ages of 13 and 18. These cards are contactless and may also be used on city buses. The Hanaro card has an initial cost of 2000 won ($US 1.78). There are also a number of postpaid cards, with coverage that extends to the different suburban railway systems.
Future expansions
The expansion of the Busan Metro is progressing at a sustained and secure pace. The recent growth and opening of new lines will continue over time, with the construction of line 5, which will connect Sasang station to Gadeokdo, via Gyeongjeon's reconverted line. Additional railway projects will be added since there is a priority to repurpose the Donghae Nambu line. It will incorporate the metro system with the regional and national trains.
Another railway line could be incorporated into the Busan Metro family. This will consist of the Yangsan line, which will connect Nopo, on line 1 to the Yangsan sports complex on line 2, and end in this area. A possible extension of line 4 to Anpyeong is also planned.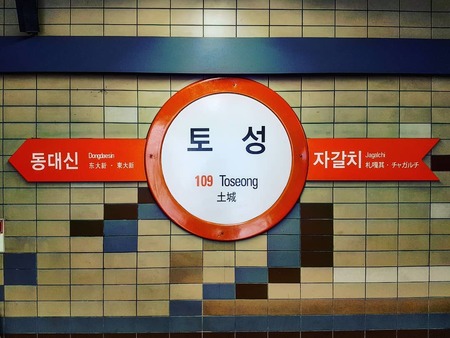 Toseong Station
Tips
To ensure the smoothest trip possible, it is important to keep certain tips in mind while traveling on the Busan Metro. Included below are a few:
Understanding people as well as system messages is extremely important. Keep in mind that signs are in English and Korean and announcements are also made in both languages in addition to Mandarin Chinese and Japanese.
Although Busan is not an overcrowded city, one must keep in mind that travel within an Asian metro system can be extremely busy during peak hours.
Being equipped with a metro plan, in addition to having a preplanned route is useful. It is also recommended to purchase tickets according to the amount of time that will be spent in Busan as well as for how often public transportation will be used.
Interesting facts
Unlike similar transportation systems around the world, photography is permitted on Busan Metro.
The system has a lost and found office that is open during business hours. After seven days, items are turned over to the police.
It is one of five metro systems in South Korea, in addition to the ones in Seoul Daegu, Daejeon, and Gwangju.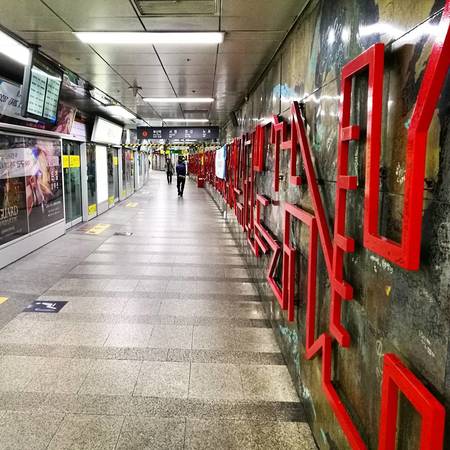 busan Metro
Sightseeing via Busan Metro
Busan has been transformed into a charming city that is ideal for exploring the southern part of the Korean Peninsula. Its proximity to Japan has made it one of the country's main connecting ports. The city has also become famous for its green valleys and its commercial port ambience. Historic religious temples form part of the Busan agenda as well its beaches and especially distinct cuisine. Many sites can be reached via the Busan Metro. A few are included below:
Haeundae Beach: It is possible to go to the beach in Korea. No, it's not the same as the Caribbean beaches, but during the warm months, the sea shifts into a great alternative. This site is known for the leisure and recreational activities that it has to offer. It is also well known for its many hotels and the people that stroll through it daily. One must get off at Haeundae station, on line 2, and walk a few blocks to the sea to reach this beach.
BIFF Square: BIFF is the acronym for Busan International Film Festival. The square was renamed in 1996 in honor of the festival. This 428-meter (1,404-feet) entertainment space is the site of film industry and artist related events. It is also surrounded by a concentration of various theatres. The square can be reached by getting off at Jagalchi metro station, on line 1.
Gwangbokro Street: Shopping also has its place in Busan. This street allows one to explore the large number of stores that include items such as clothing and cosmetics. The variety of dining options has made it a popular gathering place as well. Getting off at Nampo station, on line 1, and walking up a block is the best way to reach this destination.