Metros in Canada: Toronto
The first Canadian metro line was called The Yonge and first opened it's doors in 1954. Today's metro still uses the section of the original line. The Yonge was built to replace an old tram line running from one end of Yonge Street to the other, with the objective of modernising the transport system to fit in with the growing town.
After many debates on how and where to expand the metro lines, the Bloor-Danforth was built in 1966, which is now what we call line 2. As these were the only two lines in the area, they both received many extensions between 1966 and 1980.
In 1985, line 3 was opened, an overground line in the Scarborough district. There was talk of turning line 3 into an underground line but instead line 2 was extended towards Scarborough, leaving line 3 redundent.
Line 4, the most recently opened and the shortest system, started running in 2002, completing the routes we have today. Being the second most used metro system in the country, the Toronto metro system is always undergoing extensions and refurbishments. The biggest projects being the construction of a Line 5 and eventually a Line 6.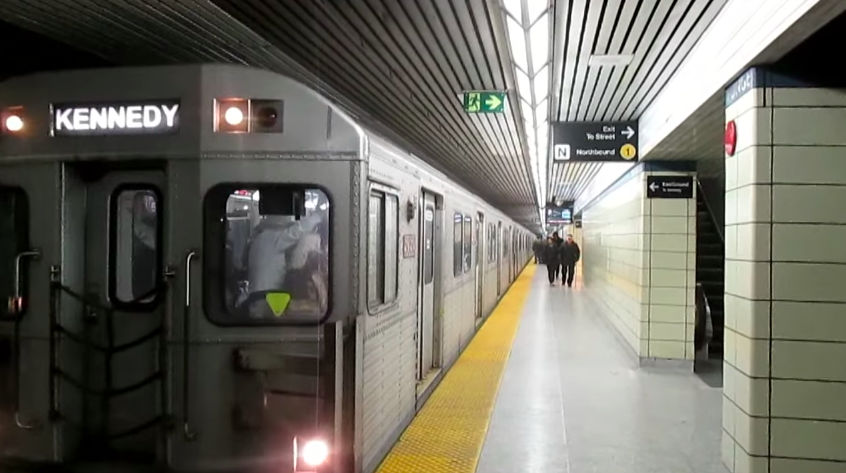 Toronto Subway
Lines and stations
The Toronto metro consists of four open lines and the fifth, which is undergoing construction, is scheduled to be running by 2021. Out of these four lines 3 of them are mostly underground, with the exception of Line 3 which is overground. Each line has a number, name and colour to tell them apart. However, people either use the name or number to identify them, not the colour.
These four lines, spread out over 76.9 kilometers, have all together 75 stops making it the second largest in Canada.
LINE 1 Yonge - University
Line 1 is the oldest line in Toronto and the most used in all of Canada. This route is 'U' shaped, beginning at Finch Avenue, a station in the north east, heading south towards Union Station and then coming back on itself all the way back up to Vaughan Metro center, returning to the north east.
Line colour: Yellow
Line Number: 1
Line Name: Yonge University
Number of stops: 38
Length of the track: 38.8 kilometers
Time of journey end to end: 81 minutes
Times: 6:00 am to 1:30 am from Monday to Saturday; 8:00 am to 1:30 am on Sundays
Stations: Vaughan Metropolitan Centre , Highway 407 , Pioneer Village , York University , Finch West , Downsview Park , Sheppard West , Wilson, Yorkdale, Lawrence West , Glencairn, Eglinton West , St Clair West , Dupont, Spadina, St George , Museum, Queen's Park , St Patrick, Osgoode , St Andrew , Union , King, Queen , Dundas , College, Wellesley, Bloor-Yonge , Rosedale, Summerhill, St Clair , Davisville , Eglinton , Lawrence, York Mills , Sheppard-Yonge , North York Centre , Finch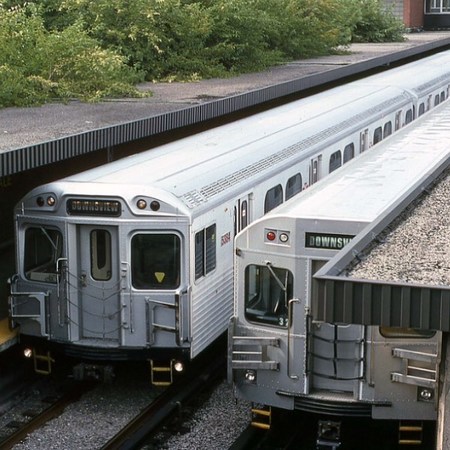 Rosedale station
LINE 2 Bloor - Danforth
Line 2 travels through Toronto east to west, starting at Kipling station heading straight through the middle of the city of Toronto finishing at Kennedy station. Kennedy Station is also connected to Line 3 and eventually Line 5 will also be a part of it.
Line colour: Green
Line Number: 2
Line Name: Bloor - Danforth
Number of stops: 31
Length of the track: 26.2 kilometers
Time of journey end to end: 50 minutes
Times: 6:30 am to 1:30 am from Monday to Saturday; 8:00 am to 1:30 am on Sundays.
Stations: Kipling , Islington, Royal York, Old Mill, Jane , Runnymede, High Park, Keele, Dundas West , Lansdowne, Dufferin , Ossington , Christie, Bathurst , Spadina , St George , Bay, Bloor-Yonge , Sherbourne, Castle Frank, Broadview , Chester, Pape , Donlands, Greenwood, Coxwell , Woodbine , Main Street , Victoria Park , Warden, Kennedy
LINE 3 - Scarborough
Line 3 is the only line mostly above ground and extends over 6.4 kilometers. This line starts at McCowen station and reaches all the way over to Kennedy station, where it connects with Line 2 and eventually Line 5. Line 3 is also special as it doesn't leave the Scarborough district.
Line colour: Blue
Line number: 3
Line Name: Scarborough
Number of stops: 6
Length of the track: 6.4 kilometers
Time of journey end to end: 13 minutes
Times: 6:30 am to 1:30 am from Monday to Saturday; 8:00 am to 1:30 am on Sundays.
Stations: Kennedy , Lawrence East, Ellesmere, Midland, Scarborough Centre , McCowan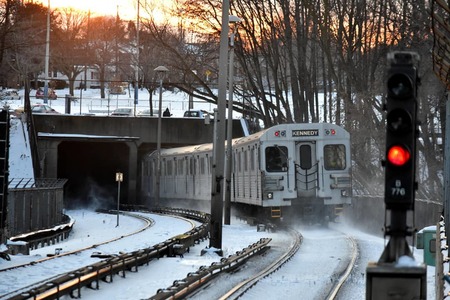 LINE 4 - Sheppard
Line 4 is the most recent addition to the metro system of Toronto, and also the shortest, covering a distance of only 5.5 kilometers. Line 4 travels east to west through the North York district, starting at Don Mills Station and ending west side at Sheppard-Yonge. Here is where you can connect with line 1. This line stands out because each station on route has murals painted on the walls.
Line colour: Purple
Line number: 4
Line Name: Sheppard
Number of stops: 5
Length of the track: 5.5 kilometers
Time of journey end to end: 10 minutes
Times: 6:30 am to 1:30 am from Monday to Saturday; 8:00 am to 1:30 am on Sundays.
Stations: Sheppard-Yonge , Bayview , Bessarion , Leslie , Don Mills
Timetables and frequency
The four lines of the Toronto metro system are open from 6:00 am to 1:30 am from Monday to Saturday and 8:00 am to 1:30 am on Sundays and holidays. The lines run 365 days a year, however on the 25th of December and the 1st of January they open later, at 9:00 am. There are also some other holidays that timetables are likely to change.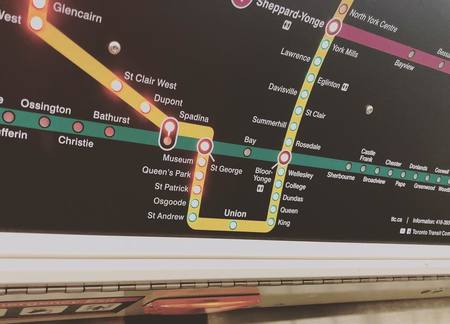 Queen's Park station
The stations along the lines have different opening times;
5:45 am - 2:40 am on Monday to Friday
5:35 am to 2:25 am on Saturdays and holidays
7:45am to 2:30 am on Sundays.
All the lines have the same frequency of trains passing by. Every 2-3 minutes at peak hours and every 4-5 minutes the rest of the day. At the end of the day and on Sundays the amount may reduce.
Connections
Connections between lines
The connections between lines are always free as long as you don't leave the station.
Connections between Line 1 and 2: You can connect these lines at Spadina, St. George and Bloor/Yonge station.
Connection between Line 1 and 3: There is not a connection between these two lines.
Connection between Line1 and 4: You can connect these two lines through the Sheppard/Yonge Stations.
Connections between Line 2 and 3: There is a connection between the two lines at Kennedy Station.
Connection between Line 2 and 4: There is not a connection between the two lines.
Connection between Line 3 and 4: There is not a connection between these two lines.
Connectios with other systems:
The Toronto Metro System is well integrated into the transport system as it is run by the same company that runs the buses and trams in the city. The transfer between different services is free, when it is on the journey that you have paid for. In order to do return trip's you need to get an unlimited pass.
Ticket transfers are free but are not sold with your ticket. To be able to transfer your ticket, you would need to present a transfer form that you can get from your driver, either when you buy or present a ticket on the buses and trams. In the metro stations there are red boxes from where you can print out these forms.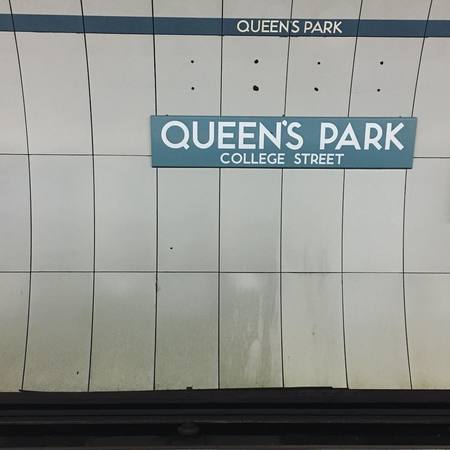 Queen's Park
Prices, tickets and passes
You can buy many different tickets and passes in the ticket offices in all the stations, some stations have ticket vending machines, paying the driver directly on the tram or bus or in any shop with the TTC logo in the window. There are three ways you can pay for your trips; you can buy tokens, individual tickets or you can use your PRESTO card.
Tokens and tickets
Cost of single ticket: C$3.25 (US$2.50)
Students and 65+ years old: C$2.10 (US$1.64)
This ticket is valid for a one way journey including transfers. You can´t stay long at each stop and the ticket is not valid for return.
Tokens: C$3 (US$2.30)
Students and 65+ years old:C$2.05 (US$1.61)
You can buy your tokens from token machines located at most stations, these machines only take cash. Each trip using tokens is cheaper than buying an individual ticket, however, you have to buy 3 tokens at a time. You can also buy the tokens in packs of five.
PRESTO CARD
The presto card is an electronic card that you can top up with passes or tickets. The card itself, costs C$6.00 (US$4.70) and each trip with this card costs C$3.00 (US$2.30). You can buy and top up the presto card online at www.prestocard.ca or you can also top up at the PRESTO machines in the metro stations.
Passes
DAY PASS
C$12.50 (US$8.78)
This pass is valid to travel on all of the Toronto Transport Comission (TTC) systems, unlimitedly. It is valid from the day of purchase and can be used until 5:30 am the next day.
WEEKLY PASS
C$43.75 (US$34.00)
Students and 65+ years old:$34.74 (US$27.20)
This pass permits you to travel unlimitedly from Monday to Friday on the week of purchase.
MONTHLY PASS
C$146.25(US$114.56)
Students or 65+ years old: C$116.75 (US$91.33)
This pass is unlimited from day one of the month to the last day. The monthly pass is available to purchase from the 24th day of the previous month.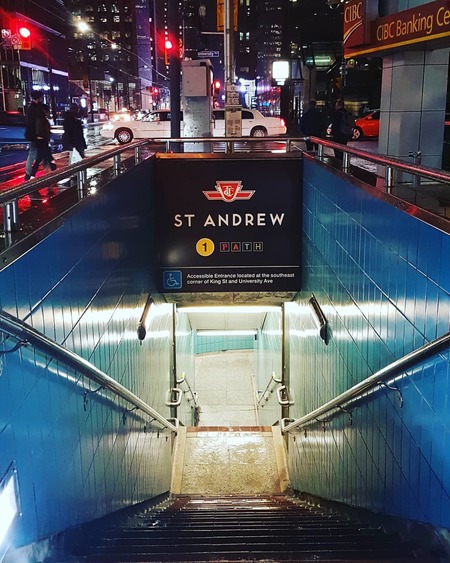 Toronto
Parking at the stations (Park&Ride)
The TTC offers parking for your vehicle in 17 different stations where parking could either be free or charged, depending on the time. The conditions and prices of parking may vary but usually Monday to Friday, 5:00am to 2:00am, you will have to pay to park your vehicle. Some stations allow you to park for free over weekends and holidays. Although parking hours differ station to station, you are not allowed to park your car all day at a station (5:00AM-2:00AM)
The prices may vary, but the tariffs for parking surrounding the stations are around C$2.00 (US$1.56) between 3:00pm and 2:00 am and C$7.00 (US$5.48) per day. You can pay by cash or by card; VISA, Mastercard and American Express. Some stations are now using an App called 'Mobile Pay' which allows you to reserve and pay online for your trip.
You can find parking in all of the stations mentioned below: Don Mills , Ellesmere, Finch, Finch West, Highway 407, Islington , Keele , Kennedy , Kipling , Lawrence East , Leslie, Pioneer Village, Sheppard West, Victoria Park , Warden , Wilson , Yorkdale
Rules, notices and advice
All transfers are free, however you must present a form called the "Transfer Paper" that you can get from the drivers on buses or trams, and in the metro stations where you can print them from the RED BOXES.
Children under the age of twelve travel free on the whole TTC system.
On the official website for the Toronto Transport Comission, there is a tool to map out your trip and see which routes are better for you.
It is important to alway keep proof of payment for your ticket with you and your transfer paper if you should happen to need it.
Curiosities
The Toronto metro system is the second most used over the whole of Canada.
Is is also the longest metro system of the country after the Vancouver SkyTrain.
There is Wi-Fi in all of the stations.
Future expansions
Currently, the Toronto Metro System is undergoing construction. A fifth line being added to the system.The new line is called Eglintonse and will consist of 25 stations - 15 of which will be underground. The line will travel from East to West, parallel to Line 2, beginning at Kennedy Station and finishing at Mount Dennis West. It is forseen that Line 5 will be open to the public by 2021.
The construction of Line 5 is the only building work that is currently under-way, but there are plans that have been approved that are now being finalised. For example, Line 6 is planned to take you from Finch West to Humber College in the west.
There are also talks of demolishing of Line 3 and extending Line 2 to cover the lost area.
Airport connetions
There are two main airports in Toronto; Toronto Pearson International Airport and Bily Bishop Toronto City Airport. As the airports are both in the city, it is possible to get to both Airports paying with just a basic ticket, on any form of transport.
DIRECTIONS TORONTO PEARSON INTERNATIONAL AIRPORT:
There are different ways of getting to this airport.As there is no direct Metro route, you will need to take the metro to a bus stop, where a bus will then take you directly to your terminal.
192 AIRPORT ROCKET: Take metro Line 2 and stop at Kipling Station. From there, take bus #192 that will get you to the airport in 20 - 25 minutes. This bus runs Monday to Saturday from 5:30 am to 2:00 am and on Sundays, from 8:15 am to 2:15 am.
52A LAWRENCE WEST: Take Line 1 until you arrive at lawrence or Lawrence West and then transfer to bus #52A. This bus will take you to the airport in 90 minutes in rush hour, but should take 70 minutes the rest of the day. This route is open from 5:30am to 1:00am all seven days of the week.
300A Bloor-Danforth: This route is the only option to arrive at this airport inbetween 2:00am and 5:00am, any day of the week. Get on this route at Bloor-Danforth. It takes about 45 minutes to get to the airport.
DIRECTIONS BILLY BISHOP AIRPORT:
Again, There is no direct route on the Metro to get to this airport, although you can get to the tram stops that will take you to the airport from the Metro.
FROM UNION STATION: Get on line 1 until Union Station and then change to tram #509 Harbourfront.
FROM BATHURST STATION: Get on Line 2 until Bathurst Station and then change to tram #511 Bathurst.
What to see while on the metro
CN TOWER: At one point the tallest building in the world, the CN Tower measure´s 553.333meters. The tower has transparent floors so you can look through all of them and admire the hieght of the tower or you can observe the views of the city. The tower is only 10 minutes from Union Station, on Line 1.
THE DISTILLERY DISTRICT: The distillery district is part of the old town and is a wonderful place to take in the charm of victorian Toronto. The area is full of beautifully restored buildings, boutiques and restaurants. Queen Station, on Line 1, is only ten minutes away on foot, but to save walking you could also get on tram #501 from Queen Station. The price of this tram ride is included in your ticket, making it a free alternative to walking.
SAINT LAWRENCE MARKET: This market has been open since 1803, even though the buildings it is now in were only built in 1850. The market is divided up in three sections that all specialise in their own products. You will find many different farmers produce and is the best way to try local food. Lawrence Station on Line 1 is only five minutes away on foot.