Metros in the Czech Republic: Prague
Prague is the capital of the Czech Republic. It is the most important and most populated city in the country. 2.6 million inhabitants make up the metropolitan area. The city is also the capital of the Bohemia region, which has come to be one of the most significant and highly populated centers of Central Europe.
Prague is known for its architectural structures which possess a Romanesque, Gothic, Renaissance and Baroque presence. Like much of the continent, it previously lived under the rule of the Austro-Hungarian Empire, followed by a century of Nazi and then Soviet occupation. The influence of the communist regime, that was active until the Velvet Revolution in 1989, is still visible in Prague. All its rich history is reflected in its many museums, galleries, theatres and monuments which attract millions of tourists from around the world.
The city center was declared a Unesco World Heritage Site. Prague's attraction can be demonstrated in the fact that it is the fifth most visited city in Europe. During the cold months, temperatures range between 1 and 3°C (33.8 and 37.4 °F) and between an average of 13 to 18°C (55.4 and 64.4°F) during the warmer months.
The Prague Metro is made up of three lines and a total of 61 stations. The entire route is 65.2 kilometers (40.5 miles).
Various rolling stock has been used by the metro since its founding in 1974. There are two series that operate currently. The first is the 81-71 M, whose trains are a variation of the 81-71 Soviet trains. These trains are 96.11 meters (315.32 feet) and can be found on Lines A and B. Manufactured especially by ČKD, Siemens and ADTranz companies, the 81-71M series has gradually been replaced by the Metro M1 model, which is 96.66 meters (317.13 feet), with a capacity for 1464 passengers. Designed exclusively for Prague, this model has been welcomed outside as well.
The number of passengers, annually, is 589.2 million.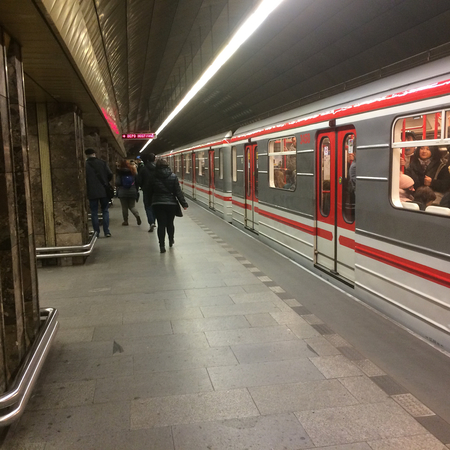 Mustek
The operating system is the Dopravní podnik hlavního města Prahy company (known in English as the Prague Public Transport Company).
Known as: Metro
Length: 65.2 kilometers (40.51 miles)
Rail width: 1,435 mm (4.71 ft)
Number of lines: 3
Number of stations: 61
Maximum speed: 80 km/h (49.7 mi/h)
Website: www.dpp.cz
Operator: Dopravní podnik hlavního města Prahy (Prague Public Transport Company)
Daily ridership: approximately 1.6 million
Founded: May 9, 1974
Brief history
The first initiatives for underground transportation in Prague date back to the late nineteenth century, specifically 1898. This would connect Prague with Karlin and Pudoli. The original project was just beginning to take shape, in the 1920s, through the introduction of the Prague Metro Fast Track project, sponsored by engineers, Vladimír List and Bohumil Belada.
The idea was to create four subway lines, but this failed. In the 1930s, the electric company proposed another construction project that developed into Line A in 1937. Construction was delayed, however, with the arrival of the Second World War. It was revisited in the 50s but then halted due to limited financial support.
The project was so highly dismissed, that by 1960, the construction of a city metro was not even a consideration. However, as the city's tram system became saturated, the necessity for another transportation method became evident. Accordingly, the construction of an underground tram began and once surveys and studies were done, it would be transformed into a metro system.
The metro was clearly Soviet-inspired, since construction occurred during Czechoslovakia's Normalization period in which Soviet rule dominated the country. The opening did not take place until 1974 with the completion of Line C, although it was planned for 1970. The system continued to expand rapidly, with Line 1's inauguration in 1978 and Line B's inauguration in 1985.
Construction work slowed with the collapse of communism and the station names referencing it were replaced. Since 2004, several line extensions have been inaugurated.
Lines and stations
The Prague Metro is a transportation system with 61 stations grouped along 65.2 kilometers (40.51 miles). Most are underground. The three lines are configured to connect to the city center. Each station's aluminum paneling is decorated with a distinctive color, making this one of Europe's most attractive metros. The stations generally have one platform with two walkways, but some have two platforms. The Prague Metro Lines include:
Line A
Inaugurated in 1978, this line has undergone the most expansions. The most recent was in 2015. Line A covers 17.1 kilometers (10.63 miles) and has 17 stations. The terminal stations are Nemocnice Motol and Depo Hostivař. Line A is the system's smallest line and its distinctive color is green.
Line B
Inaugurated in 1985, Line B is the most recently constructed. Its last expansion was opened to the public in 1998, not detracting from its status as Prague Metro's longest line. There are 24 stations along 25.6 kilometers (15.9 miles) and the terminal stations are Zličín and Černý Most. Line B's distinguishing color is yellow.
Line C
This was the Prague Metro's first operating line, following its opening in 1974. It covers the route between Letňany and Háje, which was most recently expanded in 2008. The total distance between the two is 22.4 kilometers (13.9 miles). There are a total of 20 stations and the distinguishing color is red.
Connections to other systems
The city of Prague has an immense transportation system, integrated by the Prague Integrated Transport company. In addition to the city's metro, this system brings together the trams, commuter trains, buses, boats, the Petřín funicular and the park and ride lots.
Trams, along with the metro, make up the city's most essential transportation network. The tram system extends 142.4 kilometers (88.5 miles). There are 25 routes during the day and 9 available at night. The trams have been electricity-operated since 1981 and they complement the metro lines a great deal as they mostly run parallel to them. As a result, there are frequent connections between both systems. The commuter trains, known as Esko Prague, are also available. They consist of 33 lines and 235 stations connecting the city of Prague to all its neighboring suburbs.
The buses are another means of transportation for Prague. They are mostly used by individuals living in the city. The majority are managed and regulated by Dopravní podnik hlavního města Prahy, a.s. (Prague Public Transport Company), the same operator of the metro, though other operators are also available. Daytime metropolitan lines are typically numbered 100 to 250, while daytime suburban ones are numbered 300 to 399. Nighttime metropolitan lines are notated by numbers 901 to 915 and nighttime suburban lines are 951 to 960. The city has recently restarted a small trolley bus service running from Palmovka to Letonia.
The Petřín funicular is another transportation method. With an intermediary stop, it connects the lower part of the Malá Strana district to the top of Petřín Hill. It is also possible to board a boat through Prague's integrated system. There are three ferry companies that operate on the Vltava River and about five ferries currently serve various urban routes. Adding to all this, Prague's integrated transportation system offers park and ride lots. Presently, there are 25 which consist of supervised paid ones as well as those that are unpaid. There is a time limit for the latter, however.
Connections to the airport
The International Václav Havel Airport Prague terminal is the most essential one, serving both Prague and its neighboring areas. The airport was founded in 1937 and has undergone many expansion opportunities. It saw a total of 17 million passengers in 2017, making it one of the busiest airports in the region. There is currently no direct connection from the metro to the airport but there are direct connections from a variety of bus lines.
Primarily, there are several bus lines connecting to the metro. Line 119 connects to Veleslavin station on the metro's Line A while Line 100 connects to Zlicin station on Line B. Additionally, the Airport Express bus line connects the airport to Praha hlavní nádraží, the city's main train station. Located in the train station is a metro station on Line C, called Hlavní nádraží.
Schedule and frequency
The Prague Metro schedule runs from approximately 4:30 a.m. until after midnight. However, start and end times can vary according to each line. Schedules and frequencies for each line are detailed below:
Line A
Line A's first train departs from Dejvická station at 4:40 a.m. and the last trip to Nemocnice Motol terminal station is at 12:33 a.m. The frequency during weekdays is every ten minutes but at 7:00 a.m. it drops to every 5 minutes. This approximate schedule is maintained until 10:00 a.m, when it returns to every ten minutes. Beginning at 2:00 p.m. the frequency is every seven minutes, which gradually decreases until 6:00 p.m. From 6:00 p.m. to 7:30 p.m., trains arrive every five minutes. It is then every seven minutes from 7:30 p.m. until 11:30 p.m., when the frequency becomes every ten minutes.
On Saturdays, train frequency is every ten minutes, dropping to every seven minutes at 6:30 a.m. It returns to every ten minutes at 11:30 p.m. On Sundays, trains also run every ten minutes until 9:30 a.m. when it changes to every seven minutes. It returns to every ten minutes at 11:30 p.m.
Line B
The first train on Line B departs from Českomoravská station at 4:44 a.m. The last train passes through Zličín terminal station at 12:46 a.m. On weekdays, trains on Line B run every ten minutes, but the frequency quickly changes to every 5 minutes beginning at 5:30 a.m. Frequency gradually decreases until 7:00 a.m. when it becomes every two minutes. Beginning at 9:00 a.m. the frequency is approximately every four minutes. It gradually rises, to five minutes, beginning at 12:30 p.m. At 2:00 p.m., it then becomes every two to three minutes. At 6:00 p.m., the frequency changes to every four minutes, followed by every five minutes at 7:00 p.m. There is an increase to about six to seven minutes from 8:00 p.m. until 11:10 pm, at which time; trains then arrive every 10 minutes.
On Saturdays, trains run every ten minutes until 7:00 a.m., when the frequency changes to every eight minutes. This decreases a little around 9:00 a.m. but returns to about eight minutes at 7:30 p.m. The frequency is every ten minutes beginning at 11:00 p.m. Trains run every ten minutes until 10:00 a.m. on Sunday, at which time; they arrive every seven to eight minutes. Frequency changes to about every six minutes at 7:30 p.m. and beginning at 9:30 p.m., trains promptly arrive every ten minutes.
Line C
Line C's first train departs from Kačerov station at 4:32 a.m. The last trains arrive at Letňany and Háje terminal stations at 12:39 a.m. On weekdays, trains arrive every ten minutes until 6:00 a.m. when frequency changes to every four minutes and gradually decreases to every two to three minutes. Beginning at 7:00 a.m. trains begin to arrive every two minutes. At 9:00 a.m., there is a slight time increase to every three minutes. The frequency is near consistent until 7:30 p.m., when it changes to every five minutes; followed by every six to eight minutes beginning at 9:30 p.m. Trains then arrive every ten minutes, beginning at 10:00 p.m.
The schedule is considerably different on weekends. Train frequency is every ten minutes on Saturdays until 7:00 a.m., when it changes to every seven minutes. It reduces to every five minutes at 8:45 a.m., which continues until 7:45 p.m. The frequency is then every seven minutes, followed by a frequency of every 10 minutes at 9:45 p.m. On Sundays, trains begin running every ten minutes until 9:45 a.m., at which time, the frequency changes to every seven minutes. Beginning at 1:45 p.m., trains arrive every five minutes until 7:45 p.m. Like Saturday, the frequency from 9:45 p.m. until closing is every ten minutes.
Fares, tickets and cards
The various ticket fares for Prague's Metro are designed to be used throughout its completely integrated system. There are no distinctions made upon tickets. The only notable difference applies to location, in which city tickets are priced differently from the ones used on suburban routes.
There are two fee zones. Zone P consists of all zones within the city, including ferries, the Petřín funicular and some commuter train routes. Zone 0 includes all the surrounding areas, especially the various suburban train and bus routes. Regardless of the route, children under 6 years of age and adults 70 and older, ride free of charge.
Prague Metro tickets are based mainly on the time spent within the system.
A basic ticket costs 32 Czech crowns ($US 1.44) and allows 90 minutes in the system.
This same basic ticket is 16 crowns ($US 0.72) for children between the ages of 6 and 15 and for elderly people, between the ages of 65 and 70.
There is also a short-trip alternative for trips that are 30 minutes or less. The cost is 24 crowns ($US 1.08) for adults and 12 crowns ($US 0.54) for children and the elderly.
A multi-day ticket is another option. Primarily, there is a 24 hour ticket that costs 110 crown ($US 4.93) for adults and 55 crowns ($US 2.47) for small children and the elderly. 310 crowns ($US 13.90) is the only fare option for the 72-hour ticket.
Additional ticket card options include one year passes and multi-day passes that lasts for 30, 90, 150, or 300 days. The various fees are outlined below: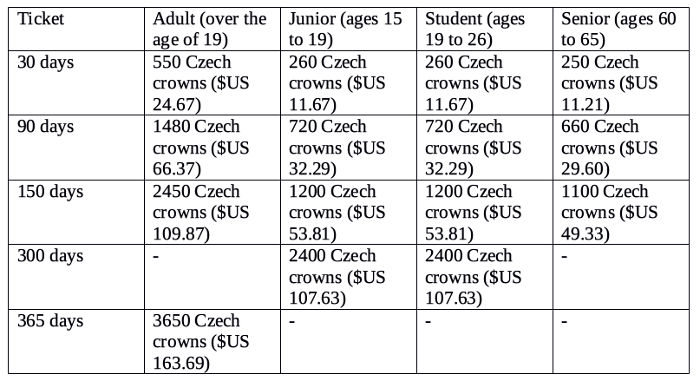 Prague Metro fares
With these fares, a child, up to 15 years of age may ride free with an adult on Saturdays, Sundays and holidays. Additionally, students must have the proper ID for their cards to be processed. All these ticket types are personalized but there is still an option of purchasing non-personalized ones.
30 days is 670 crowns ($US 30.75). 90 days is 1880 crowns ($US 84.31) and one year is 6100 crowns ($US 273.56).
It is also possible to travel with a dog, bicycle or stroller (with babies riding free). However, when planning to bring additional equipment or an empty stroller on board, one must pay for a 16-crown ($US 0.72) ticket.
Future expansions
Although, three lines have basically been operating since inauguration, there have been many expansions, making it possible to reach the far ends of the city. There is a current proposal to extend Line A directly to the Václav Havel Airport from Nemocnice Motol. However, it has yet to be realized and the expectation is that it will not be done until the airport has a train station.
Additionally, the most ambitious expansion project of the Prague Metro consists of adding Line D. This line would connect the city center to Prague's southeast and have 10 stations extending 10.5 kilometers (6.5 miles). If plans are realized, this line could be completed between 2019 and 2023. Another potential plan is the construction of Line E, which would be circular.
Tips
Traveling in an unknown transportation system and lacking familiarity of standard operations could result in an unpleasant experience. Keep the below tips in mind to avoid any issues.
The Prague Metro operates on a proof of payment system. This means there are no turnstiles to pass tickets over, and each rider is responsible for purchasing a valid ticket. There are constant controls to confirm whether tickets are held and fines may be given if a valid ticket has not been purchased.
Prague Metro stations have both Czech and English signage. Therefore, it is recommended to know some words in both languages to facilitate system use. Additionally, every form of communication is made available for convenience, such as the information panels and the acoustic guides for the blind.
With such a large concentration of people, Prague Metro is prone to theft and even assault; therefore, riders can never be too attentive of their belongings.
Notable facts
M1 Metro trains were made specifically for the Prague Metro. However, their design was adapted and used outside the city on Venezuela's Maracaibo Metro.
Various names that referenced the communist era were replaced after the collapse of the communist regime. For example Lenin station was renamed Dejvicka.
The metro has its own font, called Metron, which was designed by Jiří Rathouský.
Following the Velvet Revolution, vandalism began to be a problem on the Prague Metro. Therefore, it is possible to find trains and stations marked with graffiti.
Sightseeing via the Prague Metro
Prague is a dream city for thousands of tourists, especially following the Czech Republic's acceptance to the European Union. It is one of the most visited places by those wishing to explore the rich history, traditional architecture and interesting approach to Central European towns. Prague Metro is a transportation system that connects the city and provides access to many important sites. A few are included below:
Old Town Square: This is the most famous square in Prague. The Gothic Church of Our Lady before Týn as well as the Baroque Saint Nicholas Church are located here. Also found here is the renowned Prague Astronomical Clock and the Jan Hus Memorial. One must simply ride to Staroměstská station on Line A and head east to reach the square.
Museum of Communism: This museum is dedicated to showcasing the history of a post-World War II Czechoslovakia, as it exhibits all the years it remained in a communist system under Soviet rule. With artifacts, photographs, historical documents and works of art, the objective of this museum is to present a historical reality. One may take the metro to Line B's Náměstí Republiky station and walk down a few blocks.
Lego Museum: Prague is also home to the Lego Museum. At 340 square meters (1,115 square feet) and with 2500 original models, it is the largest in Europe. The museum has breathtaking models such as the Charles Bridge, at 5 meters (16.4 feet) and the National Museum which is the same size as the real one. The closest station to the museum is Můstek, which can be found on both Lines A and B.