Metros in Mexico: Guadalajara
Located in the central western United Mexican States, Guadalajara is the administrative capital of the state of Jalisco. It sits in the Atemajac Valley in one of the most populated cities in the country. It brings together a total of 5,007,756 residents, who live together in an area that makes up a total of 340.91 square kilometers (131.63 square miles).
It is characterized by its great potential for creating both artistic and athletic large-scale events. It was ordained the American Capital of Culture in 2005 and became the permanent home to a large number of international fairs and festivals that were to take place in Mexico.
Its developments in sports infrastructure also led to it being chosen to host the Pan American Games, in 2011.
Guadalajara's architecture conserves a neoclassical style along with the strong Spanish and French influences that were present during its founding. The Hispano-American Octavio Paz Library and the Degollado Theatre are among Guadalajara's most visited structures. The temperature in this region of Jalisco ranges between 26 ºC (78.8 ºF) and 32 º C (89.6 ºF).
The Metro
The Guadalajara Electric Train covers a 24-kilometer (15-mile) route around the city's four cardinal points. It began operating on September 1, 1989 with the opening of line 1. Line 2 was added in 1994.
A total of 48 railroad trains operate within the system, some of which are Bombardier, Concarril and Siemens. All are assembled in Mexico. Most trains are 30 meters (98.4 feet) long and 2 meters (6.6 feet wide).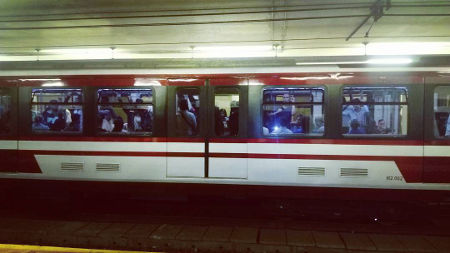 Guadalajara Electric Train
This transportation mode is operated by SITEUR (Sistema de Tren Eléctrico Urbano), a state subsidiary in charge of the city's public transportation. The Light Rail, as it is also known, provides over 90 million trips annually.
Known as: Electric Train or Light Rail
Length: 24 kilometers (15 miles)
Rail width: 1435 mm (4.71 ft)
Number of lines: 2
Number of stations: 29
Maximum speed: 70 km/h (43.5 miles)
Website: www.siteur.gob.mx
Operator: Sistema de Tren Eléctrico Urbano (SITEUR)
Daily ridership: 269,228 approximately
Founding: September 1, 1989
Brief history
Guadalajara's railway history began in the late nineteenth century, with the inauguration of a mule-drawn tram system that traveled from the city to the Shrine of Our Lady of Guadalupe. As electricity developed in the early 20s in Mexico, the Compañía Hidroeléctrica e Irrigadora del Chapala (CHIC) was formed. The city was then introduced to electric trains, which ushered in the parameters for mass transportation.
The old railway system proved completely inefficient to the growing population of the early 70s. This led to the construction of a new metro. However, the project opening was further delayed for a decade, due to people's objections of historical structures being torn down to build train tunnels.
Prior to this delay, the metro lines were mainly used for trolleybuses. It wasn't until 1989 when the circular train began operating along a 15.5-kilometer (9.6-mile) route that serviced 19 stations. 12 of the stations were surface level and 7 were below ground. Line 2 opened on July 1, 1994 with 10 stations and a length of 9.6 kilometers (6 miles).
Lines and stations
The Guadalajara Electric Train consists of two lines with a total of 29 stations. The first line was inaugurated on September 1, 1989 and the second one opened six years later. Altogether, the system covers a length of 24 kilometers (15 miles) and provides service to most of the city center's surrounding areas and its outskirts.
Line 1
This line runs along the north-south corridor and includes 19 stations. The terminal stops are Periférico Norte and Periférico Sur. The route extends 15.5 kilometers (9.6 miles) and takes about 65 minutes to complete. 12 stations are surface level and 7 are underground. Its distinguishing color is blue.
Line 2
This line covers the east-west corridor and travels from the city center to the east. Its 10 stations are completely underground and distributed along 8.5 kilometers (5.3 miles). Under normal conditions, traveling the entire route takes just 36 minutes. Its terminal stations are the Juárez stop and the Tetlán stop. This line's distinguishing color is green.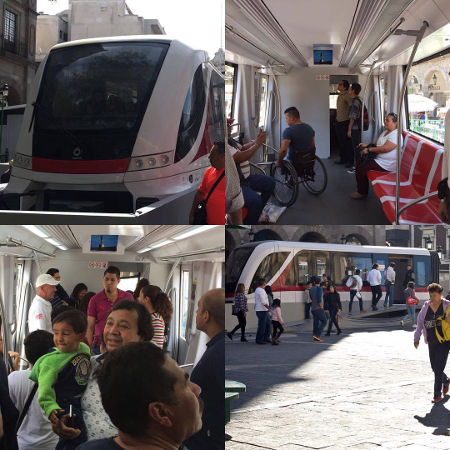 Guadalajara Electric Train
Connections to other systems
Guadalajara has several transportation systems which interconnect to meet the entire city's mobility needs. One of these systems includes the SITREN (Sistema Integral de Tren Ligero), which is also managed by SITEUR.
12 stations are distributed along the SITREN's 3 lines. There are 56 trolleybuses and feeder buses that have the capacity to transport 100 and 50 passengers, respectively. This system operates 365 days a year on a schedule that runs from approximately 5:00 a.m. to 12:00 a.m. It connects to the electric train via line 1's Juarez station and line 2's Tetlán station.
The Macrobús is another transportation system that complements the electric train. It was developed by the BRT (Bus Rapid Transit) model and is operated by SITEUR as well. There is a main channel that runs above Independencia Road and 15 additional feeder routes that add to the distance it covers.
This system extends 103 kilometers (64 miles). There are 27 stations and 2 service yards. The Macrobús has a fleet of 45 buses, with a capacity for 160 passengers. There is also a fleet of 103 conventionally sized vehicles. The operating schedule is from 6:00 a.m. to 11:00 p.m.
Connections to the airport
Although Guadalajara's integrated transportation system covers most of the city's regions, SITEUR does not have any means of transporting people directly from the city to the nearest airport. Miguel Hidalgo and Costilla Guadalajara International Airport is the region's air terminal. It is located 23 kilometers (14.3 miles) from the city and has become the country's most significant, in terms of aerial routes and passenger flow. Only Mexico City and Cancun International Airport surpass it.
A bus on the local airport line can be taken to reach the terminal from the city center. The bus is free to travelers and the route runs directly to Central Camionera in Guadalajara. Any bus traveling along route 616 can be taken from Central Camionera, since they all stop at line 2's Plaza Universidad station. Another option is walking from the main bus station to line 1's Mexicaltzingo station.
Schedule and frequency
The metro system operates 365 days a year and the official schedule is from 5:00 a.m. to 11:00 p.m.
The train frequency varies by line and the time of day. However, the average wait time is about 7 minutes and proves quite accommodating for its riders. Included below is the detailed schedule and frequency for each line.
Line 1
The first train departs from Periférico Norte station at 5:00 a.m. and the last train arrives at Periférico Sur station at 11:05 p.m. The schedule remains the same on weekdays, weekends and holidays. The frequency during peak hours is every five minutes and typically every 7 to 9 minutes during the rest of the day.
Line 2
This line begins operations from Juárez station at 4:50 a.m. and ends at Tetlán station at 11:00 p.m. Like line 1, this line runs 365 days per year. The frequency between each train is 3.3 minutes during peak hours and between 6 and 7.15 minutes during the rest of the day.
Fares, tickets and cards
Guadalajara Metro's transportation system has a multitude of prices and payment options to fit the needs of every rider. The basic ticket is 7 pesos ($US 0.36). The fare varies slightly, however, according to the payment option and the characteristics of the user.
The following details the ticket prices, according to SITEUR's established payment options.
Univiaje Ticket: As the name implies, this is the system's most basic ticket. It is priced at 7 pesos ($US 0.36) and may be purchased at any payment location or online.
Electronic Card: This is the most widely used form of payment by metro riders. It costs 20 pesos ($US 1.04) and may be reloaded, from 50 centavos ($US 0.26) up to 200 pesos ($US 10.46).
Personalized or Transvales Card: This card provides a 50% discount on all fares, but only to students, teachers, children, the elderly and disabled people. It should be noted that in order to obtain this card, one must present the required documents to verify that he or she is eligible for a discount.
System Regulations
Like most transportation systems around the world, the Guadalajara Metro has a set of operating rules to regulate riders' actions. SITEUR has an 11-article section that outlines proper behavior so that passengers may travel together as securely and comfortably as possible. Included below are its most key aspects:
Children under the age of five ride for free.
Children, under the age of 12, must be accompanied by an adult.
The proper side to move up and down the stairs is to the right. There is absolutely no yelling, running or pushing on escalators.
Attacks on other riders and damage to the facilities are completely prohibited.
People under the influence of alcohol or drugs are forbidden from entering the system.
Panhandling or any form of illegal solicitation is prohibited within the system.
No animals are permitted within the system unless they are guide dogs.
Eating and drinking is prohibited in all system facilities.
Any dollies or loading carts, taken into the system, must be completely foldable.
Fire arms and sharp objects are prohibited.
Throwing trash or causing any system damage is prohibited.
Performances by musicians, actors or troubadours must be authorized by SITEUR.
Bicycles are permitted within the system, as long as they are completely foldable and kept in a thick case.
Sitting on platforms or causing any other obstruction to passenger flow is prohibited.
Future expansions
The demand for public transportation in Guadalajara caused SITEUR to begin several expansion projects. These projects would not only be directed at extending the railways, but they would also apply to vehicle adaptation so that more people could be transported in less time.
Among the most significant projects, already underway, is the expansion of line 1 on the electric train. One of the first planned modifications is the substitution of the vehicle fleet. The current double trains, with a capacity for 600 passengers, will be replaced by triple trains that can carry 900 passengers.
This modification to the rolling stock will require each platform to be adjusted from 60 meters (196.9 feet) to 90 meters (295.2 feet). Additionally, the project will include a remodeling and expansion of the 19 stations that currently operate. The furniture, lighting, entry areas and ceiling will be replaced. There are also plans to extend line 1 north of the city by 1 kilometer.
Another major SITEUR project, currently underway, includes the construction of line 3 on the Electric Train. It will extend 21.45 kilometers (13.3 miles). Additional parts of the project include viaduct 1 which will extend 8.65 kilometers (5.38 miles), a tunnel that will extend 5.35 kilometers (3.32 miles) and viaduct 2 which will extend 7.45 kilometers (4.63 miles). Line 3 will have 18 stations, providing service to the cities of Zapopán, Guadalajara and Tlaquepaque. There will be 13 elevated stops and 5 underground ones, and it will run diagonally along the city's east-west corridor. An estimated 234,000 passengers use this line daily. Traveling from one terminal to another takes 33 minutes. It is expected that both projects will be completed prior to 2020.
Tips
The Guadalajara Metro is known as one of the safest railways in the country. However, it never hurts to remain aware of one's personal safety and belongings. Therefore, it is recommended that any type of baggage be carried in front of the body.
SITEUR has an elaborate system of rules for its transportation systems. A thorough review of them is recommended, in order to avoid violations, due to lack of awareness. SISTEUR's fares vary, depending on the medium used. Therefore, it is advisable to consult both the ticket office guide and the digital prices before entering the system. Solutions to any possible issues are available through the rider service modules that SISTEUR provides at each station.
Notable facts
The Guadalajara Metro has a bicycle parking system, called ProBici. It provides safe bicycle storage at each station, provided that SITEUR's established operating rules are met. These include the use of a lock and chain. This program also allows bicycles to be transported on trains, during a daily schedule that lasts about 3 hours.
The Guadalajara Electric Train is one of the smallest systems in the world to offer special ticket prices to teachers.
This system includes a station that features dance presentations. The stage is found on line 2, at the Plaza University stop, and has been the scene for countless presentations since 2009. The space has grown into an immensely significant cultural reference throughout the city.
In addition to a station featuring dance, there is a theatre stop on line 2. This is the San Juan de Dios station. Since, 2011, it has come to be a site of excellence for performances and a variety of cultural exhibitions. It has undoubtedly been transformed into one of Guadalajara's most visited places.
Additionally, not only does this railway system provide a space for cultural exhibition, it also assists in training new artists and the construction of recreational spaces. With this in mind, the Washington station on line 1, has now been established as the educational place for dance classes and other cultural disciplines.
Sightseeing via the Guadalajara Metro
The Guadalajara Metro was constructed in the central part of the city, making the system ideal for reaching the city's tourist sites. Guadalajara is a city that conserves a considerable number of traditional structures and joins them with the patriarchal attractions in the part of the city known as old town. The following outlines some sites that can be found just steps from the Guadalajara Metro:
Ocampo Palace Museum: Culture enthusiasts should not leave without visiting this place, which has become a must-see for art connoisseurs. Since its founding in 2015, the museum has become the scene for a variety of significant scientific and art exhibitions. The facility is open to the general public and offers discounted fares to students. One must simply get off at Plaza Universidad station on line 2 and walk a few meters to reach it.
Plaza de los Mariachis: The Mexican culture is probably one of Guadalajara's most important attractions. Therefore, many tourists, arriving to the city are prepared to spend an evening in the Plaza de los Mariachis. It is a place that offers cultural gatherings and various band performances, that represent the country's traditional music. This square can be reached by riding to metro station San Juan de Dios on line 2 and walking a short distance.
Acuario Michin: This popular tourist attraction is another one of Guadalajara's most visited sites. Its significance is reflected in its exhibition of almost every marine species found in Mexico. The aquarium's activities include special talks, species feedings and diving with sharks. It can be reached by getting off at Mezquitán station, on line 1, and walking a few blocks.