Subways in Mexico: Monterrey
The city
Monterrey is located in northern Mexico and is the capital city of the state of Nuevo Leon, which borders the United States. In addition, Monterrey is the third largest city in the country with a total population of 4,400,000 in the metro area, only behind Mexico City and Guadalajara.
Monterrey is one of the main financial hubs in all of Mexico. The city is home to big corporations such as Cemex or FEMSA and is considered to be the country's industrial capital. This metropolis is also known as "The City of Mountains" since it is surrounded by several mountain ranges and highlands.
Although its business and finance industries are the city's most relevant assets, tourism has also played an important role in Monterrey's success. Its popular mountains and sceneries as well as the Paseo Santa Lucía, the longest artificial river in all of Latin America are the city's main attractions. However, Monterrey also has a large amount of museums throughout the Barrio Antiguo, which translates to old neighborhood, an area that hosts millions of tourists every year. Gastronomy in Monterrey has a big Sephardic Jewish influence, which makes its cuisine very different from the rest of the country. Machacado con huevo, a dry shredded beef with scrambled eggs is the most popular dish.
The city is home to the Universidad Autonoma de Nuevo León, the state's public state university. Monterrey is also very important when it comes to professional sport teams. Rayados de Monterrey and Tigres de la UANL are the city's two soccer teams, while Sultanes de Monterrey is one of the country's most recognized major league baseball teams. Monterrey's weather can be very extreme. During the winter, temperatures drop to 14-16°C, while it can go up to as high as 26-28°C during the summer.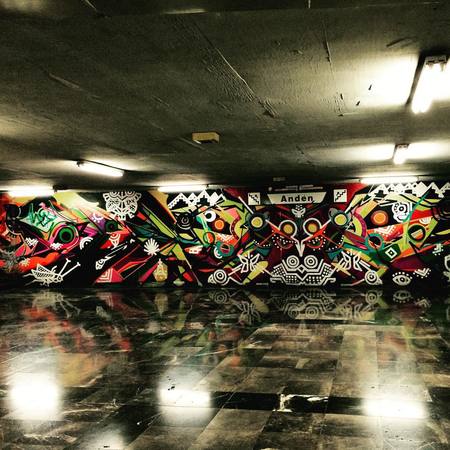 monterrey Metro
Transportation
The Metrorrey Collective Transport System or simply Metrorrey, is one of the main public transportation systems in this Mexican city. It runs from east to west going through the municipality of Guadalupe and also from north to south passing by the municipality of Escobedo.
In total, Metrorrey has 32 stations, which are split in two different lines that total a length of 33 kilometers. A third line is currently in progress.
When it comes to the system's rolling stock, there are 84 rail cars in circulation. Three or four of them make up one train. During its early stages, the Constructora Nacional de Carros de Ferrocarril S.A. de C.V. provided 25 MM-90A trains. 23 MM-90B more trains were later built and provided by the Canadian construction company Bombardier followed by 22 MM-14 trains from Spain's CAF and 14 more MM-05 from Bombardier.
Every rail fits approximately 300 passengers. Last year, a total of 180,446,000 passengers used the Metrorrey, a daily average of about 500,000. The Sistema de Transporte Colectivo Metrorrey depends on the state's government but is in charge of its own operations.
Known as: Metrorrey
Length: 33 kilometers
Number of lines: 3
Number of stations: 32
Maximum speed: 80 km/h
Operated by: Sistema de Transporte Colectivo Metrorrey, through the state's government.
Daily passengers: Approximately 500,000
Founded: April 25, 1991
Brief History
The Metrorrey was originally founded on November 9, 1987 when the Nuevo León's State Congress created the Sistema de Transporte Colectivo Metrorrey, which would be in charge of building, administrating and operating the subway system.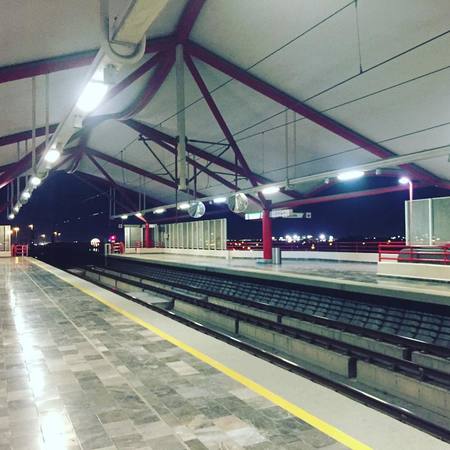 Santiago Tapia (Monterrey Metro)
Following several years of development, these plans were materialized with the creation of this institution, which operates independently and generates its own equity despite depending on the state's government. Construction began on April 25, 1988 with the first line. Exactly three years later, on April 25, 1991, Metrorrey was inaugurated.
It did not take long for Line 2 to be opened. In February of 1993, construction began and the first stretch was quickly inaugurated on November 30, 1994. Despite operating for over two decades, the Metrorrey system has not grown exponentially. Construction for the second half of Line 2 began in 2005, eleven years later. Currently, Line 3 is in progress.
Lines and stations
To this day, the Metrorrey runs through 32 stations on two separate lines covering 33 kilometers. Most stations are built above ground due to the light rail's characteristics. However, some stations are built differently. More specifically, there are 24 above-the-ground stations, 7 underground stations and one street-level station. In addition, 27 out of the 32 are regular stations, 4 are terminals and only one is a connecting station. The Metrorrey lines are:
Line 1
On April 25, 1991, Line 1 became the first Metrorrey line to be inaugurated. Its 19 stations cover a total of 17.833 kilometers, all of them built above the ground with the exception of the Talleres station which is at street level. The line runs from the northeast of the city to the east through Monterrey's downtown. Originally, Line 1 had 18 stations from San Bernabé to Exposición. However, the one expansion it underwent, happened in 2002 when the Cuauhtémoc station, which connects Line 1 and Line 2 was built.
From west to east, the stations in Line 1 are: Talleres, San Bernabé, Unidad Modelo, Aztlán, Penitenciaría, Alfonso Reyes, Mitras, Simón Bolívar, Hospital. Edison, Central, Cuauhtémoc, Del Golfo, Félix Uresti Gómez, Parque Fundidora, Y Griega, Eloy Cavazos, Lerdo de Tejada and Exposición. The last three are located in the municipality of Guadalupe. Line 1 is also known by its identifying color, yellow.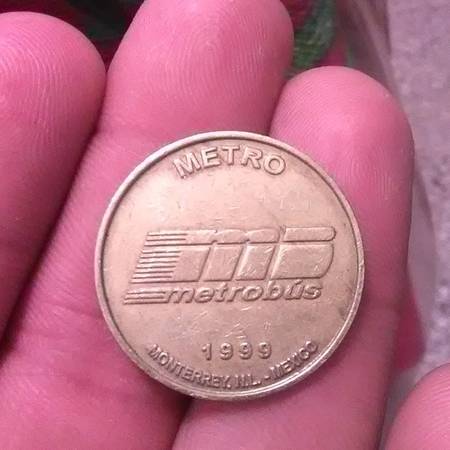 Colon Y Pino Suarez
Line 2
With currently 13.036 kilometers, Metrorrey's Line 2 is as important for the system as Line 1 is. It was inaugurated on November 30, 1994. Back then; Line 2 was made up of only 7 stations. Today, 13 stations comprise it. All stations from Sendero to Niños Héroes are above ground, while the remaining stations from Regina and General Zaragoza are underground. When it first opened, Line 2 ran from General Anaya and Genera Zaragoza. However, the line expanded with time. The first expansion phase was inaugurated on October 31, 2007 with the extension from Universidad and General Anaya. Less than a year later, on October 1, 2008 the line was prolonged with an expansion from Sendero and Anáhuac.
This line runs from north to south through Monterrey and is also recognized by its color, green. From north to south, Line 2's stations are: Sendero, Santiago Tapia, San Nicolás, Anáhuac, Universidad, Niños Héroes, Regina, General Anaya, Cuauhtémoc, Alameda, Fundadores, Padre Mier and General Zaragoza. The stations in Line 2 connect Monterrey with the municipalities of Escobedo and San Nicolás de los Garza.
Hours of operation and frequency
The Metrorrey's hours of operation are very clear. However, there are no exact times on when trains arrive and depart. Overall, the system begins operations at 4:45 a.m. until midnight. The Metrorrey will open and close later than usual on holidays like Christmas or New Year's Day. As far as frequency, the minimum amount of time between Line 1 trains is 4 minutes and 12 seconds. This timeframe will go up during slack periods. Conversely, Line 2's frequency on peak times is 4 minutes but will also go up on slower times of the day. Peak times are usually between 6:30-9:30 a.m. and 5:00-8:00 p.m.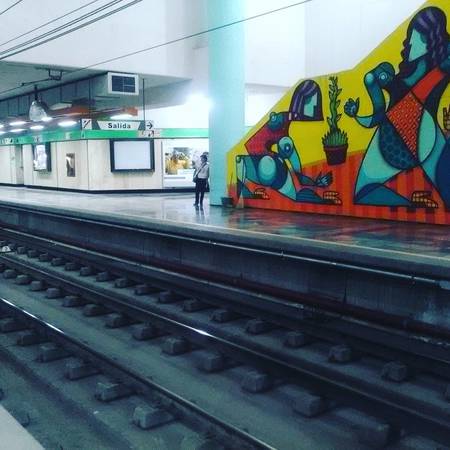 Fares, tickets and cards
The Sistema de Transporte Colectivo Metrorrey offers its users different ways of payment in order to use the system. Tickets come in the form of a prepaid card. Passengers can add credit to them at automatic machines located at every station. The basic one-way ticket has a cost of 4.50 Mexican pesos ($0.24 USD). A one-way Metrorrey ticket will take you to any station since the system's tariff scheme is not measured by travel distance. In case of wanting to purchase a round trip ticket, the cost is 8.50 Mexican pesos ($0.44 USD).
All tickets are available not only for the Metro (subway), but also for the Transmetro and the Ecovía. The metrobús however, has an additional cost of 8 Mexican pesos ($0.42 USD). Conversely, if a Metroenlace were to be used, fares will depend on suburban route distances. When it comes to purchasing tickets, users may buy multi-trip tickets in case a longer stay is needed.
Since the expansion of Line 2, Metrorrey moved a step forward when a new way of payment through the use of a card was launched. Tarjeta MIA, is a smart card in which passengers can prepay trips on STC Metrorrey's different transport systems. This card has a price of 20 Mexican pesos ($1.05 USD) and it includes four trips. To add credit, users have to choose an amount between one ($0.05 USD) and 100 Mexican pesos ($5.23 USD). However, the maximum amount a card can hold is 300 Mexican pesos ($15.68 USD). Using the Tarjeta MIA adds credit bonuses for every prepaid tickets, which consequently saves passengers money.
Connections to the airport
The General Mariano Escobedo International Airport, commonly referred to as the Monterrey's International Airport, is located approximately 20 kilometers away from Monterrey city in the municipality of Apodaca. Without using a taxi, getting from the airport to the city can be a challenge but there are some options. The easiest one is taking a bus to the Monterrey bus station, better known as the Central Camionera de Monterrey. There are several different private companies that offer this service. The bus station is within walking distance to the Central and Cuautémoc subway stations. However, there are other private companies such as VivaBus that have their own bus terminals. If this were the case, the closest subway station would be Y Griega.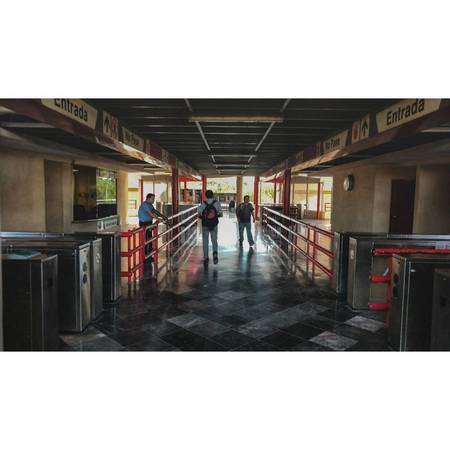 Connections to other systems
Monterrey has a vast amount of public transports, which inter-connect and compliment each other. First, there are many bus lines and bus companies. These are mostly referred to as camiones. Their routes cover most of the city. Bus lines are known as rutas, there is a registered total of 166. Rutas are radial, peripheral, inter-municipal and suburban. There are microbuses and midibuses and they are all a part of the Sistema de Transporte Colectivo Metrorrey. On average, fares and
rates are 11.71 Mexican pesos ($0.61 USD).
Also, under the Metrorrey's system are the metrobuses. The Metrobús currently travels through 22 different routes with 425 total buses. This system is completely integrated to the metro through combined tickets. Both the Metrorrey and Metrobús connect at different stations like Line 1's San Bernabé, Mitras, Hospital, Y Griega and Exposición. It also connects with Line 2'S Cuauhtémoc.
Also, TransMetro is one of Metrorrey's alternate transport systems. Announced as the PreMetro when it was inaugurated, the TransMetro is a system that covers 19 kilometers in the municipalities of Guadalupe, Apodaca, San Nicolás de los Garza and General Escobedo, as well as in Monterrey. It is constituted as a BTR system with 54 stations amongst ten lines. From Metrorrey's Line 1 station Talleres, users have access to three different TransMetro lines: No Reelección, Cabezada – La Alianza and Julio A. Roca.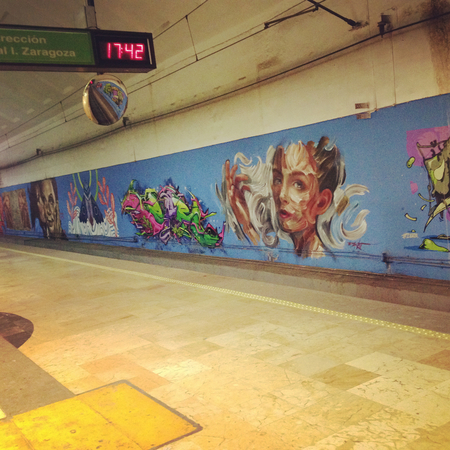 From the Parque Fundidora Line 1 station, users can board the TransMetro line that goes from General Zaragoza to Washington – Dr. Coss. Lastly, passengers can connect from the Exposición metro station to the Mexico line.
As for Line 2, the TransMetro connects with three different lines at the Sendero station: San Nicolás-Apodaca, Escobedo-Monterreal and Escobedo-Fomerrey 9. Two other lines depart from San Nicolás, Las Puentes and Santo Domingo. The last connection happens at the General Zaragoza station with the TransMetro that arrives in Washington and Dr. Coss. In addition to the TransMetro, there is the MetroEnlace. Also connected to the Metrorrey, this system groups multiple suburban bus lines with an integrated fare. Currently, there are six different routes within the state of Nuevo León and two that travel to the state of Coahuila. Users can transfer to the MetroEnlace at Line 1's Exposición station with routes going to Cadereyta and Ciudad Benito Juárez. The other MetroEnlace – Metrorrey connection occurs at Cuauhtémoc with buses to Ciénega de Flores, Zuazua, and Fábricas, which are adjacent to the city.
Last but not least, Monterrey also counts with the Ecovía. This is a BTR type of public transport system, which was inaugurated in 2014. There is currently only one line with 40 stations and it connects with the Metrorrey at Line 1's Mitras station and at Line 2's Regina station.
Future expansions
Even though the system has had to cease construction plans in the past, the Metrorrey is currently undergoing expansion as a third line is being built. This line has been a work in progress for many years. However, not long ago, the course of the project was decided. At first, there were plans to have the route go through Santa Catarina, the airport and the peripheral municipality of Apodaca. However, this plan was not approved. In 2012, the state and federal government announced the finalized plans for the new Metrorrey's Line 3.
Line 3, which is currently being constructed, will have nine stations and a total length of 7.5 kilometers. It will begin at the General Zaragoza station, near the Macroplaza, the city's main square, where it will connect with Line 2 and other transport systems. The line will begin with over a half kilometer of underground subway through the Barrio Antiguo before coming up to street level at San Nicolás and then going above the ground for the remainder of the line. Line 3's stations will be: General Zaragoza, with connection to Line 2, Santa Lucía, Adolfo Prieto, Félix Uresti Gómez, with connection to Line 1, Conchello, Violeta, Ruíz Cortines, Los Ángeles y Hospital Metropolitano.
In addition, it is expected that the TransMetro extends its routes 34 kilometers. This will benefit over 280 thousand residents in the municipalities of San Nicolás de los Garza, Apodaca and the city of Monterrey.
Tips and advice
Just like in any other public transport system, it is recommended to follow some advices before using Metrorrey safely and successfully. Some of the basic tips are:
Make sure you know ahead of time what your final destination is and if you will need to take a different kind of public transport afterwards. The Metrorrey does not cover the entire city and in many cases it is necessary to use other kinds of transportation.
It is strictly prohibited to travel with large bags or suitcases since they can affect other passengers safety and comfort.
It is recommended to choose and purchase the necessary ticket to save time and money.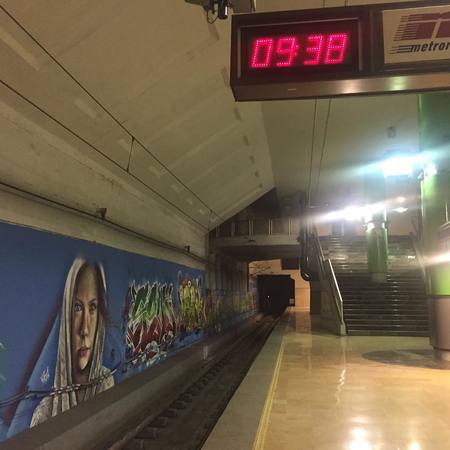 Cuauht u00e9moc (Monterrey Metro)
Fun facts
In order to help illiterate people with locations and station recognition, each and every single Metrorrey station has a different and unique design.
The Metrorrey only has a total of seven elevators throughout the system. They are located in six different stations.
Metrorrey is an ecofriendly public transport system, which takes 82% of its energy from bioenergy and biogas.
Besides the railway network, Metrorrey is connected to other systems like the MetroEnlace, the TransMetro, the Ecovía and the Metrobús.
What to see from the Metrorrey
Mexico is a country full of contrast that hosts millions of tourists from around the world every year. Monterrey is one of the country's biggest and most important cities, which consequently makes it a big tourist attraction that emphasizes in its rich history as well as its beautiful sceneries and mountain ranges. Some of the most popular landmarks to visit by using the Metrorrey are:
Paseo de Santa Lucía: in order to arrive here, a short walk to the northeast of the General Zaragoza station is necessary. It is the longest artificial rive in all of Latin America. Along the water, you can enjoy a great walk surrounded by families. Boat rides through the river are also available. Paseo Santa Lucía has become one of the best places to go on jogs.
Parque Fundidora: is the most important park in Monterrey. In order to get there, visitors must exit the Metrorrey Parque Fundidora station, which is located on the north side of the park. Inside, visitors will find the Museo del Acero Horno, the kids' museum, and ice skating rink, the historic archives as well as a big part of the Paseo de Santa Lucía.
Museo de Arte Contemporáneo (MARCO): this beautiful museum of contemporary art is located just outside of the General Zaragoza Metrorrey station through the Macroplaza exit. It is next to the Monterrey Municipal Presidency. Here you will find the city's most important works from local artists.