Santiago Metro
At present, Santigo Metro operates through 5 lines which connect altogether 108 stations. The complete route length is 103 km. It is operated by a state undertaking company Metro S.A. Every day, around 2.4 million people use the system.
Historical Background
Since the 1930s, the population of Santigo was rising steadily causing heavy traffic congestion and chaotic mass transport system. The planning to build an additional underground system started in 1944 but only in the 1960s the project received an approval from the government authority. It was 24th Oct. 1968 when the contract was signed to build a 5-line metro system and a 60 km extension due in 1990. The construction work began on 29th May 1969.
Santigo Metro started full operation on 15th September 1975. At that time, it was the only urban railway system in Chile. Line 1 was running initially between La Moneda and San Pablo. After consecutive extensions, it achieved its current length.
Line 2 started operation in March 1978. At that time, it was running between Franklin and Los Héroes. It was later further extended. Line 5 was opened on 5th April 1997 to connect Bellavista de La Florida and Baquedano. It was later extended in both directions. Line 4 started operation on 30th Nov 2005. Line 4A, a branch line to Line 4, is fully operational since 16th August 2006. It has its route between La Cisterna and Vicuña Mackenna.
Santigo Metro assumed immense importance after the implementation of the Transantiago project in 2007. As a part of the new transport reform plan, the metro system was renovated, extended and improved for better service. The ridership rose considerably after these efforts.
Hours of Operation
The operation time of Santigo Metro varies depending on the day of the week. From Monday to Friday, the system operates from 5:35 AM to 12:08 AM. On Saturdays, the first train starts a bit late at 6:30 AM. On Sundays and holidays, trains run from 8 AM or 9 AM (Line 1) till 11:46 PM.
In order to deal with heavy passenger load, trains have very small headways. The metro system is 7th in the world in terms of train frequency.
The ticket offices remain open from 6:00 AM to 11:00 PM on weekdays. On Saturdays, the ticket offices open half an hour late and on Sundays and holidays, they are open between 8:00 AM and 22:30 PM.
View the metro timetable here.
Lines and Stations
The system currently has 5 lines operational, namely, Line 1, Line 2, Line 4, Line 4A and Line 5. The trains of Santigo Metro are similar to Paris and Mexico metros. However, only trains on Line 1 have air conditioning. Others use forced air circulation.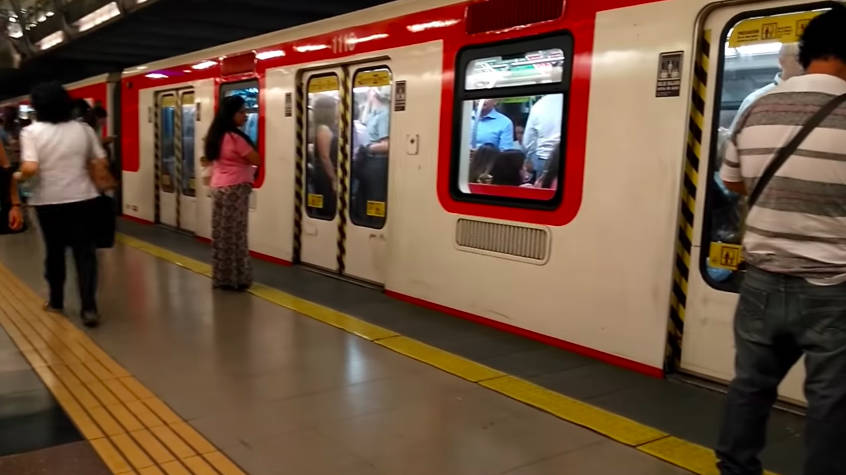 Santiago de Chile Metro
Line 1
This is an east-west line and appears red in color on the Santigo Metro map. It is the oldest of all Santigo Metro lines. It is also the busiest metro line in the world carrying approx. 1.5 million passengers every day.
It is mostly underground line connecting 27 stations along a 19.3 km long route. From this line, a transfer is possible to Lines 2, 4 and 5. It runs between Los Dominicos station and Pajaritos station and covers Estación Central, Lo Prado, Providencia, Santiago and Las Condes communes. It takes around 36 minutes to complete a travel along this line.
Main stations on this line are: Los Dominicos, El Golf, Tobalaba, Los Leones, Baquedano, Universidad Católica, Universidad de Chile, Los Héroes, Pajaritos, Neptuno, San Pablo
Line 2
It is a north-south line and is indicated by yellow color on the metro map. It has 20.7 km long route connecting 22 stations. It runs from La Cisterna to Vespucio Norte. It offers interchange to Lines 1, 4A and 5 at different stations. It is also mainly an underground line.
Every day, 897,000 passengers travel by this line. Express service is offered on this line on weekdays during the peak hours. It covers Santiago, Recoleta, La Cisterna and San Miguel communes. It takes about 30 minutes to complete a full journey on this line.
Main stations on this line are: La Cisterna, Franklin, Los Héroes, Santa Ana, Puente Cal y Canto, Vespucio Norte
Line 4
It is a northeast-southeast line and indicated by color blue. It has 23.9 km long track and 23 stations along it. It is partly underground, partly viaduct. It runs from Vicente Valdés station to Tobalaba station.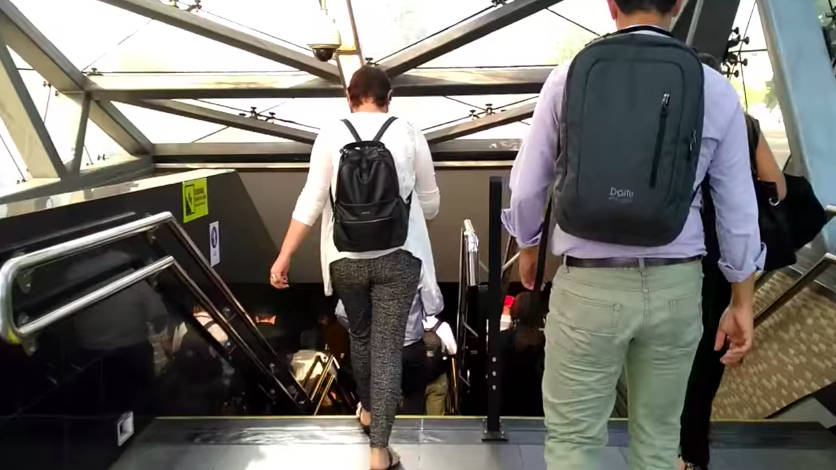 Santiago de Chile Subte
From this line, it is possible to transfer to Lines 1, 4A and 5. It covers La Florida, Puente Alto, Macul, Peñalolen, La Reina, Nuñoa, Las Condes and Providencia communes. A full journey on this line takes about 35 minutes. Express service is available on this line too.
Main stations on this line are: Plaza de Puente Alto, Hospital Sótero del Rio, Vicente Valdés, Vicuña Mackenna, Plaza Egaña, Príncipe de Gales, Tobalaba
Line 4A
Line 4A is a south-southeast line and is indicated by light blue color. It runs from Vicuña Mackenna station to La Cisterna station. The track length is 7.7 km and there are 6 stations along the track. It intersects Lines 2 and 4 and serves as a connection between the lines.
Understandably, it carries less traffic than the other metro lines. It takes about 10 minutes to make a full travel along this line covering La Granja, La Florida, La Cisterna and San Ramón communes.
The stations connected to this line are: San Ramón, Santa Julia, Santa Rosa, Vicuña Mackenna, La Cisterna, La Granja
Line 5
It is a southeast-southwest line and is indicated by color green on the map. It runs from Vicente Valdés to Plaza de Maipú connecting 30 stations. The track is 30 km long. From this line, passengers can transfer to Lines 1, 2 and 4. It carries 39.5% daily traffic of the metro system.
It is partly underground, partly viaduct. A complete travel on this line takes about 45 minutes. Express service is offered on this line also. It serves communes, namely, La Florida, Santigo, La Prado, Maipú etc.
Main stations on this line are: Vicente Valdés, Bellavista de La Florida, Ñuble, Irarrázaval, Baquedano, Santa Ana, San Pablo, Laguna Sur, Plaza de Maipú
Expansion
The system is being expanded continuously. At this moment, constructions of two further lines are going on.
Line 6 is going to connect Providencia with Cerrillos. There will be 11 stations along a 15.3 km long route. Line 3 will connect La Reina and Huechuraba along a 21.7 km long route. There will be 19 stations along the route. Line 3 may further be extended in the northwest up to Quilicura. Line 2 may also be extended another 8.8 km in the south. All these extensions are planned to start revenue service by 2020. Another new east-west line, Line 7 is proposed but nothing is yet finalized.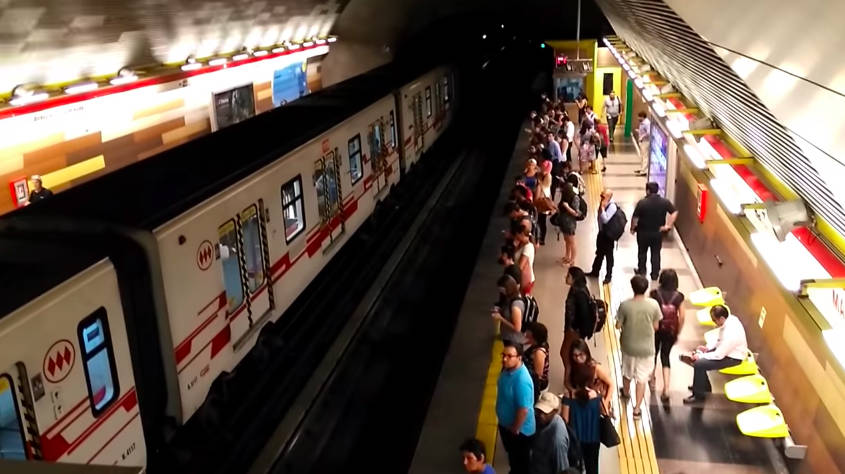 Metro de Santiago
Fare and Ticket
As a part of Transantiago, an integrated mass transit network, Santigo Metro uses a fare system that allows easy transfer from one metro to other modes of public transport in the city. The transfer from metro to a bus is free however the reverse transfer costs $20 (off-peak hours) or $100 (peak hours). The transfer should be made within 2 hours from the commencement of the first journey. Maximum 2 transfers are allowed.
This transfer is facilitated by a smart card called Bip! Card. You can buy this card from the ticketing windows. It costs around $1300 and can be recharged up to with $20,000.
There are also single-journey tickets available but they don't allow transfers. The price of a single-journey ticket doesn't depend on the length rather on the time of travel. The fare for traveling during peak hours is $740, in off-peak hours, on weekends and holidays is $660 and in late and early low-traffic hours is $610. Students and senior citizens get concession and pay only $210.
Get more details on the tariff system from here.
Facilities and Services
For the convenience of metro users, the authority makes available following facilities and services:
Some stations have bicycle-renting centers.
The stations are well-decorated with artwork and murals.
Each station has public telephones and information display boards. Some stations also have TVs which show entertainment programs.
Policemen and private security guards are always present in the stations.
Some stations have libraries and passengers can borrow books from their showing their national ID or foreign passport.
The stations offer park and ride service.
In some selected stations, you'll get free Wi-Fi service.
Rules
Before using the service, know the rules of Santigo Metro.
Passengers should always stay behind the yellow line drawn on the platforms except for boarding the trains.
You can take your pet with you but only in an appropriate carriage.
Concession on the ticket price for seniors applies only to non-peak hours.
Except for specified areas, smoking, drinking and eating are prohibited on the stations.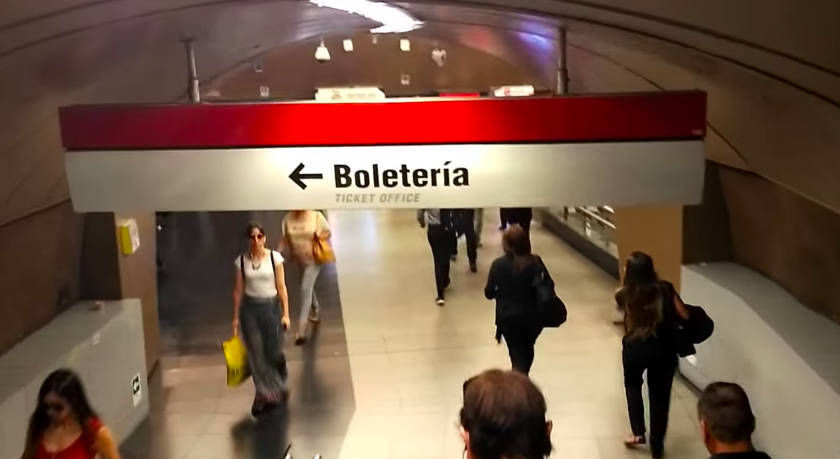 Metro de Santiago
Tips
Here are few tips so that you can better enjoy your metro ride.
Theft and pick pocketing are very common in Santigo Metro. Make sure you have an eye on your belongings all the time. Always hold your backpack in front of you.
Doesn't matter if you're running out of cash. ATMs of BancoEstado or Banco de Chile are available on each station.
Media