Metros in Turkey: Izmir
Izmir is located in the western Republic of Turkey which shares a coastline with the Aegean Sea, part of the Mediterranean Sea. The city is known as Izmir in modern Turkish, while the name, Smyrna is the historical translation. It is Turkey's third most populated city, after Istanbul and Ankara. The population is 3 million and 4 million when taking the entire province into account. Additionally, Izmir is the second most populated city to share its coast with the Aegean Sea, right behind Athens.
Izmir's past is striking. It holds over 3000 years of history but its first human settlement dates back to the Neolithic period. The city has increasingly shifted into a more diverse space due to its additional history as a port city. The result has been a spike in tourism. Izmir has turned into a significant cultural center and welcomes major celebrations such as the Izmir Festival, that infuse it with classical music, dance, jazz and rock. Grand fairs are central to the city as well, including the Izmir International Fair, the largest MICE industry event in Turkey.
The city's temperature ranges from about 25 to 28 °C (77 to 82.4 ºF) during the warm months and ranges from about 9 to 11 °C (48.2 to 51.8 ºF) in the winter.
The Izmir Metro system is of transcendental importance to this city. Presently, there are just 17 stations extending 20.1 kilometers (12.5 miles) but construction and additional planning is underway. There have been no major changes to its rolling stock as just one operating line has been maintained since its opening.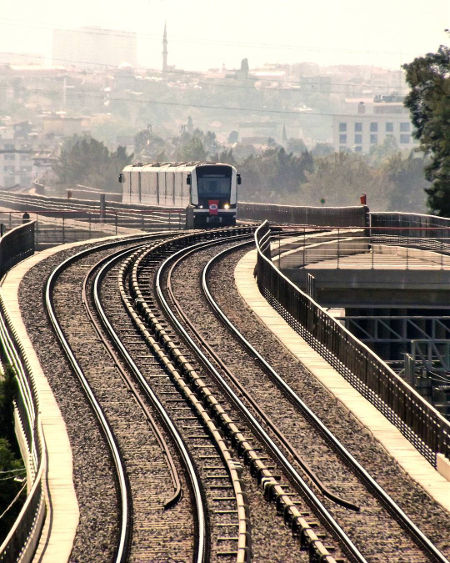 Izmir Metro
The metro trains are currently manufactured by the Chinese company CRRC Corporation Limited. The train sizes have gradually increased. The system had just 45 cars when operations began but that number has grown to 182. Daily ridership is approximately 350,000. The Izmir Metrosu, as it is known in Turkish, is owned by the Izmir Municipal Government.
Known as: Metro (Metrosu in Turkish)
Lengthstrong>: 20.1 kilometers (12.5 miles)
Rail width: 1435 mm (4.71 ft)
Number of lines: 1
Number of stations: 17
Maximum speed: 80 km/h (49.7 mi/hr)
Website: www.izmirmetro.com.tr
Operator: Izmir Municipal Government
Daily ridership: 350,000, approximately
Founded: May 22, 2000
Brief history
During the 90s, the Izmir population continued to grow rapidly, and the people needed a definitive construction plan for a mass transport system that would connect the city. Planning first began in 1989. Like most cities, a master plan was developed to explore the idea of a metro system. This lasted until 2010, when a metro proposal was made. The route was to be formed by two 50-kilometer (31.1-mile) crescent moons that would connect the city's four corners. Approval was reached in 1992 and bidding began. The construction consortium and the Izmir Municipal Government signed a contract to begin construction in January 1993.
The project was completed in 2000, with the introduction of its first ten stations. There was a dynamic expansion as bids were acquired. However, the municipal government faced many problems with the different construction companies and the consortium was suspended. The first station expansions would not be finished until 2012, when the local government assumed control over their completion. More stations opened in 2014 and the Izmir Metro's continued growth is marked by the western extension of seven stations, that began in June 2018.
Stations
The Izmir Metro has just one operating line and its 17 stations cover 20.1 kilometers (12.5 miles) of the city. The route begins in the northeast end of the city at Evka-3 station. It travels south of the Gulf of Izmir, west of the city, and ends at Fahrettin Altay station. The stations vary in composition, form and connections.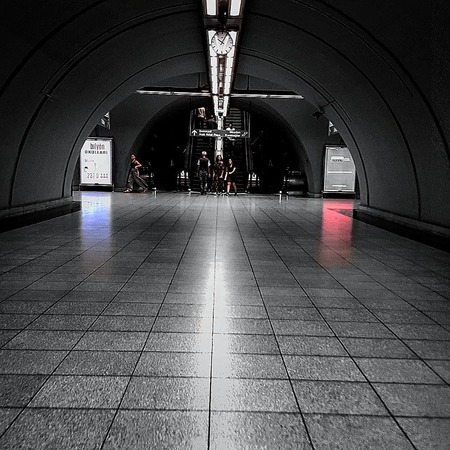 Izmir Metro
The primary stations are Evka 3 and Ege Üniversitesi. They are located underground on the east end. Their 2012 openings make them the system's most recent expansions. Bornova is the next station. Transitioning from the surface to the underground, it was the first of ten stations to be opened in 2000. Bornova is followed by the surface level stations, Bölge and Sanayi. Stadyum station is elevated on a viaduct, Halkapınar is suface level and Hilal is elevated. From this point, the route returns below ground, passing through the Basmane, Çankaya, Konak and Üçyol stations. This last station was constructed in a deep tunnel and made up the original route.
İzmirspor and Hatay are the next two stations. They were inaugurated in 2012 and can be found in the southern front of the Izmir Gulf. Located further along are Göztepe, Poligon and the terminal station Fahrettin Altay, in the west. These last three opened in 2014. And are located below ground.
Most stations have separate platforms that can be boarded in opposite directions. Bornova, Bölge, Sanayi, Basmane, Çankaya and Konak are the only stations with just one island platform that serves both sides.
Connections to other systems
Izmir was the first city in Turkey to integrate all its existing public transportation systems. With it being a small system that didn't expand within the expected timeframe, other forms of transportation became necessary.
Buses are very common in Izmir. 16 of Izmir Metrosu's 17 stations, with the exception of Hilal, connect to the city's bus lines. The company, ESHOT (the acronym for electricity, water, gas, bus and trolleybus, in Turkish) is the bus operator. Although, the company does not provide electricity, water, or gas and the trolleybus no longer exists, it still uses the name for the buses. ESHOT has approximately 1500 buses and 415 routes that serve the entire district. Thanks to a color-coded system, they can be identified by the colors, blue, green, red, black and orange. The private company, İzulaş also has 400 buses that provide a variety of services.
Izmir's light rail is also of vital importance. Known as İZBAN, this system has been operating since 2007. With its extremely rapid expansion, it already consists of four lines. In terms of growth, new developments, speed and accessibility, this is Izmir's trendiest system.
Connections to İZBAN can be made at Halkapınar and Hilal metro stations. The tram system, Tram Izmir, is a small much more recent development. With the metro as its direct operator, there are just two lines and 32 stations. Both the Halkapınar and Konak metro stations connect to the tram.
As a coastal city with the Gulf of Izmir at its entrance, various connections can also be made via ferry. These boats are operated by İzdeniz, a public company affiliated with the municipal government. There are 24 ferries covering various routes to and from nine different terminals in the city. They include Alsancak, Bayrakl, Bostanlı, Foça, Göztepe, Karşıyaka, Konak, Pasaport and Üçkuyula. Konak is central to the metro, providing a connection just a few meters away.
Turkey's long-distance trains are of similar importance and two stations are especially significant in Izmir. One is the Basmane train station, operated by the public company, TCDD Taşımacılık. Various regional and long-distance trains are available from Basmane and a transfer can be made from here to the metro station that shares its name.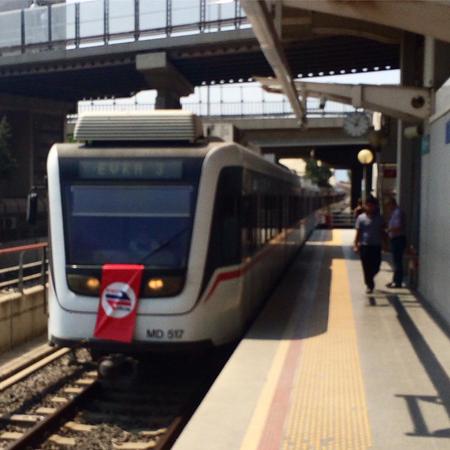 Halkap u0131nar Metro u0130stasyonu
Connections to the airport
The Adnan Menderes Airport serves the city of Izmir. The air terminal is located 18 kilometers (11.2 miles) southwest of the city, in the Gaziemir district. The airport opened in 1987 but has undergone significant expansions, including new terminals that opened in 2006 and 2014. Approximately, 12.5 million passengers are served by the current airport, with at least 10.5 million of them taking domestic flights. The Adnan Menderes Airport is the fifth busiest airport in Turkey.
Accessing the Izmir Metrosu from the Adnan Menderes Airport is considerably simple and direct. There are two common methods, and both include traveling through a transportation system from Adnan Menderes Havaalanı (Adnan Menderes Airport) station. The station provides service from the railway system to the country's air terminal. It is possible to take a train from any of the five lines operated by TCDD Taşımacılık. Each one connects to the Basmane train station, which provides a connection to the metro. It is also possible to take the blue line, called the Southern Line on the İZBAN or light rail. A train can be taken from this station to Hilal, where a transfer can then be made to the Izmir Metro.
Schedule and frequency
The Izmir Metro system has just one line that maintains one opening and closing schedule. It operates from 6:00 a.m. to 12:20 a.m. and the frequency depends on the day.
On weekdays, trains arrive every 7.5 minutes, between 6:00 a.m. and 7:00 a.m. From 7:00 a.m. to 9:00 a.m., they arrive every 3.5 minutes. For most of the remaining time, from 9:00 a.m. to 8:00 p.m., they arrive every 4 minutes. The wait time between trains returns to every 7.5 minutes during closing time, which is 8:00 p.m. to 12:20 a.m.
The frequency is reduced on Saturdays. Trains arrive every 7.5 minutes, from 6:00 a.m. to 7:00 a.m. From 7:00 a.m. to 8:00 p.m. they arrive every 5 minutes and trains run every 7.5 minutes from 8:00 p.m. until closing at 12:20 a.m. Sundays are similar to Saturdays, but trains operate even less frequently. Trains run every 7.5 minutes from 6:00 a.m. to 12:00 p.m. From 12:00 p.m. to 8:00 p.m., trains arrive about every 6 minutes and the frequency returns to every 7.5 minutes from 8:00 p.m. to 12:20 a.m.
Fares, tickets and cards
Izmir's fare system is integrated across all modes of transportation, including the metro, bus, tram and ferry systems. Therefore, it is possible to transfer between systems with the same ticket types.
A basic ticket is one of the system's most common options. It allows a transfer to be made within 90 minutes of entering the system. The normal ticket price is 3 Turkish liras ($US 0.48). Students and adults aged 60 pay just 1.80 Turkish lira ($US 0.29) and professors pay 2.50 liras ($US 0.40).
Similarly, one may also purchase a 3 trip-ticket for 11 liras ($US 1.74). A 5-trip ticket cost 17 liras ($US 2.70) and a 10-trip ticket is 32 liras ($US 5.07). These tickets do not allow for any transfers and they are not reusable once the selected number of trips have been taken. This ticket is known as Bilet 35 in Turkish and is valid for 35 days after its first use.
Various social groups also have access to Izmir Metrosu discount cards, provided by the company ESHOT. They offer cards for students, professors and seniors over 60. There is no charge for seniors over age 65 and special free access cards are available to a variety of professionals including the Turkstat for state officials of the statistician institute, light yellow cards for mail carriers, dark yellow cards for authorized journalists and blue police and general law enforcement personnel cards.
System regulations
The Izmir Metro, like all transportation systems, requires rules to promote a cordial relationship between riders and operating personnel. Therefore, the institute has established a variety of regulations that must be followed while using the Izmir Metrosu. Some are highlighted below:
All riders must have a valid ticket to enter the system or in place of one, they must have an accredited card, demonstrating they have approval to enter.
Children, ages 6 and under, ride free of charge. A discount card must be obtained, once they turn 7.
Various private tickets cannot be used to access the system.
Taking photos and videos must be approved by the system operator.
Station escalators are reserved for disabled passengers, elderly people, people with mobility issues and pregnant women.
Animals are not permitted in the system, unless they are small animals being transported in cages.
To preserve the system's cleanliness and to avoid any possible spills while the train is in motion, eating and drinking are prohibited.
Placing ads in unauthorized areas and without metro authorization is prohibited.
Similarly, political propaganda messages are prohibited, in addition to all types of gambling and street vending.
Bicycles may be transported, under certain conditions but only in the train cars specially marked for them. A maximum of two are permitted in these cars and riders must use stationary stairs to move them down to the platform.
Future expansiones
The future of the Izmir Metro is what will map out its destiny. This transportation system is still very small, but its one line is currently under construction. This expansion will include two new stations to the west of the line. Nine stations will be opening on the southern coast of the Gulf of Izmir.
A number of additional expansions are in the planning stages. The goal for Line 1 is to expand Ekva-3 station to the east. A new tunnel will be constructed for this purpose. The construction of Line 2, with eleven stations and a length of 13.5 kilometers (8.4 miles) is another part of the municipal government plans. The departure point will be east of the city. Bidding requests for this line began in 2018.
Line 3 will be responsible for connecting the city to the Adnan Menderes Airport at the other end of Stadyum station. It will extend 27.6 kilometers (17.2 miles) and have 24 stations serving various districts in the south of the city. Line 4 is also planned. It will be constructed in two phases and reach the Izmir Katip Çelebi University. This line will altogether have 34 stations that will make up 35.8 kilometers (22.2 miles).
A fifth line is also being planned. Primarily, this line will cover five stations, from Halkapınar to the bus station. However, it could extend 28.1 kilometers (17.5 miles) once it is complete.
Tips
To ensure the most pleasant relaxed experience possible, it is recommended that tourists follow certain tips when traveling in any transportation system. Some recommendations are included below:
Izmir Metro signs and instructions are mainly in Turkish. Learning some basic vocabulary or memorizing the letters for specific directions is recommended.
It is also advisable to be aware of transfer points. Although the metro is small, it is possible that other transport systems are much closer to one's final destination.
One should be aware of the various ticket types available, since transfers may not be made when purchasing a varied trip ticket.
Interesting facts
The Izmir Metro system continues to grow, though the construction of new stations have been significantly delayed.
Baby-changing rooms are available at the Konak and Üçyol stations.
Along with Adana, Ankara, Istanbul and Bursa, this is one of Turkey's five rapid urban transportation systems.
Media
Sightseeing via the Izmir Metro
The Turkish Mediterranean coast continues to grow as an attraction for hundreds of thousands of tourists. In addition to Ismir's (or Smyrna's) commercial port relationship, the city has become additionally alluring due to its dazzling sunsets and a location that places it closest to Europe. Fortunately, most of Izmir's attractions can be reached via the Izmir Metrosu. Some are included below:
Saat Kulesi (Clock Tower): This is one of the most popular tourist attractions in Izmir. Found in the middle of the square, the Clock Tower has become a symbol of city. It is also a place where walks begin and end. Its fountains are renowned. This French designed tower was built at the beginning of the twentieth century. Saat Kulesi can easily be reached by getting off at Konak station and walking a few meters.
Tarihi Asansor: This is a historical elevator with a vertical rise of about 40 meters (131.2 feet) to the top of a hill. The entire bay is easily observable from this height since Izmir is a coastal city. The surrounding neighborhood is also striking. Tourists are drawn to the restaurants and various shops. Tarihi Asansor is quickly accessible by getting off at Üçyol station and walking a few blocks towards the bay.
Kizlaragasi Han Bazaar: Many tourists wish to experience an oriental bazaar. Turkey is a destination where various ones are available. The Kizlaragasi Han Bazaar is medium sized, which allows most people to navigate it easily. It still offers a variety of items for sell, from fabric to fish. The bazaar is located right next to Çankaya station.