Bucharest Metro
Bucharest, Romania's capital, is Europe's sixth largest city, in terms of total population. According to the latest official census, published by city authorities, it is home to 2.4 million residents.
For a long time, Bucharest was considered "Little Paris" for its elegance and modern buildings, although it would be severely damaged following the First and Second World Wars.
However, the city had experienced strong economic growth over the previous decade and the officials of this major city saw this as an obligation to take a chance on infrastructure. Among their emphasis was the metro.
Bucharest Metro's inauguration was finalized in the 70s, specifically November 16, 1979, though the first construction blueprints date back to the 30s.
However, these plans were set aside with the outbreak of the Second World War. It was not until 1970, an era marked by the collapse of the city's public transportation, when the local authorities decided to conduct a study on underground public transportation.
Five years later, in 1975, the officials managing the research concluded that metro construction would be a viable mid-term and long-term option, and construction work was set in motion.
Thirty years later, in 1979, Bucharest Metro opened its doors to what is now 53 stations, 4 lines and a total route of 71.5 kilometers (44.42 miles). There are additional plans to expand the system, with one route already under construction and another one in the planning stages. This will add 30 kilometers (18.6 miles) to the system.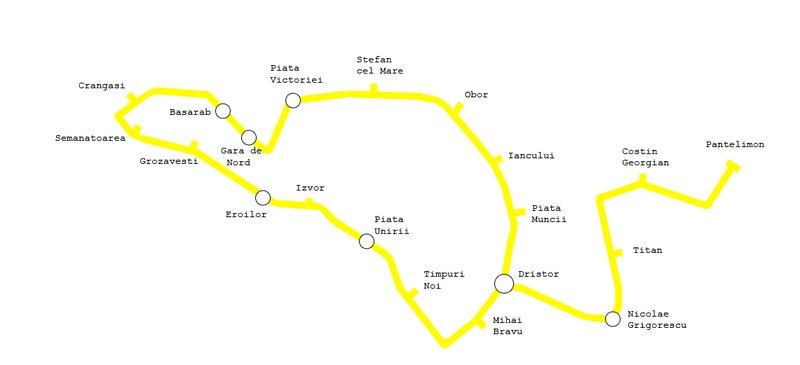 Lines and stations
The Bucharest Metro has 4 commercial lines, including one under construction and another one in the planning stages. The entire route is 71.5 kilometers (44.42 miles). The metro connects the city between the four compass points and transports over 470 thousand passengers daily.
Riders in the main neighborhoods of Romania's capital have metro stations that connect to the city center, making the underground system fundamental to a fully functioning Bucharest.
Line 1
Line 1 is the oldest line in the Bucharest Metro system with an opening that dates back to 1979. Its route is 31 kilometers (19.3 miles) distributed along 22 stations. The stations are located in the Dristor and Pantelimon neighborhoods in the city center as well as in the area to the east.
Highlighted by the color yellow and the name M1, Line 1 is easily recognizable on system maps. It connects to the other metro routes as well.
Line 2
Line 2's railway is 18.7 kilometers (11.6 miles). It connects the Pipera district to the IMGB industrial zone as it passes through several neighborhoods along its route. Line 2 was constructed in 1986 to connect the northern and southern areas of the city and to serve central Bucharest as well.
Due to the neighborhoods that are served, this is the busiest route each year. It can similarly be identified on system maps by its dark blue color and the designation M2.
Line 3
Constructed in two stages, the first ending in 1983 and the second ending in 2008, Bucharest Metro's third route extends 22.2 kilometers (13.8 miles) and connects the city from east to west between the Glina and Militari districts respectively.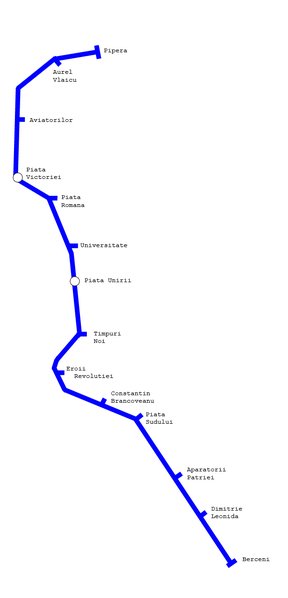 On system maps, it is characterized by the color red and the M3 designation. It serves over 24 million passengers each year.
Line 4
Bucharest's fourth underground line is the smallest in the system with a route of only 7.64 kilometers (4.75 miles) and 8 stations. As the most recent, dating back to the year 2000, it excludes the second stage of Line 3 that was inaugurated in 2008. As the least traveled line, Line 4 transports just a little more than 6 million passengers yearly. It connects Sector 1 neighborhoods to the northwestern part of the city and to the city center.
It is easily distinguishable on maps by the color green and the designation M4.
Line 5 (Soon to be opened in 2018)
Planned for 2018, this route will have 22 stations and a length of 16.2 kilometers (10.1 miles). It is identifiable on station maps by the color orange and the designation M5. It will serve the residents of Drumul Taberei as well as people living in surrounding Cotroceni.
Connections
Bucharest Metro lines are extremely well connected to one another as well as to the local bus routes that serve the entire city. Riders may choose from the following underground connections:
Line 1
Piața Victoriei Station: Located in Victoriei Plaza, from where it takes its name, this station gives passengers access to Line 2 (M2) and to bus routes 24, 42, 45, 46, 205, 300, 381 and 783.
Gara de Nord Station: Located in the București Nord railroad station, this station connects to Line 4 (M4) and to bus lines 42, 44, 45, 46, 62, 65, 79, 85, 86, 93, 96, 105, 123, 133, 178, 182, 205, 282, 696 and 780.
Basarab Station: This station can be found near the Calea Griviței sector. Passengers can connect here from Line 4 (M4) and select from among bus routes 1, 35, 44, 65, 86, 105, 123, 133, 162, 178, 282, 696 and 780.
Piața Unirii Station: This station can be found in Unirii Plaza. Passengers can board Lines 2 (M2) and 3 (M3) from this underground station as well as gain access to bus routes 7, 27, 32, 47, 73, 74,76, 104, 116, 117, 123, 124, 232, 312, 313, 385 and 783.
Line 1 stations, Eroilor, Izvor, Timpuri Noi, Mihai Bravu and Nicolae Grigorescu also serve the Line 3 (M3) train route.
Line 2
Piața Victoriei Station: At this station, where Victoriei Piața (Victory Square) is found, riders can change from Line 1 (M1) and transfer to bus lines 24, 42, 45, 46, 205, 300, 381 and 783.
Piața Unirii Station: Unirii Piața (Union Square) can be found at this stop. Passengers have access to Lines 1 (M1) and 3 (M3), as well as to bus routes 7, 27, 32, 47, 73, 74,76, 104, 116, 117, 123, 124, 232, 312, 313, 385 and 783.
Line 3
Piața Unirii Station: This stop is in Unirii Piața (Union Square), where passengers can make transfers and board Lines 1 (M1) and 2 (M2) trains and connect to bus routes 7, 27, 32, 47, 73, 74,76, 104, 116, 117, 123, 124, 232, 312, 313, 385 and 783.
Eroilor, Izvor, Timpuri Noi, Mihai Bravu and Nicolae Grigorescu stations also serve Line 1 (M1) trains.
Line 4
Basarab Station: Located in the Calea Griviței area, this station connects directly to the trains that serve Bucharest Metro's Line 1 (M1). Additionally, riders can board bus lines 1, 35, 44, 65, 86, 105, 123, 133, 162, 178, 282, 696 and 780 from the surface level.
Gara de Nord Station: This stop is located right below the București Nord railroad station, where passengers can also board the Line 1 (M1) trains that circulate the station. Outside of the station, riders can also board bus routes 42, 44, 45, 46, 62, 65, 79, 85, 86, 93, 96, 105, 123, 133, 178, 182, 205, 282, 696 and 780.

Fares
The payment method for The Bucharest Metro consists of machine dispensed tickets, as well as those sold at the ticket offices found throughout the stations. There is a significant variety of options that properly fit the needs of each rider. Shown below are the available options for metro travel.
One Trip Card: This is the system's basic metro ticket, offering just one trip for the price of 2.5 Lei (0.62 USD)
2 Trips: For 5.00 Lei (1.25 USD), this second option is for the traveler considering two possible metro trips.
10 Trips: This 10-trip option is ideal for those people who don't ride the metro often but prefer to always have a ticket on hand. It costs 20.00 Lei (5.00 USD)
Daily Pass: However, when using the metro system intensively throughout the day, this daily pass is your best option. Unlimited metro trips are available for the entire day for 8.00 Lei (2.00 USD), though ticket use is only permitted every 15 minutes following each trip.
Weekly Pass: This ticket offers riders 7 consecutive days of unlimited travel on Bucharest Metro for just 25.00 Lei (6.25 USD) a week. It is ideal for repeat travelers.
Monthly Pass: This option is a definite must if one is a frequent passenger of the Bucharest Metro. With a fare of 70.00 Lei (17.49 USD), unlimited use is available for 30 days.
Monthly Pass (Pupils/Students): This pass is especially designed for students that frequently use metro services. With youth in mind, it offers unlimited travel for a whole month for just 35.00 Lei (8.75 USD).
Yearly Card: Given that this is the highest priced ticket offered by the Bucharest Metro administration at 720.00 Lei (179.93 USD), it provides passengers with unlimited travel for a year.
Group Card: This option is most ideal for those passengers traveling in groups, allowing 3, 4, or 5 people to use the metro system at a reduced price. The price for 3 people is 5.00 Lei (1.25 USD), the price for 4 people is 6.50 Lei (1.62 USD) and the price for 5 people is 8.00 Lei (2.00 USD).
Schedule
From open to close, the Bucharest Metro schedule is the same. Every week, from Monday to Sunday, it opens its doors to the public beginning at 5:00 am and operates nonstop until 11:00 pm.
The train frequency varies according to the time and route on which it runs, ranging from 3 - 12 minutes.
Line 1: 3–5 minutes during peak hours / 6–8 minutes during regular hours.
Line 2: 3–5 minutes during peak hours/ 8–10 minutes during regular hours.
Line 3: 3–5 minutes during peak hours / 8–10 minutes during regular hours.
Line 4: 4–7 minutes during peak hours/ 10–12 minutes during regular hours.
Regulations
Like subway systems around the world, the Bucharest Metro has a set of rules that riders are required to follow if they wish to use the system. Detailed below are some of the requirements and prohibitions.
Throughout the trip, riders must keep their travel ticket on hand, in preparation for verification by any of the system's officials. Otherwise, the rider could be fined.
In an effort to expedite passenger movement throughout metro facilities, it is suggested that riders move to the right side, allowing others with more urgency to pass on the left.
Be cautious while using escalators and elevators to avoid any possible mishap.
It is completely prohibited for riders to enter stations or board trains on skates or skateboards.
Large birds or animals may not be transported within the metro system. Only small sized animals in properly designed carrying cages are permitted.
During the week (Monday to Friday), bikes can be transported on the metro from 8:00 pm to 11:00 pm. However, bikes are permitted on the train all day on holidays and weekends. Passengers should board with them on the first train car.
Transporting potentially dangerous objects or flammable items is prohibited on Bucharest Metro. Likewise, notify system authorities of any abandoned suspicious packages in the stations.
Passengers transporting babies in strollers and people in wheelchairs are encouraged to ride in the first train car.
Do not step over the platform's security strip while waiting for the train.
Once the train stops, push the button for the doors to open.
When the train arrives, remember that passengers getting off the train have priority and it is advised to let riders off before boarding.
One cannot get on or get off the train following the doors closing announcement.
Not allowing the doors to close is prohibited.
Leaning on train car doors during travel is prohibited.
For your security, it is recommended to always keep baggage (purses, wallets, and suitcases) in hand throughout the course of the trip.
Avoid blocking the gangways that are reserved for disabled people.
Remain calm if the train stops in the middle of a tunnel. Follow the conductor's instructions and wait for the train to continue moving.
Only use emergency devices when necessary. Misuse can result in fines.
Connection to the airport
Bucharest Metro does not have a direct connection to the Bucarest Henri Coandă International Airport as none of its stations directly reach the terminal area. However, a bus, that does reach the airport directly, can be taken from some of the subway stations. The following are instructions for making this connection.
Primarily, one must take Line 1 (M1) in the direction of either the Piața Victoriei or, alternatively, Gara de Nord Station. Bus lines going to the airport can be found at both stations. Wait for bus line 783 or 780, both of which frequently circulate the two station stops. Board the appropriate bus and enjoy the trip to the Bucarest-Henri Coandă International Airport. It lasts less than an hour.
However, if the objective is to travel to the city from the airport, the steps are not too different. Various bus stops are found outside the terminal area. One can select bus route 783 or 780 from here, get off at the Piața Victoriei or the Gara de Nord stops or simply remain on the bus to reach another part of the city. There is also sure to be taxi stands and car rental companies in the areas surrounding the airport. The latter is always safer though it is costly as well.
Future expansions
Bucharest Metro's Line 5 is the next major project that will soon be inaugurated. If everything goes as expected, the opening will be at the end of 2018. It is identifiable by the color orange on system maps as well as the number M5. It will serve the Cartierul Ghencea and Gării Cățelu areas, traveling to 22 stations distributed along 16.2 kilometers (10.1 miles).
Line 6 is another project in the planning stages. It is identified on maps by its lilac color and the number M6. As part of an administrative program to facilitate tourist access, it will also serve Gara de Nord residents and connect Bucharest's city center to the Bucarest-Henri Coandă International Airport. According to projections, it will open its doors in 2022, with a length that extends 14.2 kilometers (8.8 miles), divided along 12 stations.
Tourist sites
At Izvor Station, which serves train lines 1 (M1) and 3 (M3), one will find the extremely well-known Palace of the Parliament. An architectural jewel by architect Anca Petrescu and inaugurated in 1997, this is the legislative headquarters. Although visits are restricted to a set schedule and identification must be presented to enter, it is a must see stop when visiting Bucharest. It is very commanding at 80 meters high (262 feet tall), in contrast to it also being 92 meters deep (302 feet underground). This is not even to mention the beautiful surrounding spaces from which magnificent postcards can be obtained.
Another necessary stop, when visiting Bucharest, is the Romanian Athenaeum, located about 4 blocks from Piaţa Romană station on line 2 (M2). It is a major city building where concerts and unforgettable philharmonic presentations take place. It dates back to 1888 though it was reconditioned in 1992. Also, in the vicinity are lovely flower gardens; ideal for relaxing one's mind, reading a book or taking photographs. Inside, the ceilings, walls and floors are a scene within themselves as they surround visitors with the luxury of the 19th century. Undoubtedly, visiting this space is worth the effort.