Pyongyang Metro: Introduction
This metro system is the deepest in the world. The lines are located more than 110 m deep from the ground level. It takes around 3.5 minutes to reach the platforms from the ground level via escalators. Due to such location, the temperature on the platforms always remains very cold.
This metro system is almost a replica of Moscow Metro. In the past foreign tourists were allowed only to travel between Yŏnggwang and Puhŭng stations. Currently, most of the stations are open to them.
Historical Background
Managing daily commuters was always a concern for Pyongyang government. There were only a few private automobiles in the city and bikes were banned. This made the modes of public transport crowded and irregular.
Construction of Pyongyang Metro started in 1965 importing rolling stocks from Germany and other electrical equipment from China. China claims that it has also sent experts to help in the construction process, though, North Korea doesn't admit that.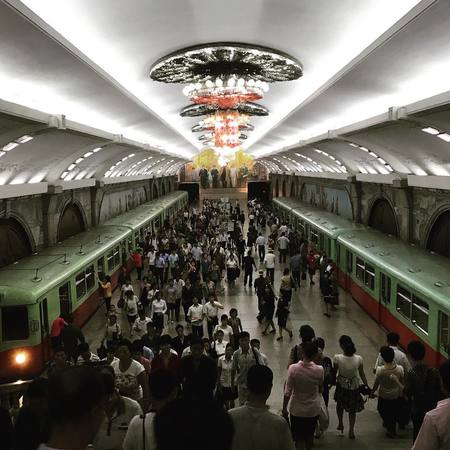 pyongyang Metro
The whole process was conducted under the supervision of President Kim Il-Sung. Korean People's Army manually constructed the system. Between 1973 and 1978, all the 14 stations were opened in a phase wise manner. The remaining two, namely, Yonggwang and Puhoong, were constructed in 1987.
Hours of Operation
Subway trains run every 5 to 7 minutes. On rush hours, trains come every 2 minutes. The usual hours of operation are from 05:30 AM to 23:30 PM. However, it is reported that the entire system remains closed on first Monday of every month and also on other occasions.
Lines and Stations
Pyongyang Metro currently has two lines: Chollima Line and Hyoksin Line. The lines run just under city's main streets. The depots are all at ground level.
What makes the stations unique is their naming after popular characters and themes of North Korea's revolutionary war. The stations are located pretty distant from each other, 1500 m on average. They are decorated with statues of war heroes, murals, marbles, light fixtures and paintings.
The stations are so built that they can serve as bomb shelters during war time. It is also speculated that military bases are connected to these stations via secret lines.
Chollima Line
This line is operating since 1973 and is connecting the north-south corners of the city. Starting from Puhŭng station in the south it runs through 6 stations along the Taedong River and ends at Pulgŭnbyŏl station in the north.
It is a 12-km long route including a transfer possibility at Chŏnu station. The stations on this line are: Pulgŭnbyŏl, Chŏnu(Chŏnsŭng), Kaesŏn, T'ongil, Sŭngni, Ponghwa, Yŏnggwang, Puhŭng
Hyoksin Line
This line started full operation from 1978. It connects Kwangbok station in the southwest corner of the city to Ragwŏn station in the northeast. There are 9 stations on the route, though, at Kwangmyŏng station, trains don't stop.
The complete route is 15 km long including a transfer opportunity to Chollima Line at Chŏnu station. The stations on this line are: Ragwŏn, Kwangmyŏng, Samhŭng, Chŏnsŭng(Chŏnu), Hyŏksin, Kŏnsŏl, Hwanggŭmbŏl, Kŏn'guk, Kwangbok
Future expansion
Additional sections are going to be added to the two operational lines in near future. The Chollima Line will have Sŏp'o and Ryŏnmot stations further in the north and Ch'ŏngch'un and Mangyongdae stations in the south. On Hyoksin Line after Kwangbok, two additional stations, namely, Yŏngung and Ch'ilgok will be added.
There is also a long-term plan for another north-south line that will cross Taedong River on a bridge. The three lines will then meet at the heart of city creating a triangle pattern.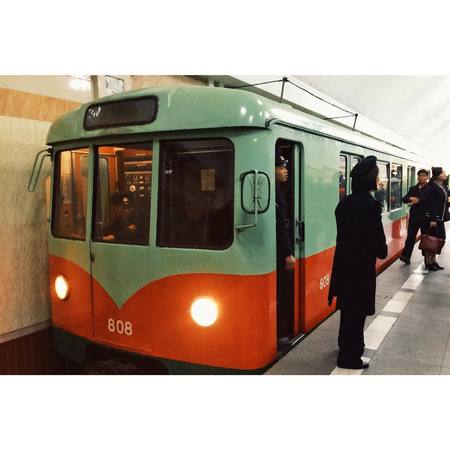 Pyongyang
Fare and Ticket
Traveling through Pyongyang Metro is a very cheap affair. Each ticket costs 5 won which is equal to around UD$ 0.03.
Previously there were aluminum tokens to be used as tickets. The logo of the metro system was mounted on it. Now, the metro authority has introduced paper tickets with Korean 지 printed on it. The tickets need to be scanned at the entry points before allowing passengers access to the main station area.
Facilities and Services
To offer daily commuters and occasional foreign travelers an enjoyable ride, the metro authority offers the following facilities:
It maintains a museum which showcases exhibits on Pyongyang Metro's history and gradual development.
There are free toilets on the stations.
While waiting on the stations, passengers can hear state radio broadcasts and read the local newspaper.
Rules
On the stations and also on the trains, passengers must follow certain rules and etiquettes to ensure a pleasant travel experience for everybody.
Eating, drinking, smoking etc. are prohibited inside the subway and a violation of this rule results in lump sum fine.
Riders must take note of the barriers at the entry gates.
After getting on the train, riders should make sure that no part of their body or their belongings are hanging outside.
Tips
Following tips can be helpful if you are using the metro for the first time:
If you are a foreign traveler, before getting off or photographing in any station, make sure you have the due permission.
Most of the stations have adjacent bus and taxi services. Plan your trip accordingly to save time.
Media