Metros in France: Rouen Metro
Rouen is a small city located in the north of France and known as the capital of the Normandy region.
It has a little more than 110,000 residents and the number rises considerably to almost 660,000 when the metropolitan area is included.
Rouen's history dates back to the dawn of the Roman Empire, when it was founded by Emperor Augustus, who governed from 27 BC to 14 AD. It is reserved as an extremely rich treasure that attracts thousands of tourists.
Additionally, as a port city, the sea is key to its economic development, as it forms a connection point between the English Channel and Paris.
Subsequently, having overcome the Second World War, the city of Rouen began to grow rapidly while the population also rose. It was already evident by 1980 that the infusion of the city's public services, including public transportation, had surged due to the initiatives to construct a more robust mobility system.
The idea of building a comprehensive rail transportation system gave way to the origin of the Rouen Metro.
In 1989, administrative requirements for the project were put into place, with construction beginning 2 years later in 1991. The work lasted 3 years before the first section was finalized in December 1994.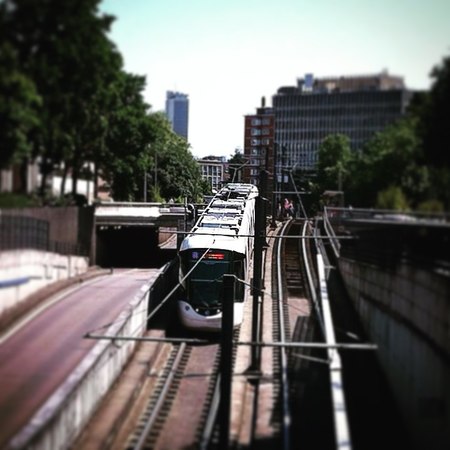 Rouen Metro
Since then, the current system route has expanded to 15.1 kilometers (9.4 miles) with just one commercial line and 31 stations. Although, the corresponding result is known as the Rouen Metro, it is truly more like a tram or at most a light rail.
Lines and stations
The Rouen Metro currently has a commercial route of 15.1 kilometers (9.4 miles) although the sections reaching the train parking areas extend to 18.2 km (11.3 miles).
Its 31 stations serve more than 80,000 riders daily and are especially distributed among the Jouvenet and Saint-Sever neighborhoods. The network also runs from the Boulingrin stop to Saint-Sever, where the system divides into two branches but is still part of the same line.
One is directed to the Le Grand-Quevilly municipality, arriving at the Georges Braque stop, while the other serves the Saint-Étienne-du-Rouvray community, where the Technopôle terminal is found.
The following are some of Rouen Metro's stations.
Boulingrin: This terminal's station is in the Jouvenet neighborhood, specifically in Boulingrin Square. Inaugurated on December 16, 1994, its location represents an important connection point for locals. By contrast, it stands out as being the station with the fewest number of stops on the surface level.
Gare-Rue Verte: Also located in the Jouvenet neighborhood, this station is very close to the considerably high traffic area of downtown Rouen. The striking creations housed in this station are the noteworthy works of artists Brian Coleman and Florian Lechner.
Palais de Justice: Located in Rouen's city center, this stop represents a high traffic area due to its proximity to the city's Justice Palace and the notable Jeanne-d'Arc Avenue. It was opened in 1997 and once inside, travelers can reach the works of Philippe Kauffman.
Théâtre des Arts: Opened in 1994, this station can be found between the Vieux-Marché and Cathédrale neighborhoods. It is specifically located between Jeanne-d'Arc Avenue and the Théâtre des Arts. Inside, sit some of the creations by artists Jean-Pierre Bourquin, Denis Godefroy y François Perrodin.
Joffre-Mutualité: This station was inaugurated on December 16, 1994 and is in the Saint-Sever neighborhood. Within this structure, travelers will have the opportunity to appreciate the various works of US artist, Keith Sonnier.
Saint-Sever: Located on Bretagne Avenue in the neighborhood by the same name, this station opened its doors to riders in December 1994. It is a high traffic stop due to its connection and branching off at the Technopôle and the Georges Braque lines. This has subsequently caused the station to be the focus of multiple expansions since its inauguration.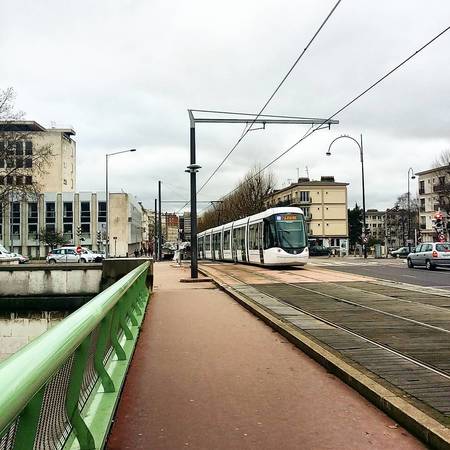 rouen Metro
Connections
The Rouen Metro is extremely integrated with the local bus lines known as Metrobús, a bus system that circulates along particular routes that are designated for bus use only.
Below are various below ground connections.
Boulingrin: This is one of the terminal stations where the Metrobús T1 line and bus numbers 4, 22, 40 and t53 can be boarded.
Beauvoisine: Riders have access to bus numbers 6, 7, 20 and 22 at this station.
Gare-Rue Verte: Passengers can connect to bus numbers 4, 8, 11, and 13 at this station.
Palais de Justice: There is only one connection to the bus number 8 at this station.
Théâtre des Arts: This is one of the stations with the highest number of connections in which travelers can catch the Metrobús lines T1, T2, and T3 and the bus numbers 8, 10, 20, and 21.
Europe: This station only connects with the number 6 bus line.
Hôtel de Ville de Sotteville: This station connects with the bus lines 10, 41, and t54.
Ernest Renan: Only a connection to bus number 42 can be made from this station.
Technopôle: Riders can also catch the bus number 26 from this station.
François Truffaut: Only a connection to bus number 41 can be made from this station.
Place du 8-Mai: Like François Truffaut, only a connection to bus number 41 can be made from this station.
Saint-Julien: Bus numbers 41 and 6 are accessible from this station.
Charles de Gaulle: The only connection at this station is bus number 6.
J.F. Kennedy: This station has a connection with bus numbers 42 and t54.
Paul Cézanne: This station only has a connection to bus number 6.
Georges Braque: Currently, riders can access bus numbers 6 and 27 from this stop.
Schedule
The Rouen Metro has a substantial schedule for the city's residents and visitors. The trains run from 4:30 am to 11:30 pm although they sometimes remain open 15 minutes longer while all passengers are exiting. This schedule runs Monday through Sunday although the train frequency varies.
The frequency of trains can be seen below: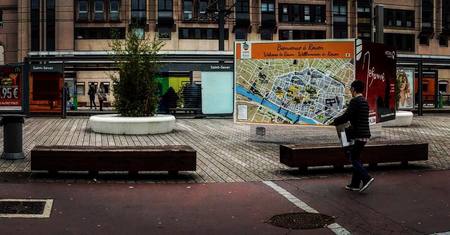 Saint-Sever (tramway de Rouen)
Monday to Friday (Boulingrin to Saint-Sever): The trains service the platform every 4 minutes on the route from Boulingrin station to Saint-Sever station, where routes (Technopôle and Georges Braque) travel simultaneously. During peak hours, between 7:00 am to 9:00 am and 4:00 pm to 6:00 pm, there is a wait time of only 3 minutes between trains.
Monday to Friday (Saint-Sever–Technopôle and Saint-Sever–Georges Braque): In the case of these uniquely used routes, the wait time between trains is every 8 minutes, decreasing to every 6 minutes during peak hours. (7:00 am to 9:00 am and 4:00 pm to 6:00 pm).
Saturdays (Boulingrin to Saint-Sever): On Saturdays, these shared lines run every 6 minutes, although the influx of trains slowly increases to every 3 minutes, during peak hours until 7:00 pm.
Saturdays (Saint-Sever–Technopôle and Saint-Sever–Georges Braque): With these uniquely used routes, the wait time reaches 12 minutes between trains, although it does increase over the course of the day to 6 minutes.
Sundays (Boulingrin to Saint-Sever): The wait time for riders on Sundays on this common route is every 10 minutes, due to the small influx of passengers.
Sundays (Saint-Sever–Technopôle and Saint-Sever– Georges Braque): The wait time between trains reaches up to 20 minutes for this unique route.
Fares
The Rouen Metro offers riders various payment methods, common to those used in most transportation systems, such as prepaid cards and plans that can be adapted to the rider.
Tickets
1 Trip: This ticket provides passengers with access to Metro and Metrobús within an hour, from the time of validation. It costs €1.60 (US 1.91) and can be purchased at any of the sales offices in the below ground stations or at the automatic ticket machines.
10 Trips: This pass comes in the form of a magnetic card and allows riders ten trips on the Metro and Metrobús. This is ideal for tourists and people making multiple trips in the same day. It costs €14.30 ($US 17.10).
YOUTH 10 Trips: Like the preceding, this pass allows riders ten trips on the Metro and Metrobús with the advantage of having a reduced fare. This pass is only available to individuals under the age of 26. It costs €8.50. ($US 10.16).
MODERATO 10 Trips: This trip allows riders 10 trips on the Metro and Metrobús at a reduced fee but may only be used by children between the ages of 4 and 6. It costs €3.20 ($US 3.80).
SENIOR 20 Units: This alternative allows 10 trips on the Metro and Metrobús, however, it can only be used during a certain schedule: from opening until 7:00 am, followed by 9:30 am to 4:30 pm and later from 7:00 pm until closing. It costs €10.60 ($US 12.68).
DÉCOUVERTES 24 Hours: This allows riders 24-hour access to Metro and Metrobús from the time of purchase. It is highly recommended for tourists visiting the city as it is especially designed for this purpose, not to mention its low cost. This pass is just €5.00 ($US 5.98).
Payment plans (Subscriptions)
Youth subscription – Under age 12: Designed for children under 12, this pass allows riders the choice of unlimited travel for a month or for a year on the Metro and Metrobús. The monthly pass is €7.58 ($US 9.06) and the annual pass is €88.00 ($105.23)
Youth subscription – Under age 17: This plan is currently designed for youth under the age of 17, providing the option of unlimited travel on the Metro and Metrobús for either a month or a year. The monthly price is €14.16 ($16.93) and it is €167.00 ($US 199.70) if one wishes to purchase the annual plan.
HALF-PRICE 365 days: This plan is for the general public and is ideal for frequent Metro and Metrobús riders living in the city. The annual fee is €245 ($US 293), although monthly payments of €20.66 ($US 24.71) can be made with a legal city address and a bank account.
HALF-PRICE 31 days: This plan is for the general public but unlike the preceding plan, it does not require a legal city address nor a bank account. It costs €27 ($US 32.29).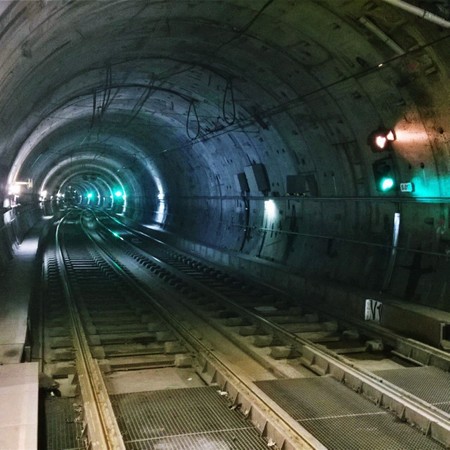 rouen Metro
Regulations
Naturally, the Rouen Metro has a set of established rules, in all its facilities, to help improve the riders experience and that should be followed while using the service. They are detailed below:
Tickets must be validated each time one boards a train, which includes boarding from a Metrobús transfer.
Only guide dogs or animals small enough to be kept in special travel containers are permitted on the underground trains and buses.
According to established rules, imposed by the city's legislation, smoking is completely prohibited on metro trains, including electronic cigarettes.
To avoid degrading the services provided on the Metro and Metrobús, it is recommended that one avoid opening the windows to keep air from escaping from the air conditioner.
Respect the seats reserved for persons with disabilities, seniors, and pregnant women.
For optimal boarding and exiting of the trains, allow all other passengers to get off the train before boarding.
There are reserved spaces for transporting wheelchairs that should not be obstructed in any way.
Transporting large items that take up excessive space is prohibited to in an effort to maximize comfort. Pyrotechnic products are also not permitted on board.
Strollers can be taken on board, without any issue, although it is important not to place them in the way of other riders. Also, only three are permitted per train car.
Vandalism is completely prohibited in any Rouen Metro facility including graffiti, vehicle sabotage, or intentional harm to stations or train devices.
Bicycles are permitted on the metro, and when folded or otherwise, they should not take up excessive space in the train car. However, one should consult Rouen Metro's official site for the days and times that bikes can be transported.
Roller skates may not be worn in any metro facility.
Connections to the Airport
The Rouen Metro does not have a direct connection to the Rouen Vallée Seine Airport. There is no bus line dedicated to reaching it. As a result, travelers must use taxis to reach the airport.
However, one can save money by taking advantage of public transportation and getting as close to the terminal area as possible. To do this, read the following instructions closely.
Primarily, one must board the metro system to reach Gare-Rue Verte station, where the bus number 13 can be taken from its stop right outside the train station. Next, it is of great importance that one pay attention to the route so that they exit at the shopping center stop, La Claire Voie, which can be found in front of the Centre Commercial du Canivet. Following arrival to this stop, one can take a taxi to the airport. Due to the proximity of this commercial center with the terminal area, the result is a much lower fare than what would have been paid if leaving directly from the center of Rouen.
In turn, if one wishes to travel from the Rouen Airport to the city center, one can use the aforementioned route with the goal of saving some money, especially if traveling without large sized luggage. Taxi stands can be found outside the airport to take you the destination of your choice. In this case, it will be the shopping center, Centre Commercial du Canivet.
Once in front of the shopping center, one can wait for bus number 13, going towards Rouen's city center. It will make various stops along the way.
Future expansions
There are plans to extend the route that serves the Le Grand-Quevilly neighborhood to the Zénith arena concert hall located in the same area. However, the project was introduced in the 90s and failed to materialize. In any case, officials will communicate the considerable need for this future extension.
Also driving the reconstruction announcement is the forgotten Gare de Rouen Saint-Sever railway station under the administration of the Rouen Metro. This affirms that there will be a necessary expansion of the Saint-Sever station. The idea to accomplish this surged as the buses no longer have the capacity to transport the way trams can. The most recent ideal mode for transporting a large number of people points to a railway system.
However, at the current moment, it has not yet been officially declared, and this project remains in mere speculation on the part of some professional architects and engineers who work for the metro.
Tourist attractions
Near the Gare-Rue Verte station lies the Museé des Beaux-Arts de Rouen, a museum in which a large quantity of paintings dating back to the 15th century can be found. This museum welcomes thousands of tourists each year who visit for the grand beauty it offers.
Standing out is its exhibition of impressionist paintings by the artists Monet, Pissarro, and Gaugin. They are the site's main attractions. Likewise, a variety of art appreciation events, found on the museum's website, are held each year. Undoubtedly, it is a space where artistic sensibility can be rediscovered.
Additionally, a few blocks from the Gare-Rue Verte station, the Cathédrale Notre-Dame de Rouen can be found. The cathedral is an exquisite architectural work from the 13th century that can be appreciated for its perfected gothic style, constructed with materials from the Late Middle Ages. Even if one is not a worshiper, it is worth visiting this history filled cathedral that served as a witness to some of Rouen's most meaningful moments.
Media