Cairo's Metro
Because of its large population and exit with tourism, it's no surprise Cairo is the first city in the african continent that has a metro system. Cairo's metro was inaugurated on September 27th of 1987 before the urgent need of increasing public transportation. The company in charge of the construction was an Egyptian-French company called «Entra Nevra Arabco». It started with one line, line one, which was built in three phases. Later on in 1990, they opened a second line, line 2. Since 2014, it has 3 lines, 61 stations, which make a total of 77,9km (48,4miles)
Cairo's Metro system is mixed. Meaning, parts of it are subterranean, and some are superficial. To help minimize and even avoid sexual harassment, each train offers two wagons in the middle of the train, which can only be used by women, even though it's not mandatory, given that they can also sit all throughout the train. Since December, 2011 «Transurb Technirail» provides Cairo's metro with a train simulator as well as a learning zone in line 1 and 2 so that they can always teach their drivers and better their driving skills.
Known as:Metro
Number of lines: 3, 2 operational and 1 under construction
Number of stations: 57
Length of the system: 65,5 Km
Passengers/year: 600 millions
Max Speed: 100km/h
Website: www.cairometro.gov.eg
Operator and owner:Egyptian Railway Authority
Start of operations: September 27, 1987
Lines and stations
Line 1, red line or "French Line"
Line 1 (red color) also known as "the French line" is 44,3km long (27,5 miles) and mostly all of it is superficial (only 3 kilometers are subterranean) .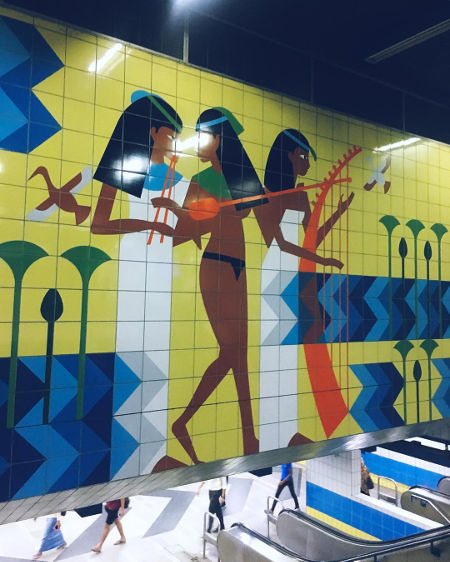 Metro Cairo
Their trains have 9 wagons with a capacity of 2583 sits each and a maximum speed of 100km/h. It makes 500-550 trips daily, with a time difference of 3-4 minutes between each train. On a daily basis, it can transport up to 60.000 passengers in each direction.
They have at their service 35 stations, which last stops are Helwan (to the South of the City) and New El-Marg (Center of Cairo). It connects with line 2 in stations Al-Shohadaa and Sadat. The whole trip in line 1 takes approximately 45 minutes.
Leaving New El-Marg, this is the order of the stops: New El-Marg , El-Marg , Ezbet El-Nakhl , Ain Shams , El-Matareyya , Helmiet El-Zaitoun , Hadayeq El-Zaitoun , Saray El-Qobba , Hammamat El-Qobba , Kobri El-Qobba , Manshiet El-Sadr , El-Demerdash , Ghamra , Al-Shohadaa , Orabi , Nasser , Sadat , Saad Zaghloul , Sayyeda Zeinab , El-Malek El-Saleh , Mar Girgis , El-Zahraa , Dar El-Salam , Hadayeq El-Maadi , Maadi , Sakanat El-Maadi , Tora El-Balad , Kozzika , Tora El-Asmant , El-Maasara , Hadayeq Helwan , Wadi Hof, Helwan University, Ain Helwan, Helwan
On the Sadat stop, you may find Tahrir Plaza, also called "freedom plaza", separated of Famous Nile River by the famous «Nile Hilton Hotel» and also where we can find one of the principal attractions in Cairo the «Egyptian Museum». This stop was closed during a few years to avoid disturbance but fortunately, now it's open to the public.
The Al-Shohadaa stop, was called Mubarak before the Egyptian Revolution in 2011, and later on became to be known as Al-Shohadaa, martyrs in Arabic. It's the connection with the trains given that it's right next to the Ramses station.
Line 2, orange line or japanese line
Line 2 (color orange) also known as the Japanese line, is 21,6km long (13,4 miles), going through tunnels for a total of 13km (8miles). Their trains have 8 wagons and their full speed is 100km/h. It makes around 620-700 trips daily, with an interval of 2-3 minutes between each train.
It has 20 stations (12 subterranean) and its last two stops are Shubra and Monib. It connects with line 2 in the Al-Shohadaa and Sadat Stations. With line 3, in the Attaba Station. The whole trip through line 2 is 40 minutes long approximately.
As an interesting fact, this is the only line that possess a tunnel that goes under the Nile River.
Leaving Shubra, this is the order of the stops: Shubra, Koleyet El Zeraat, El Mazallat, El Khalafawi, St. Teresa, Rod El Farag, Massara, Al-Shohadaa, Attaba, M. Naguib, Sadat, Gezira (Ópera), Dokki, El Bohoos, Cairo University, Faisal, Guiza, Omm el Misryeen, Sakiat Mekki, El Monib.
Line 3 or green line
Line 3 is in the middle of being expanded. It's calculated that until 2019 or 2020 they will not have a direct stop to Cairo's International Airport. Currently the closest stop to the airport is Al-Ahram, which is 15 minutes away by car or taxi.
Currently, line 3 is 12km long (7,5 miles) It has trains with 9 wagons, and their maximum speed is 100km/h. This train makes around 400-500 daily trips, with an interval of 4-5 minutes between each train. It has 9 stations, and its last stops are Al-Ahram and Attaba. It connects with line 2 in the Attaba Station. In the future, this line will connect with Cairo's airport, Cairo's University, etc. The trip in line 3 lasts around 15 minutes approximately.
Leaving Al-Ahram, this is the order of the stops: Al-Ahram , Kolleyet El Banat, Cairo Stadium, Cairo Fairgrounds, Abbasiya, Abdo Pasha, El Geish, Bab El Sha'reya , Attaba. The Al-Ahram stop is the one that will leave you the closest to seeing the Giza Pyramids.
Expansion
Lines under construction. There are 4 planned lines to descongest the traffic in the city.

Line 3 or green line, is already under construction. It will go from Imbaba to al-Azhar University, and it is planned that this line will get to the airport, in Heliópolis.
Line 4. It will go from Giza Pyramids to Nasr City fro southwest to east.
Line 5 will be circular.
Line 6 will go from Shubra to Maadi.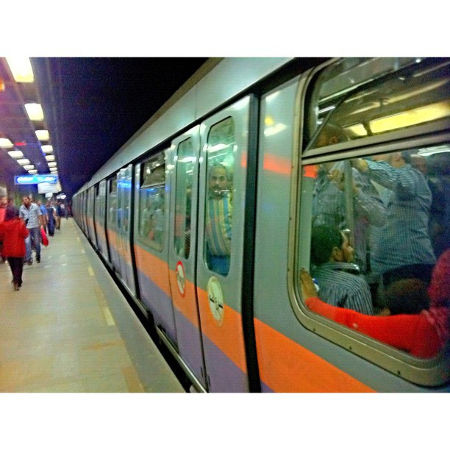 Metro hours
The metro works from 5:00am to 1:00am, with the exception of the "Ramadan" month, where the time is extended until 2:00am. When the train is closed to the public, is being repaired.
Check out the trip planner
Tickets
Using Cairo's metro system is safe and cheap. One ticket is only 1EGP (0,10 € / 0,11 $). You also have the option to buy a 3 month pass or a yearly pass instead. You can buy the tickets at any kiosk available at all the stations. Be ready to be patient, because Egyptians are not accustomed to making lines, therefore, also not accustomed to respecting your turn in line.
If you are a police officer, from the military or a student, Cairo's metro has special discounted tickets for you. They also have special sits for elders and disabled people, and special wagons for women.
Interesting information
El primer coche está reservado sólo para mujeres
In the stations you will also find many other services like newsstands, bookstores, ATMS, amongst others.
Only some of the stations have parking lots, not all of them.
There's a certain behavior expected from passengers, such as: paying for their tickets, respecting other passengers and their privacy, respecting staff, sitting in your assigned sit, not causing trouble for security, using earphones, no eating, no smoking or littering, etc.
Because of the immense wave of terrorism that has hit Cairo, the metro has increased all of its safety measures, especially in problem stops, like the Sadat stop. They've installed cameras, and metal detectors for guns and explosives. Regardless, tourists are recommended to contact authorities before making a trip to Egypt.
Video