Metros in Bulgaria: Sofia
Sofia is the capital of the Republic of Bulgaria and it is also the most significant city in the European country. The city has about 1,300,000 inhabitants, making it the fourteenth most populated city in the European Union. Located in Bulgaria's far east, the geography is extremely varied due to the Balkan Mountains that pass through the city and its position facing Mount Vitosha, The Sofia Valley measures 1186 square kilometers (457.92 square miles), giving the city its large size.
Sofia is also largely known for its history. The city's founding dates back to 7 century BC, with the settlement of a Thracian population. The city has been under the control of many civilizations and people including the Romans, Byzantines, Ottomans, and later the Soviets.
All this bestows the city with a great number of outstanding sites to visit. One of the most remarkable is the Alexander Nevsky Cathedral, one of the most important Orthodox Christian temples in the world. The Saint Sofia Church, the National Palace of Culture and the Boyana Church stand out as well. The National Museum of History showcases another very striking site. Visited by thousands of tourists, it serves as the historical documentation center.
Sofia's temperature ranges between -1 and 8 °C (30.2 and 46.4 °F) during cold months and between 18 and 23 °C (64.4 and 73.4 °F) in warmer months.
The Metro
The Sofia Metro is a mass transportation method, serving the Bulgarian capital. There is a proposed line under construction, and currently only 35 stations operate along 40 kilometers (24.9 miles) The metro's two lines operate independently, though the routes mostly overlap.
Currently, there are three generations of rolling stock running on the Sofia Metro. The first was incorporated after the system's inauguration in 1998. The Russian company Metrowagonmash constructed these 12 trains with a total of 48 cars. The company was also responsible for the second generation of trains that were integrated between 2005 and 2009. This second series, known as Rusich, included 40 trains and 120 cars.
The entire railway park will be renovated with 20 new Siemens Inspiro trains, which exemplify one of the German company's most modern urban metro products. Three trains from this series have been operating since July 2018.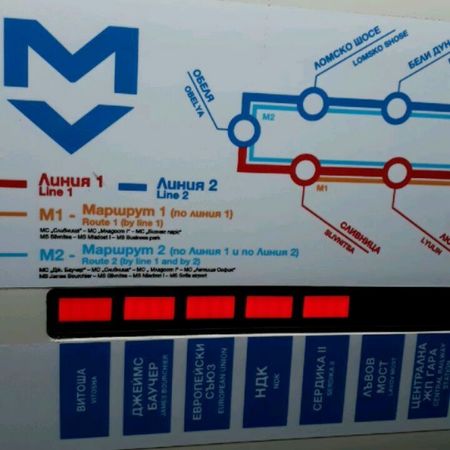 Serdika II Metro Station
Approximately, 340 thousand people ride the Sofia Metro daily.
The system operator is Metropoliten JSC, a dependent of the municipal city government.
Known as: Metro (Sofiyskо metro)
Length: 40 kilometers (24.9 miles)
Rail width: 1,435 mm (4.71 ft)
Number of lines: 2
Number of stations: 35
Maximum speed: 80 km/h (49.7 mi/h)
Website: www.metropolitan.bg
Operator: Metropoliten JSC
Daily ridership: approximately 340,000
Founded: January 28, 1998
Brief history
Like other global level transportation systems, Sofia begin to lay out one that was large-scale. As a result, the initial construction plans began in the 70s, despite there being a communist regime in Bulgaria at the time. The proposal was affirmed in 1972, when the Council of Ministers approved the metro's technical and budgetary report. The system's master plan was approved in 1974, leading to the planned construction of three lines totaling 52 kilometers (32.3 miles) and 47 stations. The first contractor was appointed in 1975.
Construction was a challenge due to valuable archeological items found underground. Many setbacks and problems arose and most of the work in the 90s was delayed. Ultimately, construction was first completed in the areas where most people would travel.
The metro's first section opened on January 28, 1998, followed by ten expansions. The primary ones took place in 1999, 2000 and 2003. The second phase of Line 1's expansion began in 2009. The second line was inaugurated in 2012 and later expanded in 2015 and 2016.
Lines and stations
The Sofia Metro has two operating lines that share most of the same route but branch off at the ends to serve the various parts of the city. The system has both underground and surface stations. The lines and stations include:
Line 1
There are 16 stations on Line 1. With the inauguration of the first section in 1998, this was the system's first line. The terminal stations are Slivnitsa and Bussiness Park Sofia and its distinctive color is red. A connection can be made to Line 2 at Serdika station.
Line 2
Unlike Line 1, this line was very recently constructed, with an opening in 2012. There are currently 32 stations. The terminal ones are Vitosha and the Sofia Airport branch. Blue is this line's distinctive color.
Connections to other systems.
Sofia is a large metropolis with various transportation methods to meet most of its resident's needs. There are four large transportation systems in this Bulgarian capital.
The metro plus the additional three transportation systems are managed by the Sofia Public Transport Company, a public company regulated by the Sofia Urban Mobility Center. The transportation methods, servicing the surface level of the city, include the bus, trolleybus and tram.
The buses have the most extensive network in the system, which can be attributed to the 98 different lines serving every corner of the city. Buses were Sofia's main mode of transportation for many decades throughout the twentieth century. The system became modernized, however, following the collapse of the communist regime. There are a multitude of connections within the Sofia Metro. Some of the route's terminal stops connect to the metro. Buses 44Б, 47, 48, 49 and 54 connect to Slivnitsa station. Additionally, buses 45 and 56 end at Vardar station.
Another of Sofia's important transportation modes is the trolleybus. This system is considerably old with an inauguration that took place in 1941, during the Second World War. Although the system's routes extend a total of 257 kilometers (160 miles), service is currently provided along 193 kilometers (120 miles). The trolleybuses are grouped along 9 distinct lines and the system is mainly concentrated in the residential areas.
Additionally, there are the trams. Inaugurated in 1901, they are a historical symbol of Sofia. The trams that circulate Sofia are modern though their transportation system has been rooted in the city for decades. The network is immense, extending 308 kilometers (191 miles). There is a total of 14 operating lines. Connections from the tram to the metro are common, with most lines connecting to at least one station. Line 1 connects to Knyaginya Maria Luiza station. Lines 3, 11 and 22 go through Konstantin Velichkov station. Line 6 connects to Beli Dunav station and Line 7 connects to Han Kubrat. Additionally, Line 8 passes through Vardar station. Line 10 connects to Vitosha and Line 20 connects to Opalchenska.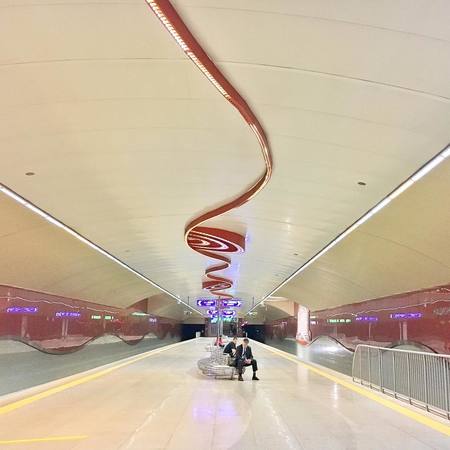 Metro - Bulgaria
The long-distance transportation system also has a presence in Sofia. This is mainly concentrated at the Central Railway Station, which is the oldest in the country and is accessible by the metro's Central Railway station on Line 2. This station likewise provides access to the Central Bus Station which is next to the railway.
Connections to the airport
The Sofia Airport is Sofia's main air terminal. It, additionally, has the highest air traffic in the country. In 2017, the Sofia Airport surpassed 6 million passengers, breaking the national record. This was possible, following the construction of new terminals that modernized this old airport, founded in 1930.
The Sofia Airport has been an integral part of the Sofia Metro since 2015. This followed the inauguration of the Sofia Airport terminal station on Line 2. As a result, any person wishing to travel from the airport to the metro need only board at this station, which connects directly to the modern Terminal 2. There is a free bus shuttle, from 7:00 a.m. to 7:00 p.m., for passengers wishing to reach Terminal 1.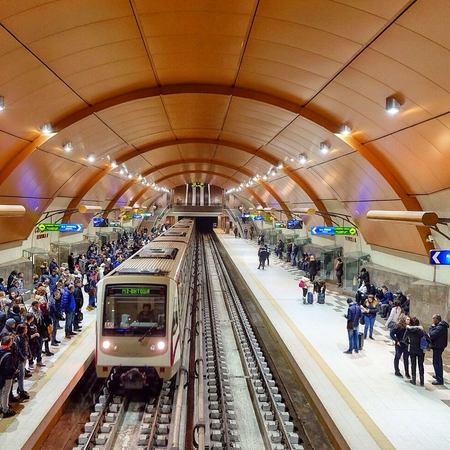 Schedule and frequency
The Sofia Metro schedule runs from 5:00 a.m. until midnight. Opening and closing times vary, however, according to the line and station. Frequency generally varies according to the section traveled, whether its within one line or on one that involves two.
A single schedule is maintained by the section that runs between Slivnitsa and Mladost 1 stations, which operate as a pair and make up part of both lines. Line 2 has another main section, that runs between Vitosha and Slivnitsa stations. Lastly, there is a third schedule and frequency model that corresponds to the last section of each line: This is the section from Mladost 1 to Business Park on Line 1 and the section from Mladost 1 – Sofia Airport on Line 2. Sofia Metro manages the three frequency schedules below: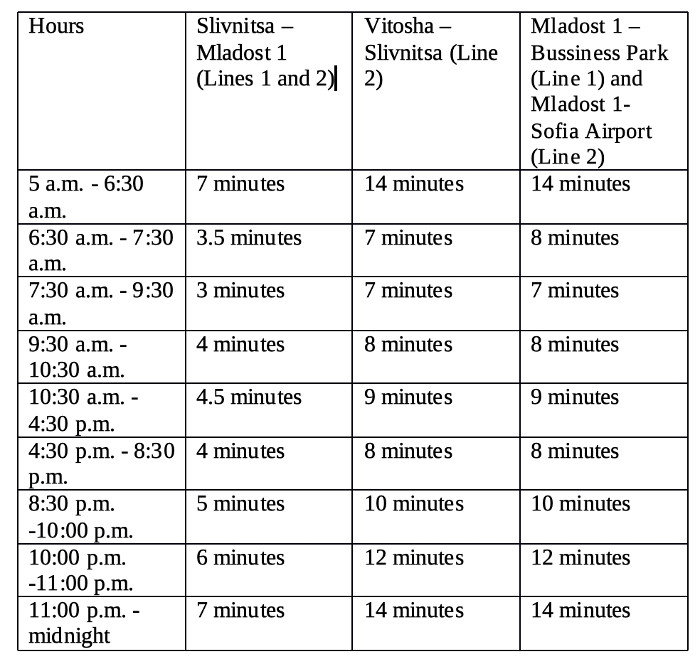 There is a different schedule on weekends and holidays. There are just two sections during this time. Line 2 maintains the same hourly schedule on the Mladost 1 – Bussiness Park section on Line 1 and the Mladost 1-Sofia Airport section on Line 2. Below are the frequencies: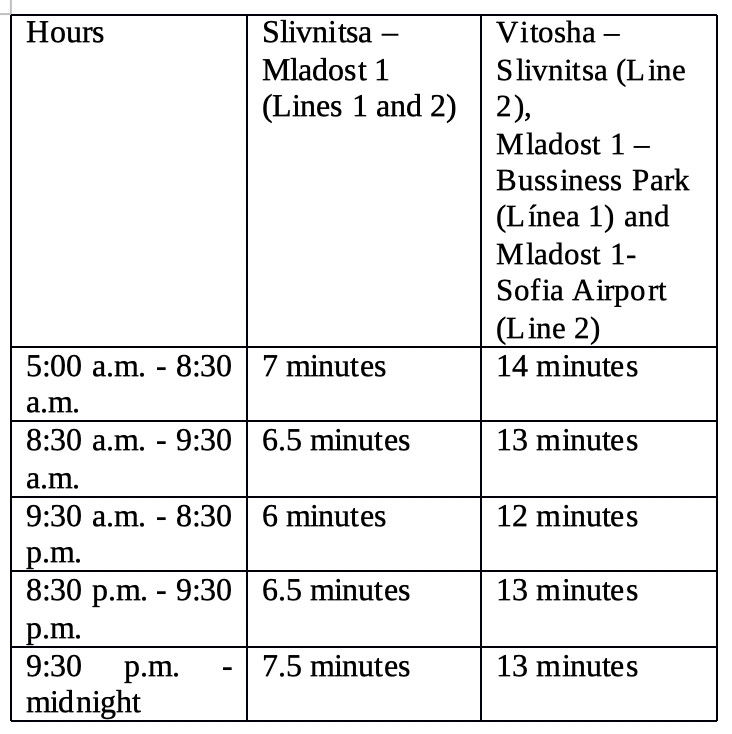 Fares, tickets and cards
Sofia Metro fares vary, and are distinguished according to the riders' needs, such as frequent or occasional usage. A basic ticket is good for 30 minutes. It can be used anywhere in the system and costs 1.60 leva ($US 0.95).
Multi-trip cards are also available. A 10-trip electronic card is 12 leva ($US 7.10). It can be reloaded at any time and is valid for three years. A 20-trip ticket is 36 leva ($US 21.29), 40-trip tickets are 48 leva ($US 28.39) and a 50-trip ticket is 60 leva ($US 35.46).
Another convenient option, especially for tourists, is the day card. The price is 4 leva ($US 2.37) and it can be used on any of Sofia's public transportation. A 3-day option is also available for 10 leva ($US 5.91)
The options for frequent riders are varied and extremely interesting. They may choose personalized rechargeable cards that can only be used by the cardholder. These cost 35 leva ($US 20.70) per month. A non-personalized card can also be purchased for 42 leva ($US 24.84) per month. A personalized card that permits access throughout the entire system costs 50 leva ($US 29.57) per month, while a non-personalized one costs 60 leva ($US 35.46).
These cards may also be held for extended periods of time. There are 3-month, 6-month and yearly personalized and non-personalized ones. Regardless of card type, a valid ticket is required for use of the system to avoid the risk of a fine.
System Regulations
Like any global level transportation system, a set of rules govern and regulate the operations and daily dynamics of the Sofia Metro. Some are included below:
Every rider must have a valid ticket to enter the system. Upon purchase, each passenger must comply with regulations.
Each rider may carry up to two bags on board, at no additional cost.
Strollers and wheelchairs are permitted on board.
A basic ticket must be paid for wheelchairs brought on board but not used.
Bicycles may only be transported after 9:00 p.m. on weekdays and are permitted all day on Saturdays, Sundays and holidays. Riders must travel in the first or last car with their bicycle and pay for an additional ticket.
Pets that pose no threat to riders, are always permitted on the metro. Dogs, cats and small mammals, in proper carrying cases, always travel free. A dog may move about freely if it is registered with municipal institutions and is accompanied with valid travel documentation.
Each passenger must have some form of identification in order to use the system.
Entering the system in an inebriated state or under the influence of any toxic substance is prohibited.
Explosive objects or contaminants that threaten the safety and integrity of passengers are not permitted in metro facilities.
No commercial activity nor propaganda is permitted in the system.
Eating, drinking and smoking are prohibited on all Sofia Metro facilities.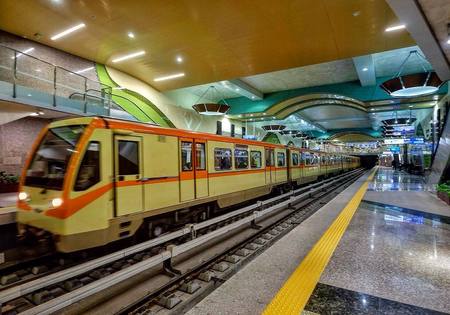 Future expansions
The youth of the Sofia Metro places it in the dynamic position of constant expansion, a growth that has continued since its opening. The most recent extension was on Line 2 in 2015. The municipal government mapped out a project to construct new system stations and lines in May 2018 as well. The plan was divided into four different stages, that would expand two existing lines while creating two new ones.
Line 3 is the first line under construction. It will have 22 stations in total and be constructed in two stages. The first stage will include the opening of 15 stations and the second will add an additional 7 on the eastern section. The terminal stations will be Gorna Banya and Vladimir Vazov
Extending the metro is a long-term project to be developed in several stages. Two new stations will be built in the expansion from Lyulin to Bojurishte. There are additional plans to expand Business Park Sofia to Simeonovo. Four more will be constructed, leaving from Vitosha, from Cherni Vrah to Studentski grad. This section will serve the Lozenets and Cuddendi zones. Seven stations will also be constructed on Line 3's east side to reach the Military Academy.
Tips
Traveling in unfamiliar transportation systems may result in unpleasant experiences. Therefore, when exploring Sofia's Metro, the following tips are recommended:
Most signs are in Bulgarian, a language written in Cyrillic. Therefore, it is recommended to take advantage of the English announcements or to learn some basic vocabulary and spelling in Bulgarian.
Be careful when reloading cards with ten or more trips. Even if trips are still available on your card, topping it off automatically reduces them to one.
Preplan the route you want to take and determine if it is better to purchase a ticket that can only be used on the metro or to purchase one that may be used on all city public transportation.
Notable facts
This metro system is mainly funded by the European Union, especially in regard to construction.
The actual construction and inauguration of the system could only be possible following the collapse of the communist regime.
The metro system is an integral part of Sofia's public transportation networks.
Sightseeing via the Sofia Metro
History. Civilizations. Culture. Fortune. Sofia is world renowned for its antique architectural construction. The structures represent the various communities that have occupied Eastern Europe. Additionally, with Bulgaria's acceptance into the European Union and ever-increasing tourism, the city has been transformed into a modern European city. Some sites to see via metro include:
Ivan Vazov National Theatre: In addition to a theatre, this is symbol of all Bulgaria. Its architectural construction dates back to 1907. Over the last century, it has served as a must-see stop for major artists visiting the city. To reach the theatre, one can take Lines 1 or 2 to Serdika station and head east or get off at SU St Kliment Obridski and walk a few blocks west. SU St Kliment Obridski station is found on several lines.
Alexander Nevsky Cathedral: This cathedral comes to mind when many people think of Bulgaria. At 52 meters high (170.6 ft) and 72 (236.2 ft) meters long, this is one of the largest orthodox cathedrals in the world. Its inauguration was in 1912. This is the cathedral church of the Patriarch of Bulgaria and the epicenter of tourists from all over the world. It can be reached by walking a few blocks north from SU St. Kliment Ohridski station which is accessible on both Lines 1 and 2.
National Polytechnical Museum: This science museum attracts all audiences. Inaugurated in 1957, it houses a collection of 22,000 objects of all types, among which are classic automobiles, space food, pianos, organs and radio transmitters. Larov most is the closest station. One can head north and then east from there to reach the museum.