Metros in Belgium: Brussels
The Brussels Metro runs below the city for about 40 km. It was inaugurated in 1969, nearly 8 decades after its original project was initially conceived, around the year 1892. Its construction was heavily influenced by the ecological impact it has on the city, as it can greatly reduce surface emissions by helping people move around efficiently and thus cutting down on traffic.
The system started its operations within a small 6-station premetro line, part of what we now know as Line 1, that stretches from East to West. Two of the metro lines in Brussels have a relatively straight path, heading towards different cardinal points. Line 2 runs in a circular route around the city center, and line 6 is a mix of both.
The rolling stock has been built by several companies, like the Spanish CAF, and it follows a boa-like design for the trains. They extend for 94 meters. This system transports about 150 million people every year. The operator is known as STIB/MIVB by its French and Dutch initials (Brussels Intercomunal Transport Society), an entity that is dependent on the government.
Known as: Brussels Metro (Métro de Bruxelles / Brusselse metro)
System length: 40 km
Track gauge: 1435 mm
Number of lines: 4 lines
Number of stations: 59
Maximum operating speed: 72 km/h
Website: www.stib-mivb.be
Operated by: STIB/MIVB
Daily ridership: about 415,000 people (150 million per year)
Inaugurated: December 17th, 1969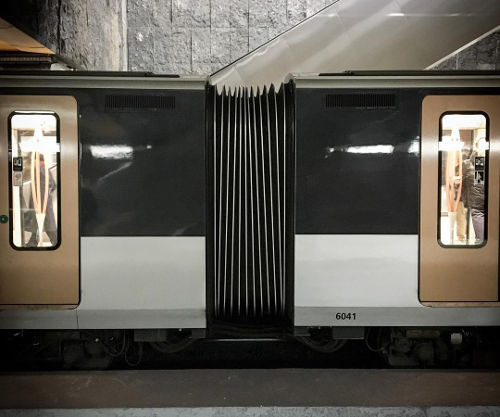 Brussels Metro
Brief history
The first large-scale public transport system in Brussels was inaugurated in May of 1869, when a horse-pulled tram line was opened and served the local populace. It ran from Porte de Namur to Bois de la Cambre, covering one the most important avenues in the city. As time passed by, this system was gradually developed and expanded, incorporating technologies as they became available. A hundred years later, when an efficient electrical tram network was already in place and was aided by a large bus network, works began on the premetro. This first stretch connected the east and west sides of the city, from Brouckère to Schuman through 6 stations. This first phase would eventually become part of Line 1 of the modern metro.
The first line of the metro was formally inaugurated a few years later, on September 20th, 1976. This first phase covered 11 km and connected the city from Brouckère to Merode, from East to West. On October of that same year, the North-South corridor was confirmed, and works began shortly after. This extension of the system would become Line 2, and it was inaugurated in 1988, along with a couple of expansions made to Line 1.
Lines and stations
The Brussels Metro system has 4 lines that provide service to the city. Three of the lines run following the cardinal points, while a fourth line circles the city center. They have a combined total of 59 stations. These underground lines are complemented by the premetro, a semi-superficial tram network built or adapted to the metro standard that connects many other places around the city, including some suburban areas further from the central area.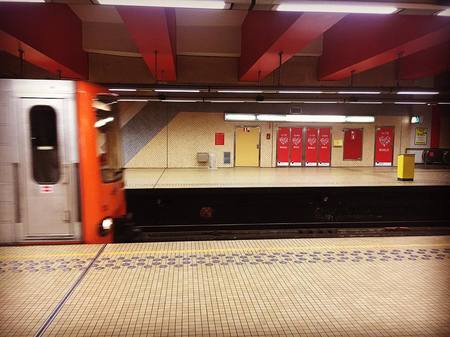 Hotel des Monnaies/Munthof metro station
All stations in the system have platforms for quick and easy embarkment. Most platforms are about 3-5 meters wide. In some stations, there is a single central isle platform that serves both rail lines, and in others there are 3 platforms: a central one that is exclusively used by passengers boarding the trains, and 2 exterior platforms that handle all the passengers getting off the wagons.
Some stations that serve well-known touristic destinations or busy financial or commercial districts have much larger platforms. Examples of this are Beekkant, Gare du Nord and Gare de L'Ouest stations. All of them have 6-meter wide platforms with a length of up to 170 m so they can cope with demand at times when it is highest.
Line 1
This was the first line in the system. It was originally built as a premetro, but was later adapted to a metro standard. It commenced operations as such in 1976. It has an East-West route. It shares a short amount of its extension with lines 2 and 6, and a much longer path with line 5 (a total of 12 stations are shared between line 1 and 5). Line 1 has a total of 21 stations, a total track length of 12.5 km and is identified by the color purple. Its terminal stations are Gare de L'Ouest and Stockel.
Line 2
This is one of the circular lines of the network. Its path follows a system of boulevards that enclose the historical center of Brussels. It serves a total of 19 stations, and despite being called 'circular', it does not allow for a complete loop. Trains running from Simonis (Leopold II) station must reach Simonis (Elisabeth) station and turn back. This line has a total length of 10.3 km, and is identified by the color orange.
Line 5
It shares much of its route with Line 1 (from Merode to Gare de L'Ouest stations), but extends another 9 stations to the west and 7 stations to the east. With a total track length of 17.3 km, this is the longest line of the system. It serves 28 stations along its way from Erasmus to Herrmann-Debroux, its terminals. Line 5 is identified by the color yellow.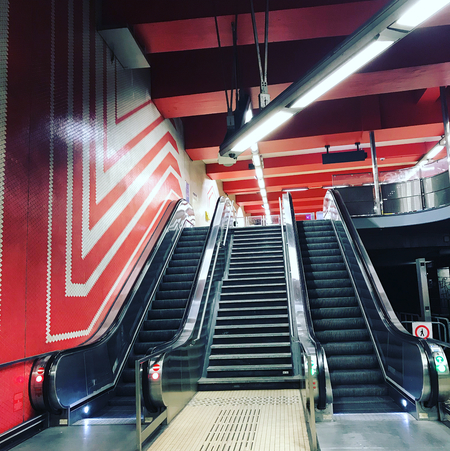 Brussels
Line 6
Identified by the color blue, this line shares most of its route with line 2, as it covers the entire circular path of the latter. However, it also has an extension that heads to the northern part of the city, and serves and additional 7 stations along its way. It has a total of 26 stops distributed along its 15.5 km of track, and runs from Simonis (Elisabeth) to Koning Boudewijn.
Connections with other systems
The metro of Brussels is not robust or large enough to fulfill the need for transport within the city, as the capital of Belgium is quite large: it covers an area of 160 sq. kilometers, and about 2.7 million people call the metropolitan area their home. As with any large city, this capital city requires much more than just the metro system: a large network of trams cover about 139 km of track on the surface, making it one of the largest tram networks in Europe. It has a total of 17 lines, and 3 of these qualify as premetro.
The premetro (a tram network built or adapted to the heavier, more robust metro standard) covers 23.7 km and provides service to 15 stations. All lines of the premetro already have a connection with the subway: lines 3 and 4 (that run from North to South) and line 7, that connects the central part of Brussels with some of its suburbs. The rest of the tram lines spread through the city, and connect many of its suburbs.
Apart from these two rail systems, a large and efficient bus network complements the public transport offer of the city. It is also run by the STIB/MIVB, the same operator that handles the metro and trams. A total of 52 bus lines and 11 night lines (known as Noctis) are operational within the city, aiming to complement and provide an extensive transport solution alongside the other systems.
Connections to the airport
The Brussels-National Airport, located in the nearby municipality of Zaventem, is the most important airport in the country. It is the central hub for Brussels Airlines, the largest airline in Belgium and an important one in Europe. This international airport handles an approximate of 23 million passengers every year.
Since it is an important transport hub that provides services to many people, the Brussels Airport must have a strong and efficient connection with the public transport systems in the city. However, there is no direct connection with the tram or metro networks as of early 2018. The airport is currently served via direct bus lines run by the STIB/MIVB that connect it with the main bus stations and tram lines. Line 12 operates Monday thru Friday until 8 pm., and Line 21 takes over the nocturnal hours and weekends. Both lines serve the same stations, and any passenger can reach Shuman station of metro lines 1 and 5 in less than 30 minutes.
Schedule and timetables
The metro in Brussels has different schedules for every line, according to the day of the week. In broad terms, the general schedule ranges from 5 a.m. to midnight, with a variation of about 30 minutes depending on which metro line and which day it is (regular weekday, weekend or holiday). The premetro lines have a shorter day, as they close around 11 p.m.
The frequency of the trains varies from 5-10 minutes during rush hours to 10-20 minutes during weekends and holidays.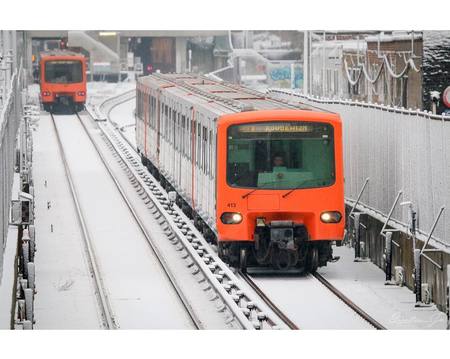 Tariffs, tickets and cards
The public transport systems in Brussels are all run by the same government-dependent administration (STIB/MIVB) that is operating since 1954. This makes it easy for the company to unify its prices, integrate all transport systems and simplify ticketing operations. A single ticket has the same price and is valid for the metro, premetro, trams and all bus lines.
The price of the ticket is dependent on two factors: the amount of time the passenger will be able to use the services (valid time of the ticket); and the number of trips the ticket will effectively validate.
Single tickets are priced at €2.10 (about $2.52 USD) if they are bought at the stations themselves or at any other shop or newspaper stall. For round tickets, the price doubles to €4.20 (about $5.05 USD). These tickets have a catch, however: the return trip must be made within 24 hours after the ticket is bought. Otherwise, it will expire.
There are other options for those who seek to save a little bit of money when using the metro. The 5-ticket packs offer five single-use tickets for €8.00 (about $9.63 USD), while the 10-ticket variant will cost you €14.00 ($16.86 USD). The day pass is a popular option for those in a short trip to the city, as it allows for unlimited travel in all systems for up to 24 hours. The day pass costs €7.50 ($9.03 USD).
Children under 6 years of age may travel free of charge, as long as there are up to 4 children per accompanying adult. If this limit is exceeded, the additional tickets must be payed for. Pets are allowed in the transports, but they must be kept very close to the owner and must not cause discomfort or trouble to other passengers.
As with any comprehensive public transport network, there are a number of offers tailored to specific buyers. Among of the most popular ones is the school pack that is available for any student between 12 and 24 years of age. It has a base cost of €50.00 (about $60.21 USD) per year, but discounts are available for families that have multiple subscriptions. To use these tickets, or any other multipass or special tickets, passengers must have a MOBIB card (available for €5.00).
Future expansions
The metro of Brussels is known for always being under construction for renovations or expansions, so it can keep up with demand and provide a better user experience. One of the most recent changes involve a large-scale reorganization of the lines themselves, the extension of the North to South axis and the addition of new rolling stock. The most recent units come from the Spanish CAF, both for the metro and tram networks.
This is not all, however, as the upgrades extend well beyond the rolling stock. 2007 saw the beginning of an ambitious project that aims for the expansion of the system with new stations, and for the renovation and modernization of all existing stations by the year 2020. Many of these upgrades involve elevators and an entire separate system dedicated to the elderly and disabled, so they can easily access the metro and take full advantage of it.
Another ambitious goal set for 2020 is the complete automatization of lines 1 and 5, so they can operate autonomously without the need for a human driver. The operator has been acquiring and testing automatic machines since 2013 in order to fulfill this goal. The core purpose of all upgrades is to improve quality and user experience.
The largest task, however, is the adaptation and construction of line 3 of the metro. It is currently on its premetro state, so it is largely ready for the transition, but some sections remain on the surface. Tunnels must be completed before the line can be operational, as line 3 will also run entirely underground. The projected route for line 3 will increase the North to South axis considerably, as it will run from Gare du Nord all the way to Bordet in nearby Evere, so more so Brussel's suburbs will be directly connected to its center via the metro.
This planned expansion will considerably increase passenger flow and capacity. Al least 18 more stations will be added to the system, as well as a minimum of 10.3 km of track. Line 3 will make the crossing of the city possible, as passengers could go from one end to the other (crossing through the city center) in about 20 minutes. This entire project will be particularly beneficial for the northern part of the city, as that area of Brussels is expected to grow and develop considerably in the next 20 to 30 years, bringing with it the need for robust and reliable public transport.
The works on line 3 of the metro are expected to finish in the year 2025, so the goal is very high. The creation of an efficient system is a huge challenge. Among other goals, the Brussels metro aims for an impressive frequency, reducing the current rates considerably and increasing the operative speed at the same time, thus increasing capacity by at least four times.
Advice
The Brussels metro can be quite difficult to navigate, as it has many stations and several connections to a very large tram network. Because of this, tourist and visitors not familiar with the metro are encouraged to have a map and plan ahead of their trips every time they use the system.
The entirety of signs and indications used in this metro are bilingual: French and Dutch. If users are not familiar with these languages, they will have to rely on a translation device or dictionary.
It is advisable to purchase tickets from TVM (ticket vending machines) at the stations or at newspaper booths, as any tickets bought directly from the driver will have an additional fee.
All tickets must be validated before entry. Most access points are unguarded, as users are expected to respect their transport. However, fines and other measures could be implemented if anyone is caught taking advantage of that trust.
Even though Brussels is considered a very safe city, it is never unwise to keep your belongings safe, specially while traveling in large public transport systems like the metro. Keep them close by and where you can see them all times, preferably in front of you.
Fun facts
The first projects for a metro date back to 1892, but it took almost a century to be fully operational.
The metro of Brussels is considered the largest museum in the city, as many of its stations hold art exhibitions from many different genres and artists. Some of the artists that have had their works on display are: Pierre Alechinsky, Christian Dotremont, Jacques Bage and Elisabeth Barmarin.
Line 5 of the metro has a station named 'Eddy Merckx' after the 5-time winner of the Tour de France. Among the feature of the exhibition are his bicycle and other personal items.
Tourism and sightseeing
Brussels is one of the most visited cities in Europe. It is the capital of Belgium and one of the most important cities in Europe, specially for its political and economic drives. Many tourists head there to explore the vast cultural, architectonical and gastronomical riches it has to offer. In addition, Brussels offers a dynamic mix of fast-paced diplomatic and financial life, relaxed and tranquil parks and green spaces, rich cultural heritage and vast entertaining options. Some of the most recognizable places one can easily visit with the help of the metro are:
The Atomium: this structure is frequently compared to the Eiffel tower, as it has become an iconic sight of the city. This large metallic construction is 102 m tall, and was designed by André Waterkeyn for the 1958 Brussels World's Fair. It represents an iron crystal structure, but magnified 165 billion times. It is now a museum, and each of its spheres hold exhibitions from the expo it was created for. The Atomium is located nearby Heysel station from line 6 of the metro.
Cathedral of Brussels: formally known as Cathedral of St. Michael and St. Gudula, this is one of the most important monuments in the city. It has an iconic gothic style and dates back to the 15th century. Although it has been ransacked a couple of times in the past, it still holds relics of great artistic and religious value within its walls. To reach this cathedral, passengers must get off the trains at Gare Central station of Line 1 or Parc station of Line 5.
Manneken Pis: this legendary statue of a small child urinating in a fountain is one of the most visited attractions in the city. Many excellent chocolate and beer shops are around the area, and waffles or the famous Belgian fries are also easy to find. To reach this area, passengers should get off the metro at Bourse station of Line 5.