Istanbul Metro
Four of the existing lines (M1, M2, M3 & M6) run on the European side of Istanbul whilst the M4 line runs on the Asian side. This equates to 54 stations on the European side. The metro system in Istanbul is also complemented by a line of Premetro (Hafif Metro), a suburban train, a tram system, an urban network of buses and a funicular
Historical Background
Plans for a fully linked transport network in Istanbul were first conceived in 1912. The city already had an underground line which was second only to the London Underground in terms of the world's oldest, the funicular subway, the Tünel, opened in 1875 and is still in use today. The original plans for the metro system however, were never put into practice and it was 24 years later, in 1936, that the idea was further discussed. Yet further proposals were put forward in 1951 but construction for the project didn't commence until 1987 after a series of delays and postponements.
Construction was slow due to the continual discovery of historical sites but the first line opened in 1989, the M1 The first stations to open were Aksaray, Emniyet to Fatih, Topkapı to Ulubatlı, Bayrampaşa to Maltepe, Sağmalcılar and Kocatepe. This line was followed by the completion of the M2 line in 1992.
Hours of Operation and Timetables
The Istanbul Metro commences from around 06:00 and runs until just past midnight in most cases. Some trains run until 01:00 but it depends on which line you are on and which direction you are travelling.
If you require specific train times by station or by line visit Metro Istanbul. This is an English version of the site and as well as timetables there is also a route planner and maps of the network.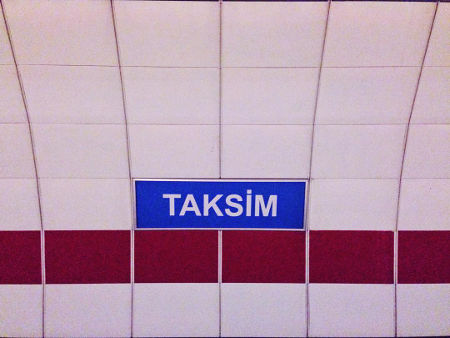 Istanbul Metro
Lines and Stations
There are four lines which currently run on the European side of Istanbul.
The red coloured M1 is the oldest line and is split into two separate sections. The M1 line runs from Yenikapı to the coach station at Otogar; then the M1A branch line runs from Terazidere to the Atatürk Airport and the M1B branch line runs from Esenler to Kirazlı. During peak hours trains run along the line a maximum of three minutes apart. This line is completely segregated from other transport systems and has no level crossings to delay it. A large proportion of this line runs underground. Average speed is 36,7Km/h. Trip time is 32 minutes. M1 makes about 416 trips daily.
The M2 line runs from Hacıosman to Yenikapı. It is the busiest of all the metro lines taking an average of 320,000 per day and is coloured green on the map. This line is fully accessible for disabled people with all stations providing both lifts and escalators. This line was constructed to withstand earthquakes with a magnitude up to 9.0. Trip time is 27 minutes and average speed is 36,7Km/h. Frequency at rush hours is 4 minutes. It makes 394 trips daily.
Stations: Hacıosman, Darüşşafaka, Atatürk Oto Sanayi, İTÜ - Ayazağa, Seyrantepe - Stadyum, Sanayi Mahallesi, 4. Levent, Levent, Gayrettepe, Şişli - Mecidiyeköy, Osmanbey,Taksim, Şişhane.
Golden Horn metro bridge, Unkapanı, Şehzadebaşı, Yenikapı
The M3 runs from MetroKent to Kirazlı. However at İkitelli Sanayi, the fourth station on the line, the line splits into two branches with one branch heading on to Kirazlı and the other calling at two alternative stations, Ziya Gökalp Mahallesi and Olimpiyat. This line is coloured light blue on the network map.
The last existing line on the European side of the metro, the brown coloured M6, calls at just four stations from Levent to Boğaziçi Üniversitesi. This line is served by just two trains and is mostly single track with passing points at stations.
On the Asian side there is just one line serving nineteen stations. The M4 line runs from Kadıköy to Tavşantepe and is the pink line on the network map. This line is entirely underground with some stations located below sea level.
Airport Connections
Atatürk International Airport can be reached on the metro line M1A. This section of the line was first opened in 2002. For passengers arriving at Atatürk this line will also take you to the city bus terminal whilst passing some of the most famous sights in the European part of the city.
There is currently no connection from the metro to Sabiha Gökçen International Airport but the M4 line is currently being extended to reach it and is due to open in 2018. The delayed M5 line also has plans to expand to the airport in the future.
Fares and Tickets
The most convenient and the cheapest way to travel upon any public transport system in Istanbul is by using a İstanbulkart. These cards can be purchased from İstanbulkart vending machines, newspaper kiosks or at the ticket offices of major stations. They initially cost TL10 which breaks down as TL6 for the card and fare credit worth TL4. When you are entering a station to ride on the metro you simply place the card on the sensor on the way in and on the way out and it will deduct the correct fare accordingly. You keep the card and when you want to top it up you simply do so by revisiting a İstanbulkart vending machine.
Disposable tickets are also available. Biletmatik Fare Cards can be purchased for between TL4 and TL30. The more you pay the cheaper it is per ride. For example the TL4 card is good for one fare and the TL30 card is good for ten fares, meaning the cost per fare is TL1 cheaper if you buy the more expensive card.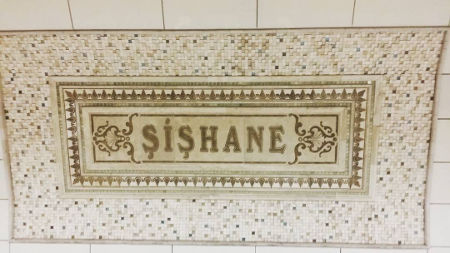 Istanbul Metro
Single fare tokens, jetons, separate from the Biletmatik Fare Cards are also available from Jetonmatik machines. 1 Jeton costs 2,35TL. A jeton is a plastic tab valid for a single ride.
Parking
There are park & ride facilities available at metro stations for passengers. At some stations you will find that the parking gates are closed during the working day between 09:00 and 16:00. If you need to retrieve your car before this time there will be a free call telephone available which will allow you to speak to someone who can lift the gate.
Rules
As with the transport operations in most major cities, the Istanbul Metro has some rules and regulations to follow for the reasons of comfort and safety.
Bicycles are allowed on to trains but only during off peak hours. During on peak hours only folding bicycles are allowed on board.
Small pets can be taken onto the trains as long as they are not poisonous. Exceptions are made for larger dogs if they are guides for the physically impaired.
All those aged six and above are expected to pay for travel. Children aged under six are not expected to take up a seat if it is required by a fare paying passenger.
Photographs are prohibited at all times as is the recording of video.
Security operations are carried out remotely and in person, all persons must submit to these checks.
Future Expansion
As already mentioned the Istanbul Metro is currently undergoing a massive expansion with 71 stations under construction. Most of these stations will be on completely new lines but some will be additional to the existing routes. The M3 has seven stations being built and will see an extended route from Bakırköy-İDO to Kirazlı which will open in 2019. In 2018 the M4 will extend from Sabiha Gökçen Airport to Kaynarca, incorporating four new stations.
There are also four new lines under construction which will provide the network with nearly 72km of additional routes. These new lines will be situated both on the European side of Istanbul, the M7 and the M9, and the Asian side with the M5 and the M8.
The M7 is the largest project, started in 2014 and due to open in 2018 this new route will incorporate 19 stations and run from Kabataş to Mahmutbey.
Expected to go into service in 2019, the M9 Ataköy to İkitelli metro line will be a rapid transit line which will run for 13km.
The M5 is a 16 station project running from Üsküdar in the west to Çekmeköy in the east. It will be the first expansion on the Asian side of the metro network since the M4 opened in 2012. It was due to be running by May 2015, this date was then extended to September 2016. The line is now expected to be open before the end of 2016. It also has plans to extend to Sabiha Gökçen International Airport in the future.
The other line on the Asian side which is currently being constructed is the M8. Thirteen stations are currently under construction and all are expected to be open in 2019. This line will run from Bostancı-İDO to Dudullu.
Even further expansion of the network is planned with 17 other stations pencilled in for a 25km line running from Bakırköy to Beylikdüzu. Construction companies are currently bidding for the contracts to build these new stations and routes.