More info about Algier's Subway
Algier's underground is just one line with 10 stations in about 10 kms.
Algier's Subway stations:
La Grande Poste station:
La Grande Poste
is located in Algier's center of the city. It's the intersection of all the routes that cover the main places in the city: Place des Martyres, Audin Place, Algier's University, Tafourah bus station an the Wilaya of Algiers. This station has the biggest passengers transit as it is the beginning of the line and it's near of many places of interests for the turists. In the future, this station will have a direct conection with Algier's underground line 2.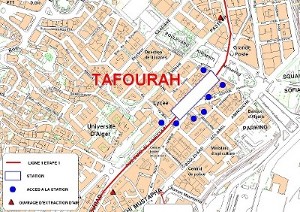 Khelifa Boukhalfa Station
Khelifa Boukhalfa
station gets to Algier's commercial area, Mourad Didouche street, Cinema Argelia and Victor Hugo Street. Some other important places around this area are: Hassiba Ben Bouali, Meissonier Market, the Sacred Heart and Liberty Park.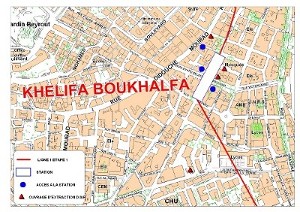 1er Mai Station(May 1st)
This station is located in Mokrani. It's connections with bus and taxy(ETUSA) networks. It gets to Mustapha Bacha Hospital and to the Mohamed Belouizdad (Belcourt) district, one of the oldests in the city.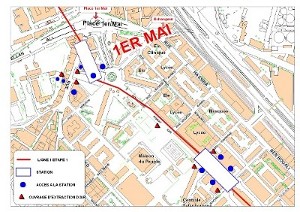 Idir Aissat Station
Aissat Idir
is found in Belcourt's heart. This station is near Maison de la Presse, bus stops, Telecom Argelia and UGTA headquarters. It is located in a strategic place to relieve the congested road network of its traffic.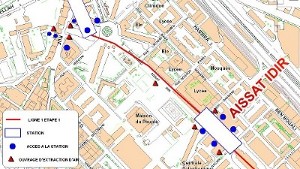 Estaciones Hamma / Jardin d'essais
Hamma and Jardin d'essais
stations. They cover the National Library of Hamma, Sofitel Argel, Jardin d'Essais, Pasteur Institute areas.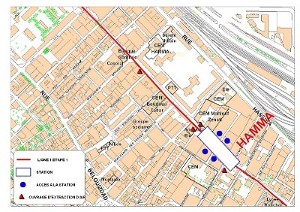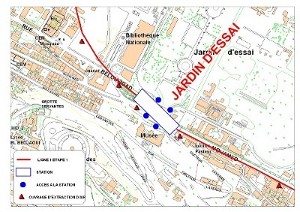 Les Fusillés station
This station is reacheable from almost everywhere (Brook, Kouba, Hussein Dey and Bir Mourad Rais...). It'll be the real communication center where underground, trams, buses, taxys and funicular will converge.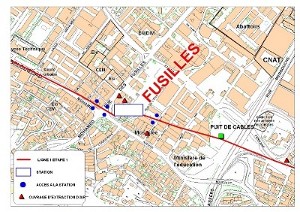 Amirouche Station
It is locatet in the intersection of Hussein Dey and Kouba districts.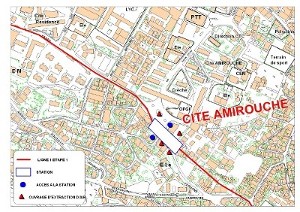 Mer et Soleil (Sun and Sea) station
Mer et Solei
station is western side of line 1. This is the heart of the residential area Mer et Soleil, next to Hussein Dey.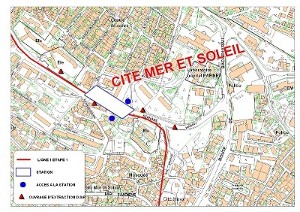 Hai El Badr Station
It is in Hai El Badr district and covers Panorama y Hussein Dey, Ben Omar and El Kouba Cadat and Bachdjarah. It is a link between Algier suburban areas and offers a fast, comfortable way of moving around the city.