Novosibirsk Metro
The metro system in the russian city of Novosibirsk became operational in 1986 with a single line and 5 stations. Currently there are 2 lines with 15.19 kilometers and 13 stations. This metro system is the third largest city in Russia with 1.4 million inhabitants. It is the first and only underground system in Siberia. It was the fourth subway service opened in Russia and the 11th in the Soviet Union. It's 62 kilometers long serving 4 lines. The construction of this system was interrupted by the economic crisis of the 90s. Only recently works have been resumed.
The Novosibirsk Metro it is widely used. Not only because it's clean and cheap, but low temperatures of Siberian climate invite to travel underground isolated from weather conditions. It is no coincidence that it is the third most widely used system in Russia with 75 million passengers in 2011, just after the Moscow metro and St. Petersburg metro. It is used daily by 250,000 people.
One of the main drawbacks of Novosibirsk subway is not passing through any of the "worker sleeping areas" of the city. However, this service is vital as it connects the city with areas beyong the river Ob.
The Novosibirsk Metro is characterized by the soviet style of their station's decoration and the abundance of ads on their walls. Trains have tv screens and radios.
Novosibirsk metro fares and tickets
It has a fixed rate of 19 rubles not dependent on the traveled distance. If you carry hand bags, it's 20 rubles. Students pay 10 rubles.
There is a monthly card for unlimited travel for 850 rubles. There are also cards with 30 and 50 Travel preloaded
There are discounts of up to 50% of the rate for citizens who meet certain conditions
Children under 7 years travel free.
You can take luggage (other than hand bags) without paying extra fare, always that luggage length does not exceed 150 cm or the sum of height and width won't exceeding 120cm
There is also the option of paying with your phone, through an application provided that the terminal supports the contactless technology
Novosibirsk metro lines and stations
Although initially the approach to the Novosibirsk Metro was very promising with 4 lines and 62kms of roads, the fall of the USSR and the lack of funds of the Soviet government truncated its construction. The first line was built in 1986. Today the Novosibirsk metro is only 16 kilometers serving its 2 lines and 13 stations. The metro limits its service to the commercial area of the city. Still, for the visitor keeps being an attractive option to sightsee because by metro, the main tourist attractions such as Lenin Square or Krasny Prospekt (Red Avenue), can be reached..
Line 1 or Leninskaya line
Opened in 1986. Its last extension was in 1992. It has a length of 10,5kms and 8 stations. Explore the city from northwest to southeast and reaches the Ob River. Stations: Zayeltsovskaya, Gagarinskaya, Krasny Prospekt, Ploshchad Lenina, Oktyabrskaya, Rechnoy Vokzal, Sportivnaya, Studencheskaya, Ploshchad and Ploshchad Marksa Stanislavskogo.
Line 2 or Dzerzhinskaya line
Inaugurated in 1987. The last extension was in this very same decade. It covers an area of 5.4 km and 5 stations. Stations: Ploshchad Garina-Mikhaylovskogo, Sibirskaya, Marshala Pokryshkina, Beryozovaya Roshcha, Zolotaya Niva, Dovatora and Volochayevskaya.
Novosibirsk metro map in Wikipedia
Future expansions map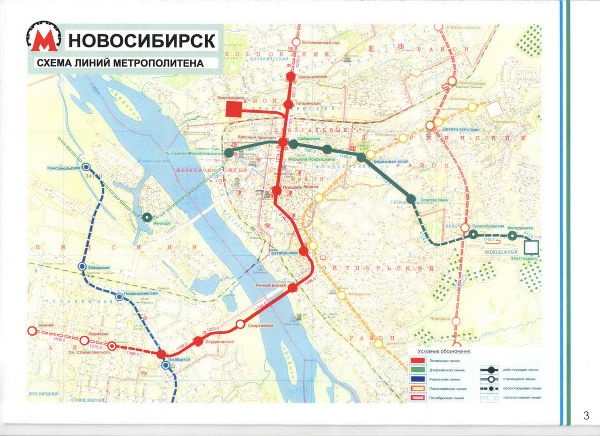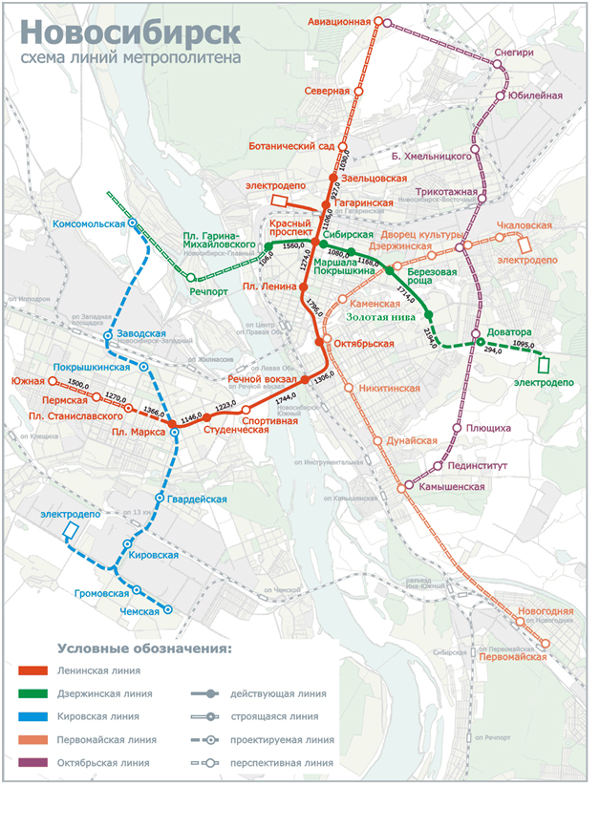 Hours and frequency
The Novosibirsk metro hours are from 6.00 am to 24.00 every day.
There is approximately a train every 5 min in the Leninskaya line and every 6 minutes Dzerzhinskaya.
Curious facts
If you drink alcohol, do not bother to enter the subway. There are police in all stations that wont let you get in.
There are metal detectors in every station that can used voluntarily or following the instructions of the police or security personnel if they require you so.
All signs and posters are in Russian. Do not expect help in English.
In terms of accessibility, none of its stations have elevators and wheelchair platforms. There are escalator in 7 of the 13 stations. Only in Zolotaya Niva station there is tactile aid on the walls to guide visually impaired. The first and last step of each stairs is marked in yellow to help these same people. In some stairs there are double ramps.
At stations with escalators we recommend staying on the right if you're going to be standing, as in the London Underground.
Service to the airport
The metro hasn't direct service to the airport. But instead the 111, 112 buses and 1122 minibus connect the airport with the main train and bus stations. They have a frequency of 30 minutes.
Images and media