Valencia's Subway.
The Valencia Metro began operations in 1988. It is the third subway built in Spain, after Madrid and Barcelona Subways. The complete system has 3 metro lines and 2 trams. There is a new subway line, Line 2, which is under construction yet.
Valencia's underground lines.

Line 1 is the yellow line.
Línea Llíria/Bétera - Torrent Avinguda/Villanueva de Castellón: It ranges from Villanueva de Castellón to Bétera and Llíria, because there is a bifurcation. It is 98.159 km length, has 59 stations and 19 and a half million users used this line in 2010.

Line 2, it's the blue line. From Museus to Natzaret is currently under construction. This line will have a frequency of 7 - 10 minutes and about 25 million users per year. It will take 31 minutes to make the trip.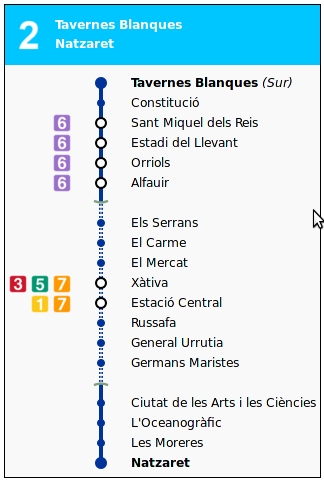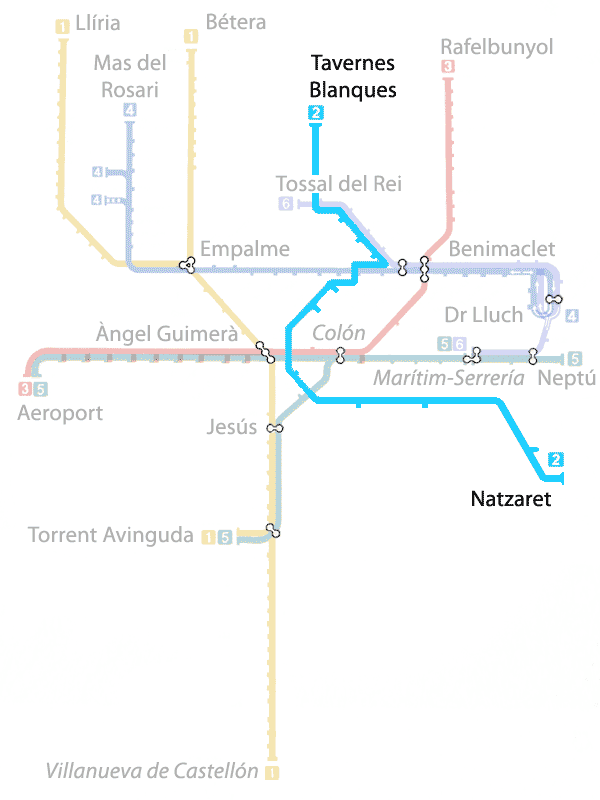 Line 3 ( Red ) Rafelbunyol to Aeroport. It is 24.6 kms length, has 27 stops and around 24 million and a half users per year.

Line 4 (Dark Blue) Mas del Rosari/Ll. Llarga/Fira - Dr. Lluch
16 km length, 33 stations and 5 million users a year.

Line 5 (Green) Neptú ~ Marítim Serrería - Aeroport/Torrent Avinguda Line length is 30 km, it has 35 stations and 17 million passengers a year.

Line 6 (Purple line) Tossal del Rei - Marítim Serrería
Length 10 km, 21 stations and nearly 2 million users a year.
The complete network has a total of 175 km, 169 stations and 68 million users / year.
Frequency and schedule:
Frequency: every 4 minutes during peak hours and every 8 for the rest of the day; In suburban areas the frequency decreases to 15 minutes at night. Hours of operation: 5:00 am to 12 am
Rates (2009):
- 1 single ticket (without transfer between subway and bus) - EUR 1.40
- 10 trips - (Metro only) - EUR 6.50
- 10 trips - (Metro and Bus) - EUR 7.45
- Pass valid for one day (Metro and Bus) - EUR 3.30
- Pass valid for 2 days (Metro and Bus) - EUR 6.00
- Pass valid for 3 days - (Metro and Bus) - EUR 8.60